In-situ growth of gold nanoparticles on a 3D-network consisting of a MoS2/rGO nanocomposite for simultaneous voltammetric determination of ascorbic acid, dopamine and uric acid
Abstract
A glassy carbon electrode was modified with a 3D-networked nanostructure composed of MoS2, reduced graphene oxide and gold nanoparticles (3D-MoS2/rGO/Au). The composites were prepared through in-situ growth of gold nanoparticles on 3D-MoS2/rGO nanosheets via a hydrothermal method. The morphology and electrochemical features of the composite were investigated. The 3D-MoS2/rGO/Au sensor exhibits excellent electrocatalytic activity for simultaneous detection of ascorbic acid (AA), dopamine (DA) and uric acid (UA). The oxidation potentials are well separated at around −0.05 V for AA, 0.06 V for DA and 0.2 V for UA, respectively. The detection limits for individual detection and simultaneous detection (S/N = 3) are 0.93 μM and 1.46 μM for AA, 0.11 μM and 0.15 μM for DA, and 0.74 μM and 0.29 μM for UA. The method was applied to the quantitative analysis of AA, DA, and UA in spiked serum samples with satisfying results.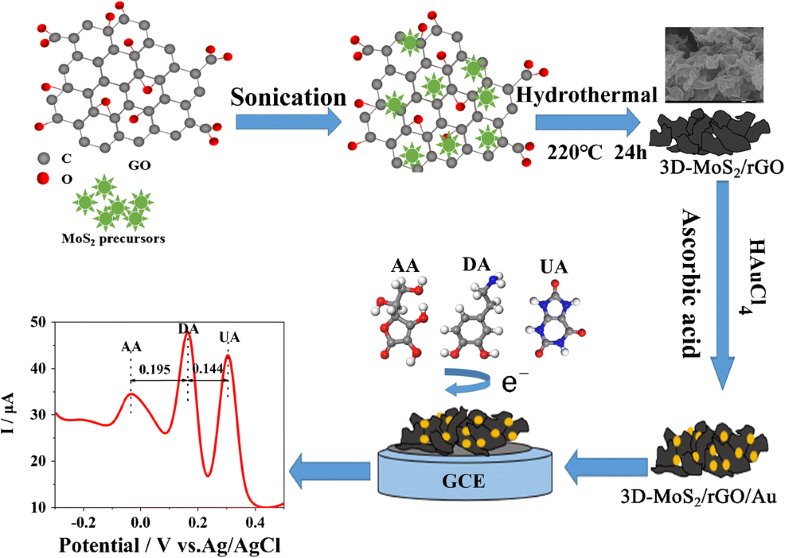 Keywords
Electrochemical sensor 
Molybdenum disulfide 
Graphene 
Nanostructure 
Simultaneous determination 
Differential pulse voltammetry 
Oxidation potential 
Electrocatalytic activity 
Human serum 
Notes
Acknowledgements
This work was supported by the National Natural Science Foundation of China (NO. 81772290), Chongqing science and technology commission (CSTC2018jcyjAX0062), Graduate research and innovation foundation of Chongqing, China (Grant No. CYB18026), University innovation training program for College Students (201810611104), Brew Microorganisms Technology and Application of Key Laboratory Project in Sichuan Province (No. NJ2018-01) and sharing fund of Chongqing university' s large equipment.
Compliance with ethical standards
The author(s) declare that they have no competing interests.
Copyright information
© Springer-Verlag GmbH Austria, part of Springer Nature 2019