Nanostructured MXene-based biomimetic enzymes for amperometric detection of superoxide anions from HepG2 cells
Abstract
A novel MXene-based biomimetic enzyme was synthesized using adenosine triphosphate (ATP) as a template to modify a Mn3(PO4)2 nanostructure on Mxene-Ti3C2 nanosheets. The resulting composite was used as an electrode material in an electrochemical sensor for superoxide anion (O2•−). It displays excellent catalytic properties which is attributed to the synergistic effects of the two-dimensional conductive substrate and the Mn3(PO4)2 nanoparticles. The addition of ATP results in the formation of a porous and ordered nanostructure of Mn3(PO4)2. This facilitates the electron transfer between O2•− and electrode. The sensor, best operated at 0.75 V (vs. Ag/AgCl), displays a rapid amperometric response with a detection limit of 0.5 nM and an analytical range that extends from 2.5 nM to 14 μM. Conceivably, it has potential in the detection of O2•− released by living cells.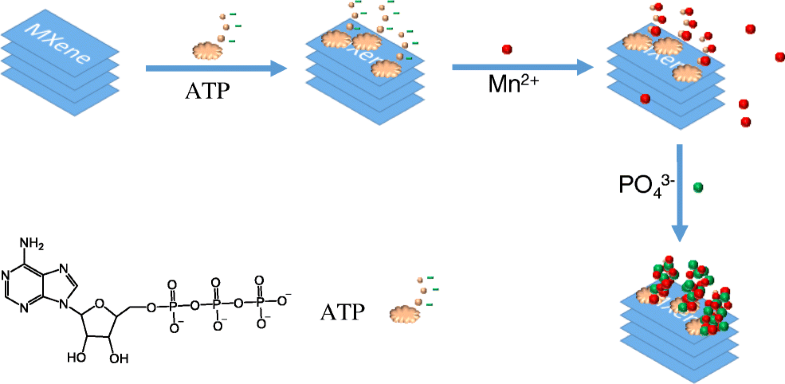 Keywords
Mxene-Ti2C3 
Mn3(PO4)2 
ATP 
Two-dimensional materials 
Sensor 
Notes
Acknowledgements
We gratefully acknowledge to the financial support by the China Postdoctoral Science Foundation (2016 M602627), National Natural Science Foundation of China (21505108), Chongqing Postdoctoral Science Special Foundation (Xm2016032), Transformative Project for Excellent Scientific and Technological Achievements in University (KJZH17108), Special Program for Chongqing Social Business and People's Livelihood Guarantee of Science and Technology (cstc2017shmsA30001) and Science Foundation for Youths of Science and Technology Department of Shaanxi Province (2016JQ2026).
Compliance with ethical standards
The author(s) declare that they have no competing interests.
Copyright information
© Springer-Verlag GmbH Austria, part of Springer Nature 2019