A glassy carbon electrode modified with graphene oxide, poly(3,4-ethylenedioxythiophene), an antifouling peptide and an aptamer for ultrasensitive detection of adenosine triphosphate
Abstract
An antifouling aptasensor is described for voltammetric determination of adenosine triphosphate (ATP). A glassy carbon electrode (GCE) was modified with a graphene oxide and poly(3,4-ethylenedioxythiophene) (GO-PEDOT) composite film by electrodeposition. Next, the zwitterionic peptide (EKEKEKE) was attached. It forms an antifouling layer on the modified GCE and serves as the support for subsequent aptamer immobilization. The resulting aptasensor typically is operated at a potential of 0.18 V (vs. SCE) using hexacyanoferrate as the electrochemical probe. It has a linear response in the 0.1 pM to 1.0 μM ATP concentration range, a 0.03 pM detection limit and a sensitivity of 2674.7 μA·μM−1·cm−2. It has outstanding selectivity, satisfactory reproducibility and desired stability. It was used to quantify ATP in ATP-spiked 10% serum solutions.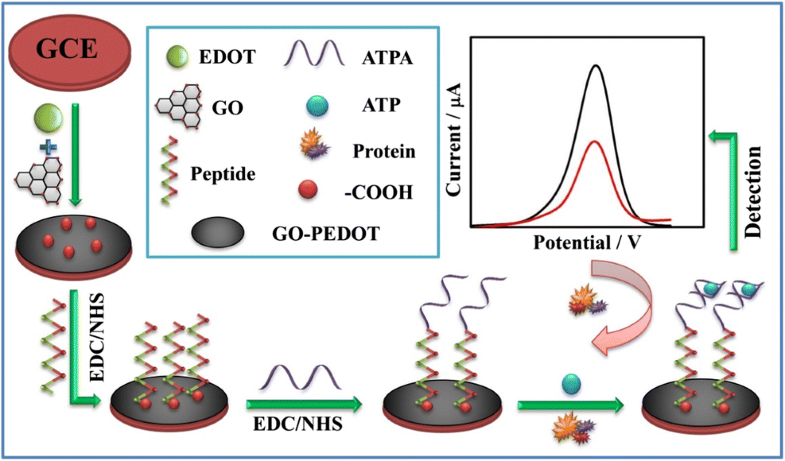 Keywords
Adenosine triphosphate 
GO-PEDOT composite film 
Zwitterionic peptide 
Electrochemical aptasensor 
Electrodeposition 
Contact angle 
Antifouling ability 
Aptasensor 
Clinical analysis 
Notes
Acknowledgements
The work reported here was supported by the National Natural Science Foundation of China under Grant No.51672144, 51572137, 51502149, 51702181, the Natural Science Foundation of Shandong Province under Grant No. ZR2016EMB25, ZR2017PEM006, ZR2017BB013, the Higher Educational Science and Technology Program of Shandong Province under Grant No.J16LA10, J17KA014, the Application Foundation Research Program of Qingdao under Grant No. 15-9-1-28-jch, the Taishan Scholars Program of Shandong Province under No. ts201511034 and the Overseas Taishan Scholars Program. We express our grateful thanks to them for their financial support.
Compliance with ethical standards
The author(s) declare that they have no competing interests.
Copyright information
© Springer-Verlag GmbH Austria, part of Springer Nature 2019