Enzyme-free electrochemical detection of nanomolar levels of the organophosphorus pesticide paraoxon-ethyl by using a poly(N-isopropyl acrylamide)-chitosan microgel decorated with palladium nanoparticles
Abstract
A rapid voltammetric method is described for the determination of the organophosphorus pesticide paraoxon-ethyl (PEL). A glassy carbon electrode (GCE) was modified with a composite consisting of a poly(N-isopropylacrylamide)-chitosan microgel with incorporated palladium nanoparticles. The microgel was characterized by FE-SEM, EDX, XPS, FTIR, XRD, and EIS. The modified GCE is shown to enable direct electro-reductive determination of PEL by using differential pulse voltammetry. The method works in pH 7 solution and in the 0.01 μM to 1.3 mM PEL concentration range. At a typical working potential of −0.66 V (vs. Ag/AgCl) (at 50 mV/s), the detection limit is as low as 0.7 nM, and the electrochemical sensitivity is 1.60 μA μM−1 cm−2. Intriguingly, the modified GCE displays good recovery when applied to bok choy and water samples.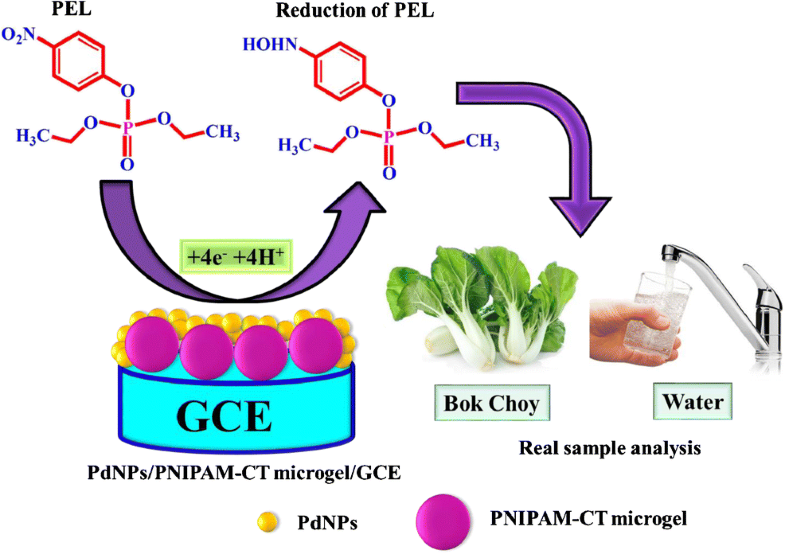 Keywords
PNIPAM-CT microgel 
Pesticide detection 
Nitro compounds 
Real sample analysis 
Voltammetry method 
Notes
Compliance with ethical standards
The author(s) declare that they have no competing interests.
Copyright information
© Springer-Verlag GmbH Austria, part of Springer Nature 2019