A core-shell structured magnetic covalent organic framework (type Fe3O4@COF) as a sorbent for solid-phase extraction of endocrine-disrupting phenols prior to their quantitation by HPLC
Abstract
A magnetic covalent organic framework (Fe3O4@COF) with core–shell structure was fabricated at room temperature and used as an adsorbent for magnetic solid-phase extraction of polar endocrine-disrupting phenols (4-n-nonylphenol, 4-n-octylphenol, bisphenol A and bisphenol AF). The sorbent was characterized by transmission electron microscopy, FTIR, powder X-ray diffraction and other techniques. The main parameters governing the extraction efficiency were optimized. The phenols were quantified by HPLC with fluorometric detection. The method has attractive features such as low limits of detection (0.08–0.21 ng.mL−1), wide linear ranges (0.5–1000 ng.mL−1), and good repeatability (intra-day: 0.39%–4.99%; inter-day: 1.57%–5.21%). Satisfactory results were obtained when the developed method was applied to determine the four target pollutants in real world drink samples with spiked recoveries over the range of 81.3~118.0%. This indicates that the method is a powerful tool for the enrichment and determination of endocrine-disrupting phenols in drink samples.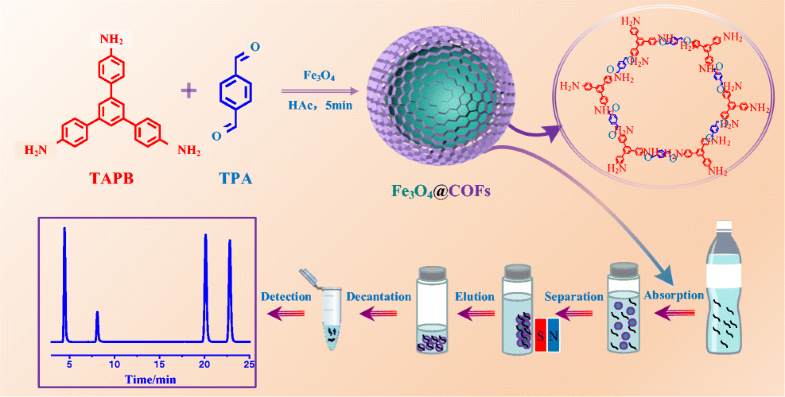 Keywords
Core–shell structured magnetic microspheres 
Fe3O4@COFs 
Bisphenols 
4-n-nonylphenol 
4-n-octylphenol 
Absorption 
Pretreatment 
Determination 
Optimization 
Drink samples 
Notes
Acknowledgements
This work was supported by the National Natural Science Foundation of China (21777089), the Natural Science Foundation of Shandong Province (ZR2018MB040), the Key Research and Development Program of Shandong Province (2017GSF17107 and 2018GSF117036), Shandong Provincial Key Laboratory of Test Technology for Material Chemical Safety (2018SDCLHX001), and the Shandong Province Taishan Scholar Program (ts201712063).
Compliance with ethical standards
The author(s) declare that they have no competing interests.
Copyright information
© Springer-Verlag GmbH Austria, part of Springer Nature 2019