Boron doped carbon dots as a multifunctional fluorescent probe for sorbate and vitamin B12
Abstract
Boron doped carbon dots (B-CD) were synthesized by a one-step hydrothermal method using phenylboronic acid as the starting material. They have an average size of about 3.3 nm, with excitation/emission wavelength of 247/323 nm and a quantum yield of 12%. The B-CD is shown to be viable fluorescent probe for sorbate (PS) and vitamin B12 (VB12). The fluorescence (FL) of the B-CD is quenched in the presence of PS or VB12 mainly coming from inner filter effect (IFE), but Förster resonance energy transfer (FRET) from the B-CD (as a donor) to PS/VB12 (as an acceptor) cannot be excluded. The probe enables PS to be detected by fluorometry with a linear response in the 0.20–24 μM concentration range and a 6.1 nM detection limit (at 3σ/slope). For VB12, the data are 0.20–30 μM and 8.0 nM.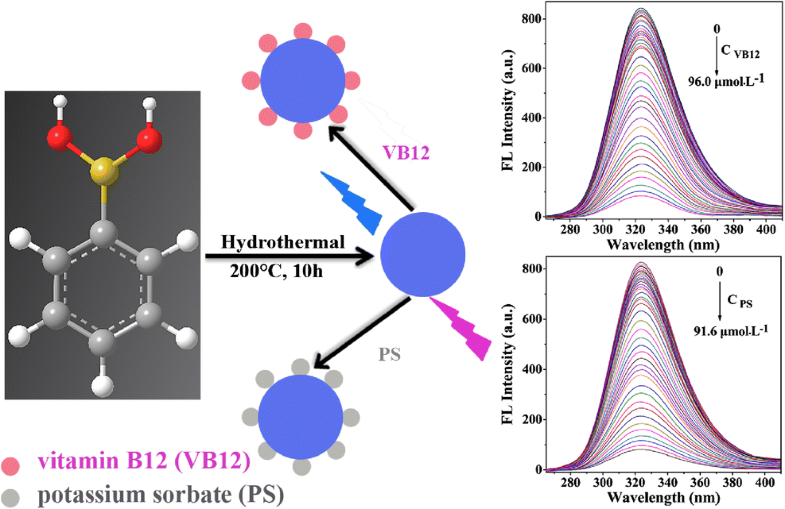 Keywords
Fluorescent probe 
Quenching mechanism 
Sorbic acid 
Intra-day precision 
Inter-day precision 
Fluorescence quenching ratios 
Selectivity 
Real sample analysis 
Notes
Acknowledgements
The authors gratefully acknowledge financial support from Sichuan Provincial Science & Technology Fund for Applied Fundamental Research (2016JY0080), Doctor Start-up Fund (15E006) of China West Normal University, and Talent research fund of China West Normal University (17YC012).
Compliance with ethical standards
The author(s) declare that they have no competing interests.
Copyright information
© Springer-Verlag GmbH Austria, part of Springer Nature 2019