Colorimetric and visual mercury(II) assay based on target-induced cyclic enzymatic amplification, thymine-Hg(II)-thymine interaction, and aggregation of gold nanoparticles
Abstract
A colorimetric biosensor and visual test is described for the determination of mercury(II). It relies on the specific thymine-Hg(II)-thymine (T-Hg2+-T) interaction which induces a cyclic amplification process (caused by the enzyme exonuclease III) and the aggregation of gold nanoparticles. These results in a color change from red to violet. Under optimized conditions, this colorimetric assay (best performed at 524 nm) has a detection limit as low as 0.9 nM with a detection range over 4 orders of magnitude (from 1 nM to 10 μM).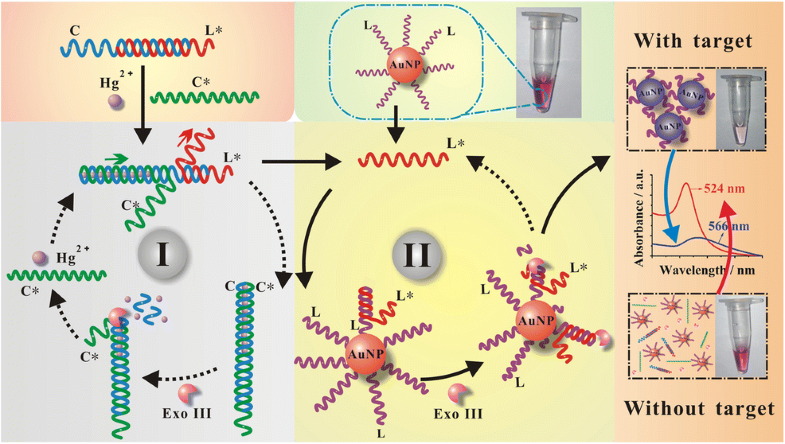 Keywords
Mercury ion 
T-Hg2+-T 
Exonuclease III 
AuNPs 
Visual detection 
UV-vis absorption 
Notes
Acknowledgements
This work was supported by National Natural Science Foundation of China (31471644), the Primary Research & Development Plan of Shandong Province (2017GSF220009). University of Jinan Scientific Research Fund (Youth Project XKY1421) and Doctoral Fundation of University of Jinan (XBS1431).
Compliance with ethical standards
The author(s) declare that they have no competing interests.
Copyright information
© Springer-Verlag GmbH Austria, part of Springer Nature 2019