An electrochemical aptasensor for streptomycin based on covalent attachment of the aptamer onto a mesoporous silica thin film-coated gold electrode
Abstract
An electrochemical method is described for the determination of streptomycin (STR). It is making use of a gold electrode coated with a thin mesoporous silica film (MSF). In addition, silver nanoparticles were coated on the MSF to increase the surface area, to bind a large amount of aptamer (Apt), and to improve the electrical conductivity. In the presence of STR, it will bind to the Apt and hinder the diffusion of the redox probe hexacyanoferrate through the nanochannels of the mesoporous film. The aptasensor, best operated at a working potential of 0.22 V (vs. Ag/AgCl) has a linear response in the 1 fg.mL−1 to 6.2 ng.mL−1 STR concentration range. The detection limit is 0.33 fg.mL−1. The assay was successfully validated by analyzing spiked samples of milk and blood serum.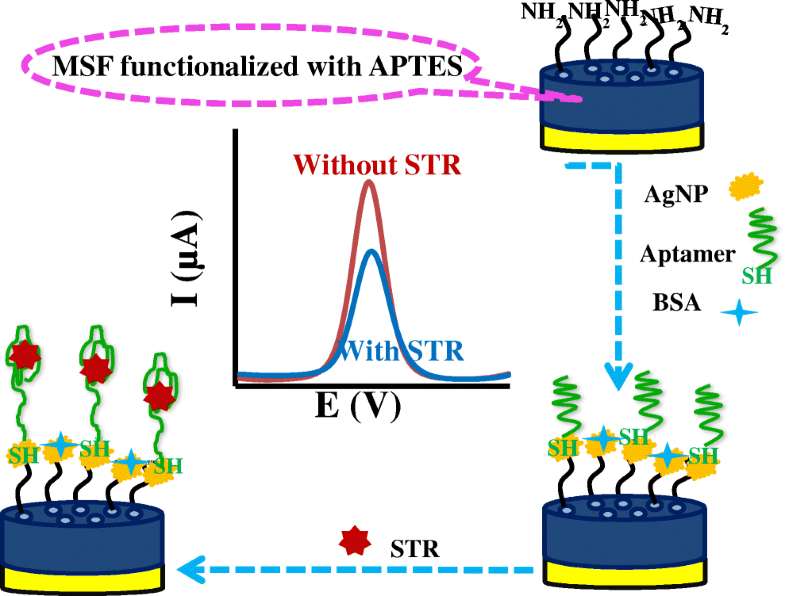 Keywords
Silver nanoparticles 
Hexacyanoferrate 
Differential pulse voltammetry 
Tetraethoxysilane 
Cetyltrimethylammonium bromide 
Notes
Acknowledgments
The authors thank the Iran National Science Foundation (Grant no. 96015612) for their support.
Compliance with ethical standards
The author(s) declare that they have no competing interests.
Copyright information
© Springer-Verlag GmbH Austria, part of Springer Nature 2019