Voltammetric kanamycin aptasensor based on the use of thionine incorporated into Au@Pt core-shell nanoparticles
Abstract
A signal-on aptasensor is described for the voltammetric determination of kanamycin (KANA). Au@Pt core-shell nanoparticles with large surface and good electrical conductivity were synthetized and act as both a conductive material and as the carrier for complementary strands (CS2) and thionine (TH). In the presence of KANA, the electrochemical response of TH changes due to hybridization between CS1 immobilized on the electrode and the Au@Pt-CS2/TH system. The peak current increases linearly with the logarithm of the KANA concentration in the range from 1 pM to 1 μM, and the limit of detection is 0.16 pM. The sensor was characterized in terms of selectivity, reproducibility and stability, and satisfactory results were obtained. It was also utilized for the determination of KANA in (spiked) chicken samples. The recoveries (95.8–103.2%) demonstrate the potential of the method for KANA detection in real samples.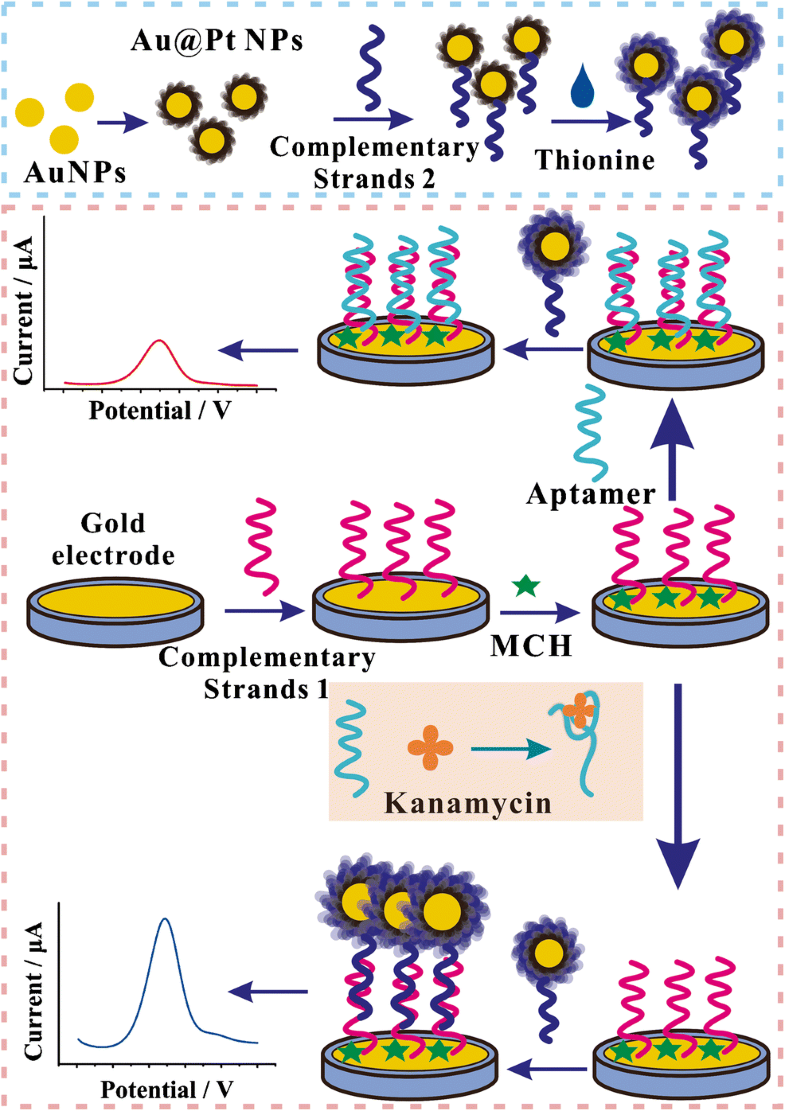 Keywords
Kanamycin (KANA) 
Aptamer 
Electrochemical detection 
Signal-on Aptasensor 
Chicken sample 
Notes
Acknowledgments
This work was supported by the National Natural Science Foundation of China (Grant No. 61301037), the Henan Science and Technology Cooperation Project (Grant No. 172106000014), the Cultivation Plan for Young Core Teachers in Universities of Henan Province (No. 2017GGJS072), the Youth Backbone Teacher Training Program of Henan University of Technology (No. 21420004), and the Master's Degree Thesis Cultivation Project of Henan University of Technology.
Compliance with ethical standards
The author(s) declare that they have no competing interests.
Copyright information
© Springer-Verlag GmbH Austria, part of Springer Nature 2019