A hollow CuOx/NiOy nanocomposite for amperometric and non-enzymatic sensing of glucose and hydrogen peroxide
Abstract
The authors report that CuOx/NiOy hollow nanocomposites are an effective bifunctional catalyst capable of oxidizing glucose and reducing hydrogen peroxide. Synthesis is based on a solvothermal process and subsequent thermal treatment. The structure can be controlled by adjusting the amounts of added NiCl2 during the solvothermal etching process, and core-shell, yolk-shell or hollow structures can be obtained. The porous hollow structure composite of type CuO30/NiO90 was used to modify a glassy carbon electrode. It exhibits excellent electrocatalytic activity towards glucose oxidation in solution of pH 13, typically at a working potential of +0.60 V (vs. Ag/AgCl). This enables voltammetric sensing of glucose with (a) a low limit of detection (0.08 μM, at S/N = 3), (b) over a wide linear range (0.20 μM - 2.5 mM), and (c) high sensitivity (2043 μA·mM−1·cm−2). The sensor is reproducible, selective and stable. It can be used to detect glucose in spiked human serum. The CuO30/NiO90 composite also displays good electrocatalytic activity towards reduction of H2O2 in neutral aqueous medium, typically at an applied potential of −0.35 V. It has a detection limit of 90 nM, a sensitivity of 271.1 μA·mM−1·cm−2, and a linear detection range that extends from 0.30 μM to 9.0 mM.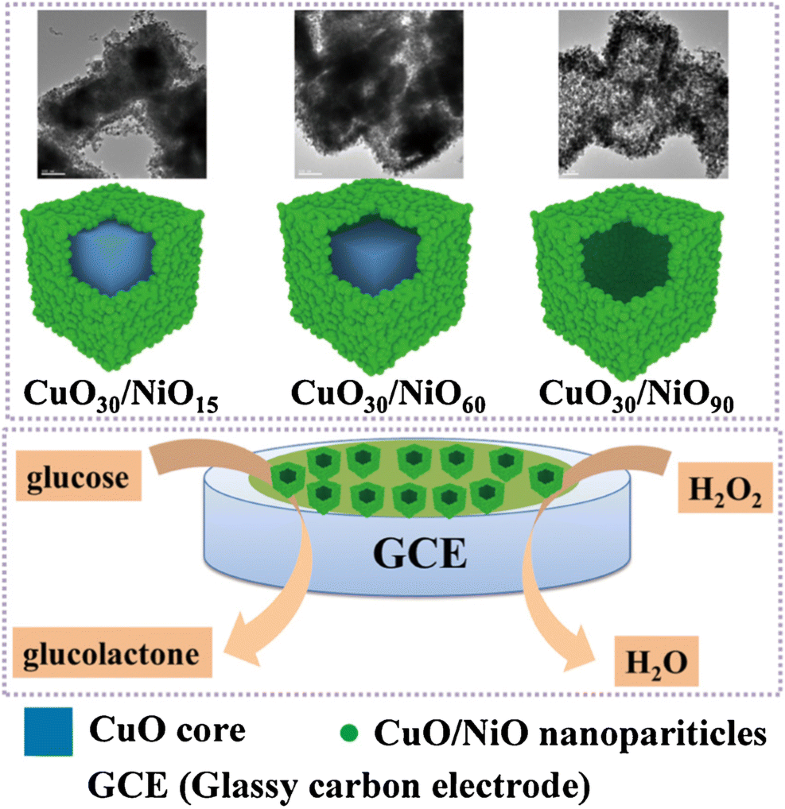 Keywords
Hollow structure 
Electrochemical sensor 
Bifunctional electrocatalysts 
Glucose electro-oxidation 
Human serum 
Cu2O template 
Solvothermal method 
Controllable etching 
Mesoporous material 
Bimetal oxide 
Notes
Acknowledgements
We gratefully acknowledge financial support from the National Natural Science Foundation of China (No. 21675147) and the Ministry of Science and Technology of China (No. 2016YFC1400601).
Compliance with ethical standards
The author(s) declare that they have no competing interests.
Copyright information
© Springer-Verlag GmbH Austria, part of Springer Nature 2019