Photoelectrochemical determination of the activity of alkaline phosphatase by using a CdS@graphene conjugate coupled to CoOOH nanosheets for signal amplification
Abstract
A method is described for photoelectrochemical determination of the activity of alkaline phosphatase (ALP). It employs an indium tin oxide (ITO) electrode modified a CdS quantum dots@graphene (CdS@GR) composite and hexagonal cobalt oxyhydroxide (CoOOH) nanosheets. The CdS@GR nanocomposite was synthesized by assembling the CdS quantum dots onto a GO film to receive a basic photocurrent response of the ITO. This is further improved by covering it with CoOOH nanosheets. Secondly, 2-phospho-L-ascorbic acid (AAP) is added as a substrate for ALP. Its hydrolysis yields ascorbic acid which reduces CoOOH to form cobalt(II) ion. As a result, the CoOOH nanosheets decompose. This is accompanied by a reduction of the photocurrent. The effect was used to design a selective and sensitive assay of determination of the activity of ALP. Under the optimized experimental conditions, response is linear in the 10 to 300 U·L−1ALP activity range. The detection limit is 1.5 U·L−1 at a signal-to-noise ratio of 3.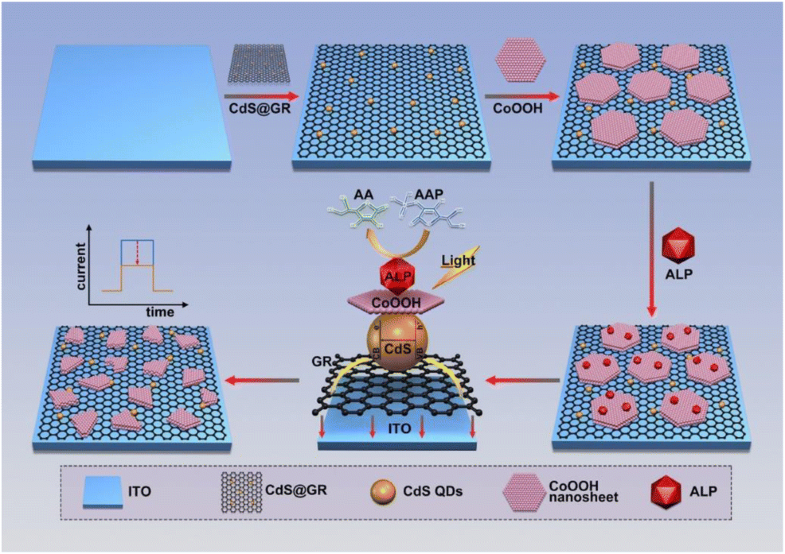 Keywords
Photoelectrochemical sensor 
Alkaline phosphatase 
CdS@GR-CoOOH nanocomposite 
2-Phospho-L-ascorbic acid 
Photon-to-electricity conversion 
Notes
Acknowledgments
The authors are grateful for the support of the National Natural Science Foundation of China (21775089), Outstanding Youth Foundation of Shandong Province (ZR2017JL010), Key Research and Development Program of Jining City (2018ZDGH032), and Project of Shandong Province Higher Educational Science and Technology Program (J18KA101).
Compliance with ethical standards
The author(s) declare that they have no competing interests.
Copyright information
© Springer-Verlag GmbH Austria, part of Springer Nature 2019