A turn-on fluorescent probe for vitamin C based on the use of a silicon/CoOOH nanoparticle system
Abstract
The authors describe a fluorometric method for the turn-on determination of vitamin C (ascorbic acid). The blue fluorescence of silicon nanoparticles (SiNPs; with excitation/emission maxima at 350/450 nm) is found to be quenched by CoOOH nanoparticles (NPs). In the presence of vitamin C, the CoOOH NPs are decomposed by a redox reaction between the diol group of vitamin C and CoOOH NPs. As a result, fluorescence recovers. On the basis of this finding, a fluorometric method was designed for the turn-on detection of vitamin C. Under optimal conditions, the method has a low detection limit (0.47 μM) and a linear response in the 0.5 μM to 20 μM a concentration range. It was successfully applied to the determination of vitamin C in spiked red grape and orange juice, and in vitamin C tablets.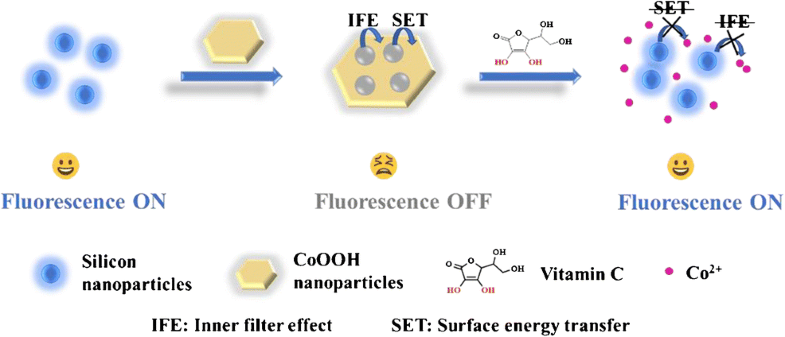 Keywords
Quenching 
Redox reaction 
Surface energy transfer 
Inner filter effect 
Silicon nanoparticles 
Fluorometry 
Stern-Volmer plot 
Fluorescence "turn-on" strategy 
Cobalt oxyhydroxide nanoparticles 
Notes
Acknowledgements
This work was supported by the National Natural Science Foundation of China (21475043, 21874042, and 21675051), Foundation of the Science & Technology Department of Hunan Province (2016SK2020), and Project funded by China Postdoctoral Science Foundation (2018 M640753).
Compliance with ethical standards
The authors declare that they have no competing interests.
Copyright information
© Springer-Verlag GmbH Austria, part of Springer Nature 2019