Hybrid synthetic receptor composed of molecularly imprinted polydopamine and aptamers for impedimetric biosensing of urea
Abstract
An electrochemical aptamer-based method is described for highly specific sensing of urea. Urea-imprinted polydopamine was obtained by electropolymerization of dopamine (DA). The molecularly imprinted polymer (MIP) also contains DNA aptamers on gold nanoparticles decorated with a carbon nanotube network (AuNP/CNT). The material was placed on a glassy carbon electrode (GCE). After removal of urea from the MIP cavities, the GCE display double recognition capability which makes it superior to conventional MIP-only or aptamer-only based assays. On exposure of the modified electrode to urea, the interfacial charge transfer of the redox probe hexacyanoferrate is traced, typically measured at a peak voltage of 0.22 V vs. Ag/AgCl. The change in charge transfer resistance depends on the urea concentration. The assay has a 900 fM detection limit, and response is the linear up to 500 nM urea concentrations.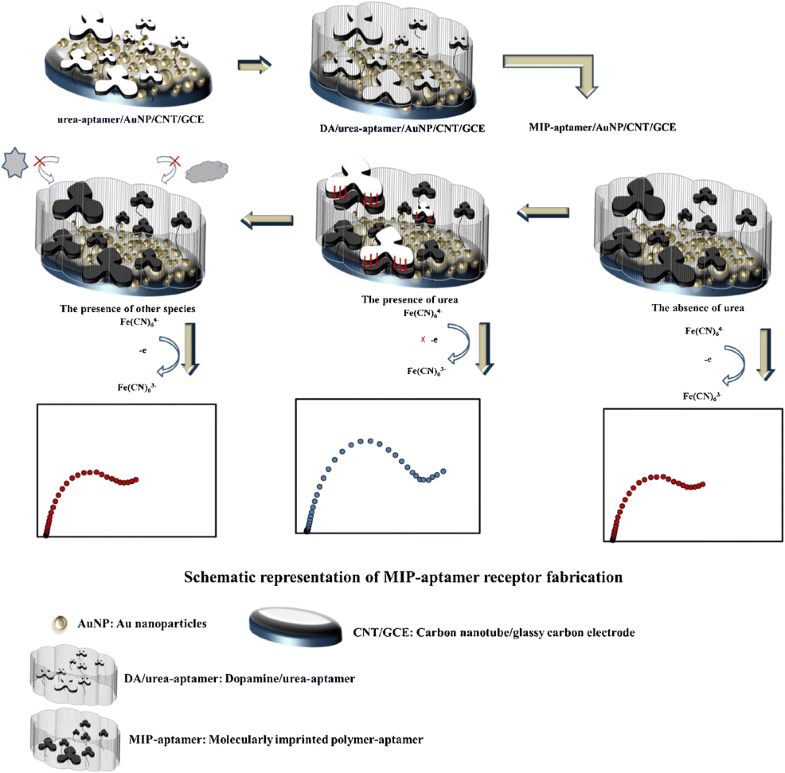 Keywords
Dual recognition element 
Molecularly imprinted polydopamine 
Urea 
Nanohybrid receptor 
Notes
Acknowledgements
The authors gratefully acknowledge the support of this work by the Khorramabad Branch, Islamic Azad University for financial support.
Compliance with ethical standards
The author(s) declare that they have no competing interests.
Copyright information
© Springer-Verlag GmbH Austria, part of Springer Nature 2019