A nanocomposite consisting of porous graphitic carbon nitride nanosheets and oxidized multiwalled carbon nanotubes for simultaneous stripping voltammetric determination of cadmium(II), mercury(II), lead(II) and zinc(II)
Abstract
A 3D nanocomposite consisting of porous graphitic carbon nitride nanosheets (p-g-C3N4-NSs) and oxidized multiwalled carbon nanotubes (O-MWCNTs) was prepared by simultaneous chemical oxidation of bulk g-C3N4 and bulk MWCNTs. This one-step oxidation results in the formation of acidic functional groups on the basal surfaces of both g-C3N4 and MWCNTs. Simultaneously, the O-MWCNTs are incorporated in-situ on the porous structure of p-g-C3N4. The acid functionalization and surface morphology of the nanocomposite were examined using attenuated total reflectance infrared spectroscopy, X-ray diffraction, and high-resolution transmission electron microscopy. The nanocomposite was used to modify a screen-printed electrode (SPE) which then was studied by using cyclic voltammetry, electrochemical impedance spectroscopy, and differential pulse voltammetry. The modified SPE exhibits excellent sensitivity and selectivity towards the simultaneous detection of the heavy metal ions Cd(II), Hg(II), Pb(II) and Zn(II), typically at −0.78, +0.35, −0.5 and − 1.16 V (vs. Ag/AgCl). The detection limits (at S/N = 3) range between 8 and 60 ng L−1 under conditions of stripping analysis. The method was applied to the simultaneous detection of these ions in various (spiked) food samples. The results demonstrated the good accuracy and reproducibility of the method.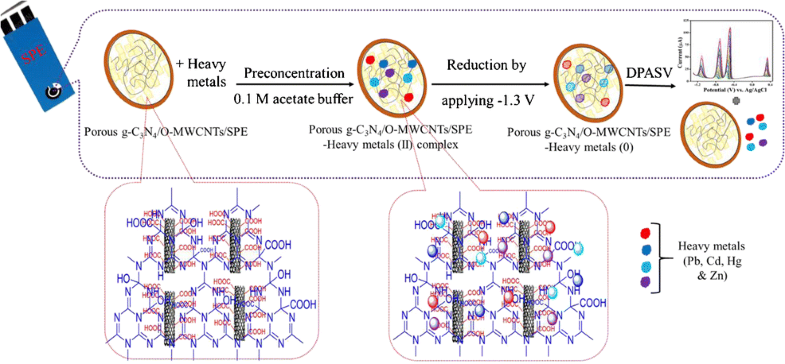 Keywords
Porous g-C3N4 
Oxidized-MWCNTs 
3D Nanocomposite 
Screen-printed electrode 
Stripping analysis 
Simultaneous detection 
Heavy metals 
Food analysis 
Notes
Acknowledgments
The authors thank the Ministry of Science and Technology-Taiwan (MOST105-2113-M-037-019-MY2), Kaohsiung Medical University (KMU)-Taiwan and Research Center for Environmental Medicine-KMU, Taiwan for research grant supports.
Compliance with ethical standards
The author(s) declare that they have no competing interests.
Copyright information
© Springer-Verlag GmbH Austria, part of Springer Nature 2019