Fluorometric determination of pesticides and organophosphates using nanoceria as a phosphatase mimic and an inner filter effect on carbon nanodots
Abstract
Nanoceria with a remarkable phosphatase mimicking activity was synthesized and used to catalyze the hydrolysis of phosphate esters in pH 10 solution. The catalytic effect of nanoceria was firstly investigated by selecting p-nitrophenyl phosphate as a model substrate. The pH value, incubation temperature, reaction time, and concentration of nanoceria were optimized. The catalytic effect was then confirmed by using methyl-paraoxon as a substrate. The p-nitrophenol anion released by the enzyme mimic is yellow and exerts an inner filter effect on the fluorescence of the carbon dots (with excitation/emission maxima at 400/520 nm). Response to methyl-paraoxon is linear in the 1.125–26.25 μmol L−1 concentration range. The method was applied to the determination of pesticides in spiked Panax quinquefolius and water samples. Recoveries ranged from 85 to 103% (n = 3). The technique is rapid, reliable, and can be used for on-site detection of pesticides and organophosphates.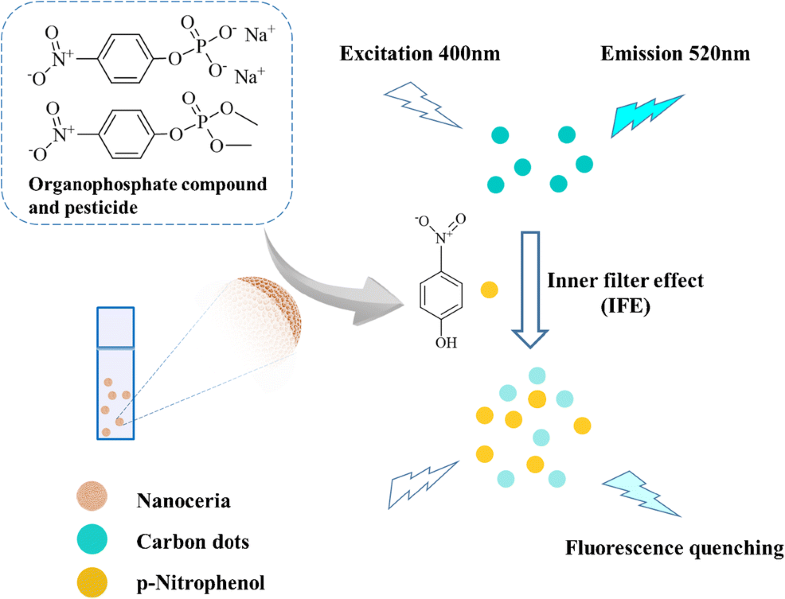 Keywords
Nanozyme 
Sensor 
Probe 
Nanomaterial 
Nanoparticle 
Fluorescence 
CeO2 
Environmental pollution 
Water pollution 
Notes
Acknowledgments
We gratefully acknowledge the financial support from Macau Science and Technology Development Fund (162/2017/A3), and the Research Committee of the University of Macau (MYRG2018-00239-ICMS and MYRG2014-00089-ICMS-QRCM).
Compliance with ethical standards
The author(s) declare that they have no competing interests.
Copyright information
© Springer-Verlag GmbH Austria, part of Springer Nature 2019