Resistive room temperature LPG sensor based on a graphene/CdO nanocomposite
Abstract
The authors decribe an ultra-sensitive, room temperature, flexible transparent LPG sensor based on the use of a CdO/graphene nanocomposite. The graphene prevents the accumulation of CdO, enhances the surface area, and acts as a gas sensing material. FESEM images show a uniform decoration of CdO nanoparticles on graphene. The CdO/graphene composite was deposited as a film on interdigitated electrodes (IDEs) which then were used for chemiresistive sensing of liquid petroleum gas (LPG) by using a four probe technique. A Resistivity decreases significantly upon exposure to a LPG. The electrical resistance measurement at a constant bias voltage of 0.5 V. The sensor of type CdO/graphene (1 wt.%) exhibits a sensitivity of 600 ppm of LPG at 27 °C. It is a highly selective, stable and sensitive to low concentration of LPG even at room temperature.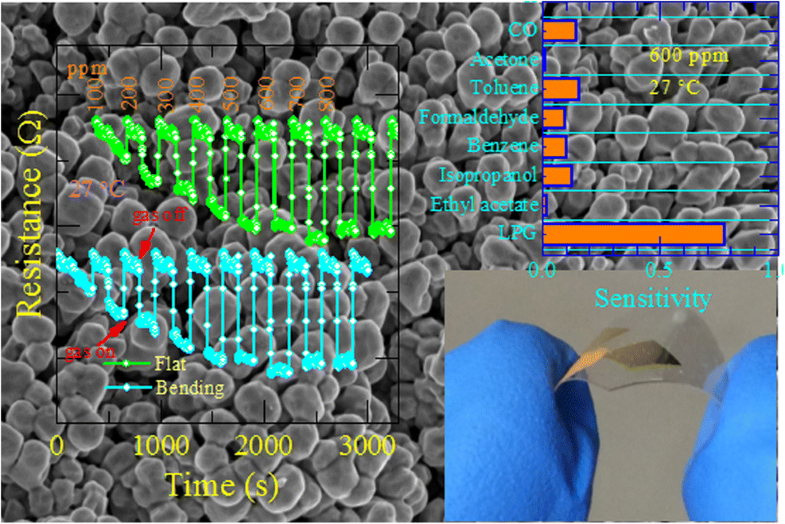 Keywords
Liquefied petroleum gas 
Graphene 
CdO 
Gas sensor 
Flexible 
Notes
Acknowledgments
The author (KVR) is thankful to Science and Engineering Research Board (SERB) - Department of Science and Technology (DST), Government of India, [Project No. SB/EMEQ-183/2013] for the generous financial support.
Compliance with ethical standards
The author(s) declare that they have no competing interests.
Copyright information
© Springer-Verlag GmbH Austria, part of Springer Nature 2019