Alginate capped and manganese doped ZnS quantum dots as a phosphorescent probe for time-resolved detection of copper(II)
Abstract
A method is described for the detection of Cu(II). It is based on the use of a room-temperature phosphorescent probe consisting of alginate-capped and manganese(II)-doped ZnS quantum dots. The carboxy groups at the surface of the probe strongly coordinate Cu(II) to form a complex. As a result, the 4T1-6A1 transition of the Mn(II) ions in the probe is quenched, and the long decay time (~2.1 ms in the unquenched state) is accordingly reduced. At excitation/emission wavelengths of 316/590 nm and a delay time of 0.1 ms, the probe shows a linear response in the 0.01 to 12 μM Cu(II) concentration range. The detection limit is 6.0 nM and the RSD is 3.2% (for n = 5).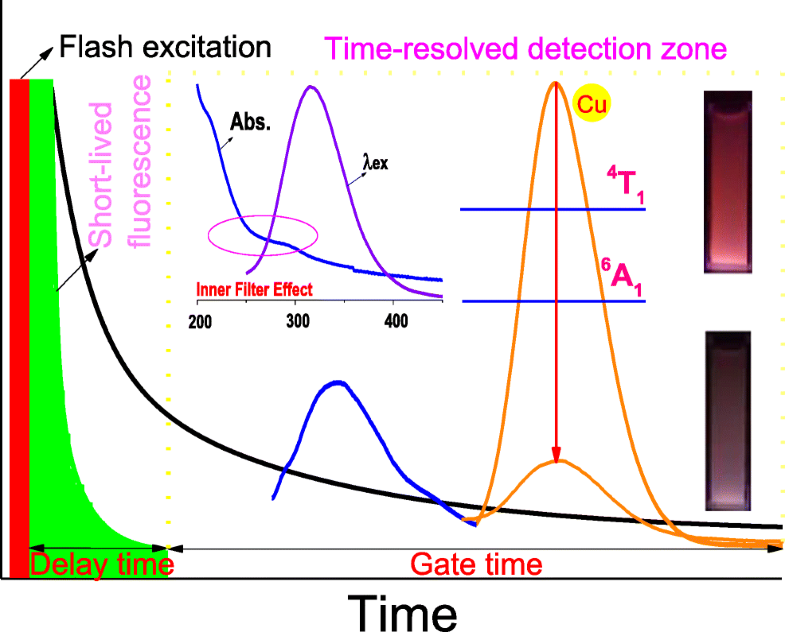 Keywords
Room-temperature phosphorescence (RTP) 
Alginate 
Stokes shift 
Long lifetime 
Notes
Acknowledgement
This work was supported by Natural Science Foundation of China (21506002, 41673131). The authors also thanked Anhui key project of research and development plan (1704a0902006), major science and technology project of Anhui Province (17030801028) and major project of Department of Education of Anhui province (KJ2018A0513) for financial supports.
Compliance with ethical standards
The author(s) declare that they have no competing interests.
Copyright information
© Springer-Verlag GmbH Austria, part of Springer Nature 2018