A "turn-on" fluorometric assay for kanamycin detection by using silver nanoclusters and surface plasmon enhanced energy transfer
Abstract
A rapid method is described for the determination of the antibiotic kanamycin. It integrates a kanamycin-binding aptamer and surface plasmon enhanced energy transfer (SPEET) between DNA-templated silver nanoclusters (AgNCs) and gold nanoparticles (AuNPs). The AgNCs and AuNPs were selected as energy donor and energy acceptor, respectively. The aptamer was designed to regulate the energy transfer between AgNCs and AuNPs. The aptamer was adsorbed on the AuNPs. Upon addition of kanamycin, the aptamer-kanamycin complex is formed, and this results in the aggregation of the AuNPs in high salt concentration, the formation of a blue coloration, and in the suppression of the SPEET process. The fluorescence of the AgNCs (with excitation/emission peaks at 560/600 nm) is quenched by the aptamer protected AuNPs in absence of kanamycin. The fluorescence on addition of kanamycin increases linearly in the 5 to 50 nM concentration range, with a lower detection limit of 1.0 nM (at S/N = 3). The assay can be performed within 30 min. It was successfully applied to the determination of kanamycin in spiked milk samples, and recoveries ranged between 90.2 and 95.4%. Conceivably, the strategy has a wide potential for screening by simply changing the aptamer.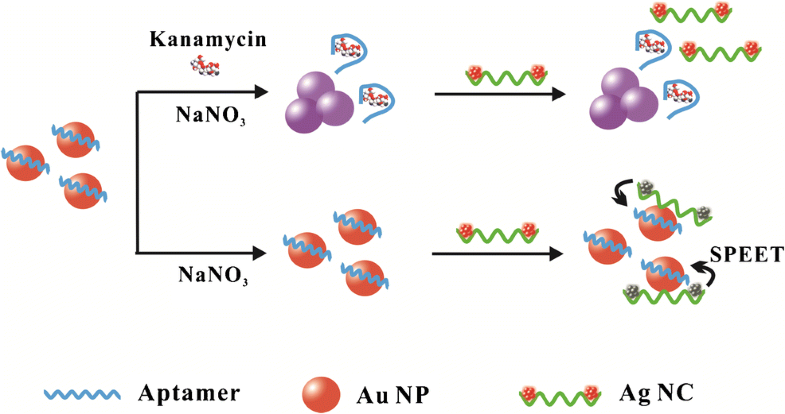 Keywords
Aptasensor 
Ag NCs 
Au NPs 
Antibiotics detection 
Food safety 
Milk analysis 
Notes
Acknowledgments
This work was financially supported by the National Natural Science Foundation of China (31801636), Shanghai Sailing Program (Grant No. 18YF1417300), and Cultivation Science Foundation of University of Shanghai for Science and Technology (ZR17PY08).
Compliance with ethical standards
This chapter does not contain any studies with human participants or animals performed by any of the authors.
Copyright information
© Springer-Verlag GmbH Austria, part of Springer Nature 2018