3D carbon nanosphere and gold nanoparticle-based voltammetric cytosensor for cell line A549 and for early diagnosis of non-small cell lung cancer cells
Abstract
An electrochemical cytosensor for the detection of the non-small-cell lung cancer cell line A549 (NSCLC) had been developed. A microwave-hydrothermal method was employed to prepare monodisperse colloidal carbon nanospheres (CNSs). Gold nanoparticles (AuNPs) were placed on the surface of the colloidal CNSs by self-assembly to obtain 3D-structured microspheres of the type CNS@AuNP. The results of an MTT assay show the microspheres to possess good biocompatibility. The CNS@AuNP nanocomposite was then placed, in a chitosan film, on a glassy carbon electrode (GCE). The voltammetric signals and detection sensitivity are significantly enhanced owing to the synergistic effect of CNSs and AuNPs. A cytosensor was then obtained by immobilization of antibody against the carcinoembryonic antigen (which is a biomarker for NSCLC) on the GCE via crosslinking with glutaraldehyde. Hexacyanoferrate is used as an electrochemical probe, and the typical working voltage is 0.2 V (vs. SCE). If exposed to A549 cells, the differential pulse voltammetric signal decreases in the 4.2 × 10−1 to 4.2 × 10−6 cells mL−1 concentration range, and the detection limit is 14 cells mL−1 (at S/N = 3).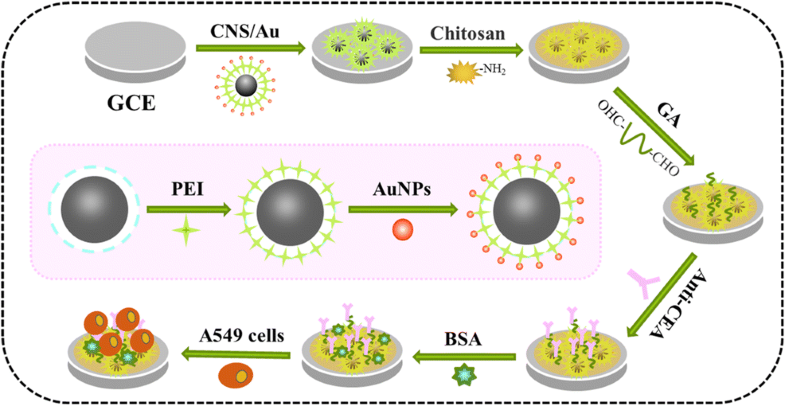 Keywords
Non-small-cell cancer 
A549 cell line 
Cytosensor 
CNS@AuNP 
Differential pulse voltammetry 
Carcinoembryonic antigen 
Notes
Acknowledgements
We sincerely appreciate the support from the National Natural Science Foundation of China (21373138), Shanghai Science and Technology Committee (17070503000), International Joint Laboratory on Resource Chemistry (IJLRC), Program for Changjiang Scholars and Innovative Research Team in University (IRT_16R49) and Science and Technology Innovation Foundation for College Students from Shanghai Normal University.
Compliance with ethical standards
The author(s) declare that they have no competing interests.
Copyright information
© Springer-Verlag GmbH Austria, part of Springer Nature 2018