A fluorometric aptasensor for bisphenol a based on the inner filter effect of gold nanoparticles on the fluorescence of nitrogen-doped carbon dots
Abstract
An aptamer-based fluorometric assay is described for the determination of bisphenol A (BPA). The aptamer against BPA is first attached to the surface of the red AuNPs, and this prevents the AuNPs from salt-induced formation of a blue-colored aggregate. Hence, the blue fluorescence of added nitrogen-doped carbon dots (NCDots) is quenched via an inner filter effect (IFE) caused by the red AuNPs. After addition of BPA, the BPA/aptamer complex is formed, and the AuNPs are no longer stabilized agains aggregation. This weakens the IFE and results in the recovery of the fluorescence of the NCDots which is measured best at excitation/emission wavelengths of 300/420 nm. The recovered fluorescence increases linearly in the 10 to 250 nM and 250 to 900 nM BPA concentration ranges, and the detection limit is 3.3 nM. The method was successfully applied to the determination of BPA in spiked environmental tap water samples.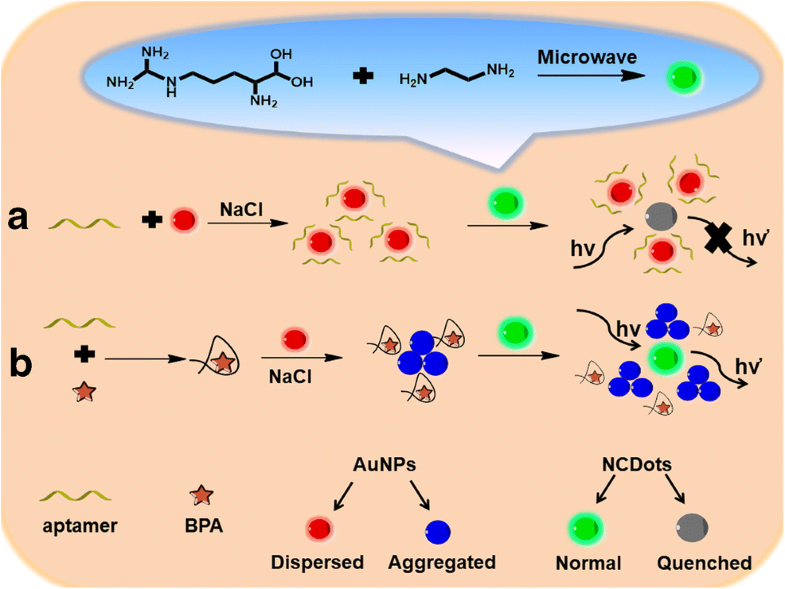 Keywords
Salt-induced aggregation 
Aggregated AuNPs 
Fluorescence quenched 
Fluorescence recovery 
BPA/aptamer complexes 
Tap water 
Environmental-friendly 
Low detection limit 
Wide linear range 
Quick response 
Notes
Acknowledgements
This work was financially supported by National Natural Science Foundation of China (No. 21707053), Natural Science Foundation of Jiangsu Province (No. BK20140577), and Advanced Talents Science Foundation of Jiangsu University (No. 10JDG052, 10JDG038).
Compliance with ethical standards
The author(s) declare that they have no competing interests.
Copyright information
© Springer-Verlag GmbH Austria, part of Springer Nature 2018