Porous covalent organonitridic frameworks for solid-phase extraction of sulfonamide antibiotics
Abstract
Porous covalent organonitridic frameworks (PCONFs) were applied as a packing in a solid-phase extraction cartridge for rapid extraction of eight sulfonamide antibiotics from complex samples. The detection was performed by liquid chromatography–tandem mass spectrometry under the multiple reaction monitoring mode. This enabled ultrasensitive, dependable and cost-effective simultaneous analysis of sulfacetamide, sulfadiazine, sulfathiazole, sulfapyridine, sulfamerazine, sulfamethazine, sulfamethoxazole and sulfisoxazole. Main parameters affecting the performance of the PCONF-packed cartridge were investigated. Under optimized conditions, this method has attractive features such as wide linear ranges (2.5–1000 ng·L−1), low limits of detection (0.14–2.0 ng·L−1), and good repeatability (intra-day assay: 2.1%–5.6%; inter-day assay: 2.3%–12.9%). It was successfully applied in the analysis of sulfonamide residues in water, milk and chicken meat samples.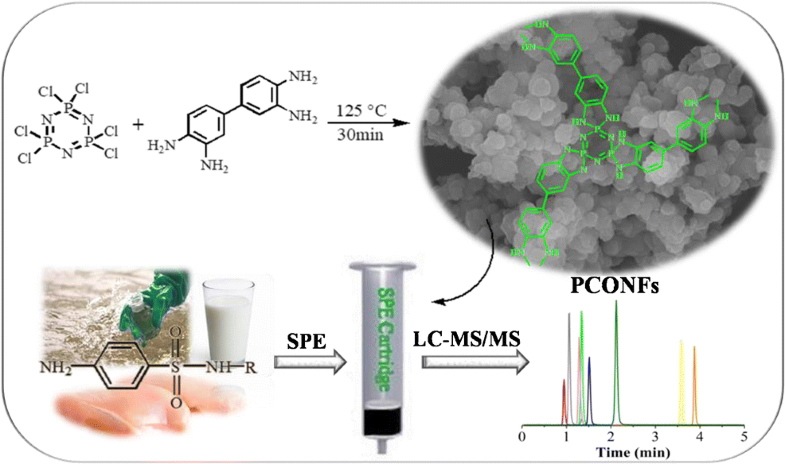 Keywords
Sample pretreatment 
Porous organic polymers 
Organic pollutant 
Liquid chromatography–tandem mass spectrometry 
Environmental analysis 
Food analysis 
Water 
Milk 
Chicken meat 
Notes
Acknowledgements
This work was supported by National Natural Science Foundation of China (21777089 and 21477068), Key Research and Development Program of Shandong Province (2017GSF17107 and 2018GSF117036), Natural Science Foundation of Shandong Province (ZR2018LB033 and ZR2017LB026), Youth Science Funds of Shandong Academy of Sciences (2018QN002), and Shandong Province Taishan Scholar Program (ts201712063).
Compliance with ethical standards
The author(s) declare that they have no competing interests.
Copyright information
© Springer-Verlag GmbH Austria, part of Springer Nature 2018