Phosphorus and chlorine co-doped carbon dots with strong photoluminescence as a fluorescent probe for ferric ions
Abstract
Usually, carbon dots (CDs) display a relatively weak fluorescence quantum yield (QY). In order to obtain brighter CDs, phosphorus and chlorine co-doped CDs (P,Cl-CDs) were prepared via hydrothermal treatment of maltose in the presence of phosphoric and hydrochloric acids. The new CDs are highly monodispersed in water solution, have high fractions of P (14.4 atomic%) and Cl (8.9 atomic%), and exhibited yellow fluorescence with a QY of 15%. This is higher than that of monoatomic doped CDs (8.7 and 9.3% for P-CDs and Cl-CDs, respectively). The P,Cl-CDs are highly photostable, and fluorescence is strongly (statically) quenched by Fe(III). Fluorescence decreases with increasing concentration of Fe(III) in the range from 0.1–8.0 μmol⋅L-1, with a 60 nmol⋅L-1 detection limit. The doped CDs are shown to be a viable nanoprobe for the fluorometric determination of Fe(III) in spiked serum and water samples.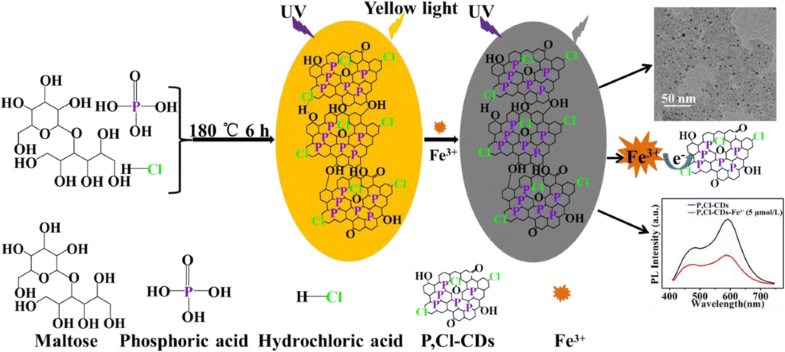 Keywords
Co-doped carbon dots 
Phosphorus 
Chlorine 
Fluorescent probe 
Quantum yield 
Notes
Acknowledgements
This work was financially supported by the National Natural Science Foundation of China (21675062), the Science and Technology Planning Project of Fujian Province, China (2017 J05024, 2018D0019), and the Program for New Century Excellent Talents in Fujian Province University (NCETFJ, B16164).
Compliance with ethical standards
The author(s) declare that they have no competing interests.
Copyright information
© Springer-Verlag GmbH Austria, part of Springer Nature 2018