Gold nanorods decorated with graphene oxide and multi-walled carbon nanotubes for trace level voltammetric determination of ascorbic acid
Abstract
An ultra-sensitive sensor is described for the voltammetric determination of ascorbic acid (AA). A glassy carbon electrode (GCE) was modified with graphene oxide (GO), multi-walled carbon nanotubes (MWCNTs) and gold nanorods (AuNRs). GO was used to prevent the aggregation of MWCNTs. The integration of positively charged AuNRs reduces the overpotential and increases the peak current of AA oxidation. Figures of merit of this sensor, typically operated at a low working potential of 0.036 V (vs. Ag/AgCl), include a low detection limit (0.85 nM), high sensitivity (7.61 μA·μM−1·cm−2) and two wide linear ranges (from 1 nM to 0.5 μM and from 1 μM to 8 mM). The use of GO simplifies the manufacture and results in a highly reproducible and stable sensor. It was applied to the quantification of AA in spiked serum.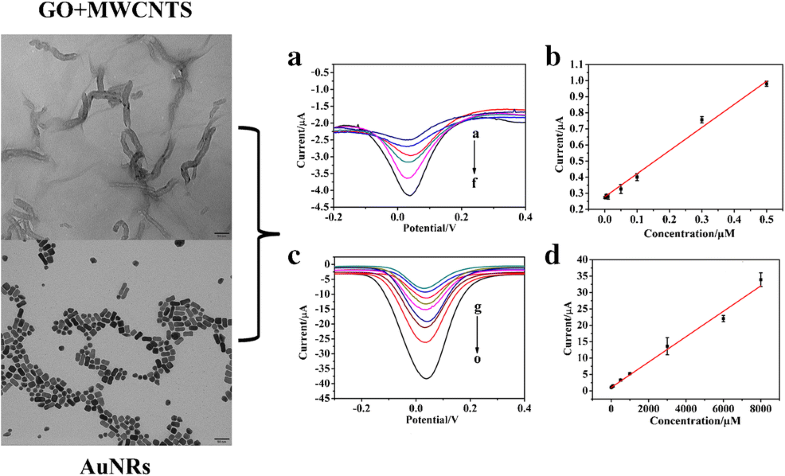 Keywords
Electrochemical sensor 
Modified electrode 
Hybrid material 
Electrocatalysis 
Differential pulse voltammetry 
Notes
Acknowledgements
This work was supported by the Natural Science Foundation of Shandong Province, China (Nos. ZR2016BM27 and ZR2017PB006).
Compliance with ethical standards
The author(s) declare that they have no competing interests.
Copyright information
© Springer-Verlag GmbH Austria, part of Springer Nature 2018