A phenylboronate-based SERS nanoprobe for detection and imaging of intracellular peroxynitrite
Abstract
A surface-enhanced Raman scattering (SERS) based nanoprobe was developed for detection and imaging of endogenous peroxynitrite in living cells. The probe was fabricated by assembling 3-mercaptophenylboronic acid pinacol ester onto the surface of gold nanoparticles (AuNPs). The detection of peroxynitrite is accomplished via measurement of the changes in the SERS spectra (at 882 cm−1) that are caused by the reaction between probe and peroxynitrite. The probe has a fast response (<30 s), a 0.4 μM lower detection limit and a wide linearity range from 5.0 × 10−7 to 1.0 × 10−4 M. It is biocompatible and highly stable on storage and under various pH conditions. Both the reaction and the SERS signal are highly specific over other species. The nanoprobe was successfully applied to SERS imaging of peroxynitrite that is produced in macrophages under oxidative stress. Conceivably, the method has a most viable tool for use in studies on peroxynitrite-related physiological and pathological processes.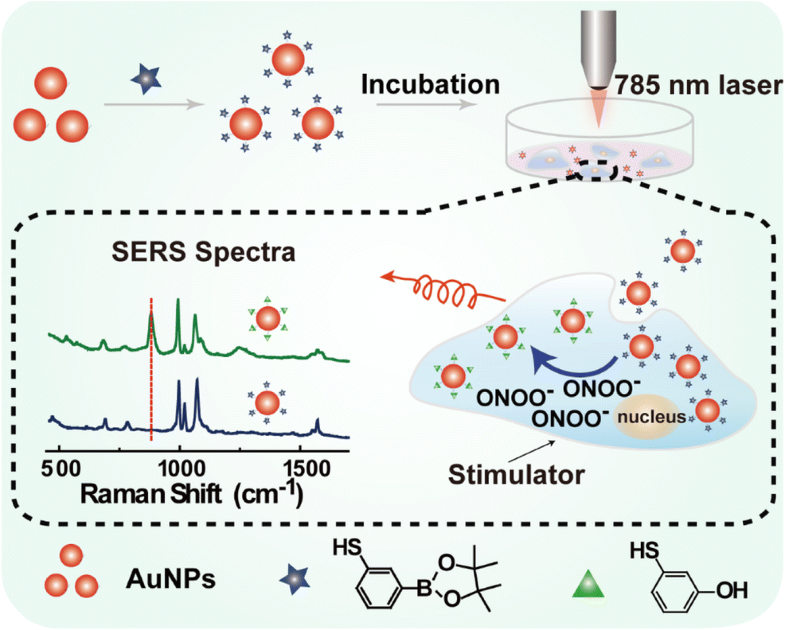 Keywords
Gold nanoparticles 
Boronate ester 
Biosensor 
Specific reaction 
Surface-enhanced Raman scattering 
Reactive oxygen species 
Oxidative stress 
Living cell 
Notes
Acknowledgments
The authors greatly appreciate the financial support from National Natural Science Foundation of China (21575041, 21777041), Shanghai Pujiang Program (17PJD010), and the Fundamental Research Funds for the Central Universities (222201718001, 222201717003).
Compliance with ethical standards
The author(s) declare that they have no competing interests.
Copyright information
© Springer-Verlag GmbH Austria, part of Springer Nature 2018