Synthesis of CuO/g-C3N4 composites, and their application to voltammetric sensing of glucose and dopamine
Abstract
The preparation of 3 kinds of carbonaceous nanocomposites by hydrothermal treatment and subsequent calcination described. The first comprises a nanomaterial of type CuO/g-C3N4, with g-C3N4 in mass fractions of 2, 5 and 7 wt%, respectively. The second comprises CuO/porous carbon (5 wt%), and the third comprises CuO/carbon spheres (5 wt%). All of them were employed to modify a glassy carbon electrode (GCE) to obtain electrochemical sensors for glucose and dopamine. The GCE modified with CuO/g-C3N4 (5 wt%) displays the highest electrocatalytic activity towards glucose and dopamine. Figures of merit for sensing glucose (in 0.1 M NaOH solution) include a wide linear range (0.5 μM to 8.5 mM), a detection limit of 0.150 μM, and a sensitivity of 0.274 μA·μM−1·cm−2 (at a working potential of 0.60 V vs. Ag/AgCl). The respective data for dopamine (in pH 7.0 solution) are linear ranges from 0.2-16.0 μM and 16.0-78.7 μM, a lower detection limit of 60 nM, and an electrochemical sensitivity of 0.834 and 0.331 μA·μM−1·cm−2 (at a working potential of 0.22 V vs. Ag/AgCl). The good performance of the modified GCE is attributed to the synergetic interactions between CuO and the appropriate fraction of g-C3N4, and the improvement of conductivity.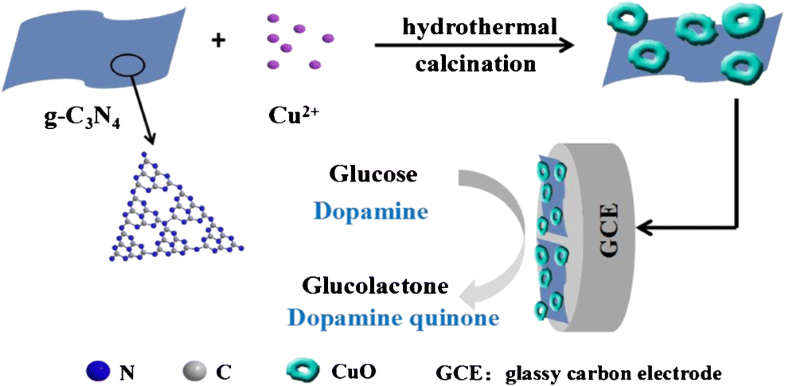 Keywords
Carbonaceous material 
Nanocomposite 
Hydrothermal method 
Calcination 
Synergetic effect 
Electrocatalyst 
Electrochemical sensor 
Cyclic voltammetry 
Amperometric response 
Differential pulse voltammetry 
Notes
Acknowledgements
We acknowledge financial support from the National Natural Science Foundation of China (Grant No. 21205030), and by key project of Hubei provincial education department (D20171001), and Hubei Key Laboratory of Ferro & Piezoelectric Materials and Devices (201710), and (111 project, B12015).
Compliance with ethical standards
The author(s) declare that they have no competing interests.
Conflict of interest
The authors declare that they have no conflict of interest.
Copyright information
© Springer-Verlag GmbH Austria, part of Springer Nature 2018