Double G-quadruplexes in a copper nanoparticle based fluorescent probe for determination of HIV genes
Abstract
A DNA-templated copper nanoparticle (CuNP) probe has been developed for the determination of the human immunodeficiency virus oligonucleotide (HIV-DNA). The function of the probe relies on affinity binding-induced DNA hybridization associated with the use of double G-quadruplexes. Double-stranded DNA (dsDNA) with poly(AT-TA) bases was used as a template for synthesis of dsDNA-CuNPs. These have weak fluorescence. In the next step, two G-rich sequences that are linked to both sides of the ds-DNA are locked by HIV complementary DNA (cDNA). If HIV-DNA is introduced, it will hybridize with cDNA, thereby transforming the two G-rich sequences into G-quadruplexes. This enhances the fluorescence of the adjacent dsDNA-CuNPs. Fluorescence increases linearly in the 1 to 200 and 250–1000 nM HIV-DNA concentration range, and the detection limit is 13 pM. This enzyme-free fluorometric assay is time-saving, easily operated, and therefore has large potential in biosensing because it may be extended to various other DNA targets.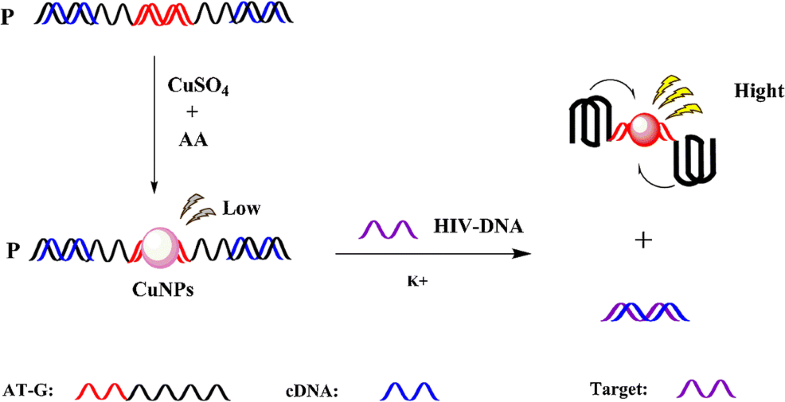 Keywords
dsDNA-CuNPs 
HIV-DNA 
Enzyme-free 
Target-triggered chain hybridization 
Notes
Acknowledgments
This work was supported by the National Natural Science Foundation of China (No. 21775132, 21505112), Scientific Research Foundation of Hunan Provincial Education Department (No. 16A204), Hunan 2011 Collaborative Innovation Center of Chemical Engineering & Technology with Environmental Benignity, Effective Resource Utilization, the project of innovation team of the ministry of education (IRT_17R90) and "1515"academic leader team program of Hunan Agricultural University.
Compliance with ethical standards
The author(s) declare that they have no competing interests.
Copyright information
© Springer-Verlag GmbH Austria, part of Springer Nature 2018