Optical, electrochemical and catalytic methods for in-vitro diagnosis using carbonaceous nanoparticles: a review
Abstract
This review (with 261 refs.) summarizes the progress that has been made in the field of in-vitro diagnosis using carbonaceous nanoparticles (CNPs). Signal readout is mostly based on fluorometry, electrochemistry and colorimetry. Following an introduction, the next two sections cover methods for the fabrication and separation of CNPs. This is followed by sections on (a) fluorometric methods, (b) electrochemical methods, and (c) colorimetric methods for detecting various analytes. Several subsections discuss detection schemes for analytes such as metal ions, pH value, reactive oxygen species, small biogenic molecules (for example glucose, ascorbic acid, amino acids, dopamine), and biomacromolecules (such as enzymes, cancer markers, DNA). A further section discusses methods based on the peroxidase-like activity of CNPs, and how they can be employed for the determination of species such as glucose, cholesterol, glutathione, and uric acid via H2O2-based chromogenic methods. Finally, the challenges and future perspectives in this research area are discussed.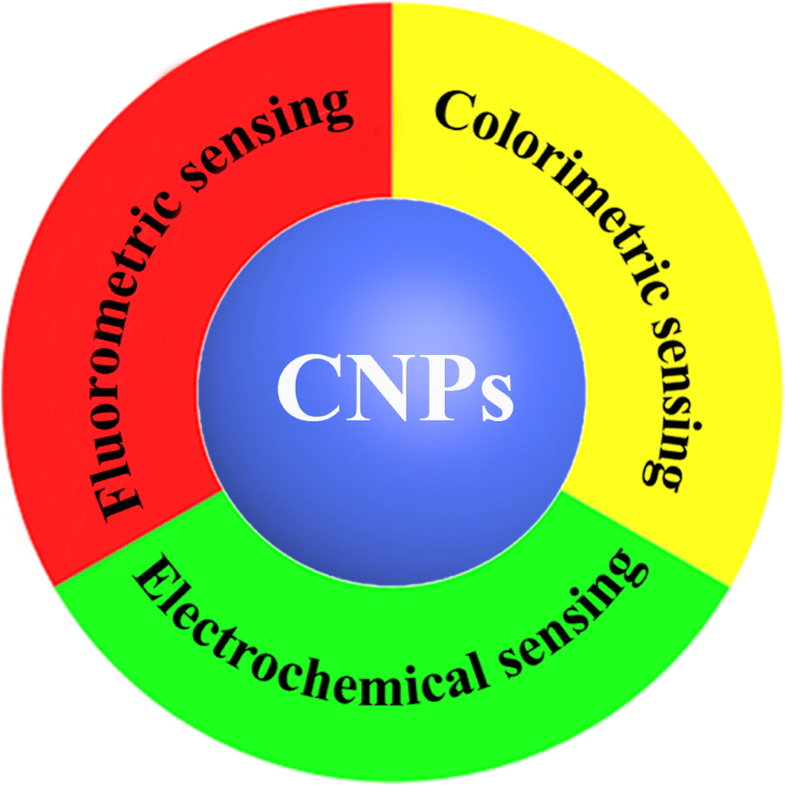 Keywords
Fluorometry 
Electroanalysis 
Colorimetry 
Fabrication 
Separation 
C-dots 
Graphene quantum dots 
Carbon quantum dots 
Carbon nanotubes 
Graphene 
Notes
Acknowledgments
This work is financially supported by the National Natural Science Foundation of China (Nos. 21775004 and 21422501), Wanjiang Scholar program, and Foundation for Innovation Team of Bioanalytical Chemistry.
Compliance with ethical standards
The author(s) declare that they have no competing interests.
Copyright information
© Springer-Verlag GmbH Austria, ein Teil von Springer Nature 2019