Gold/WS2 nanocomposites fabricated by in-situ ultrasonication and assembling for photoelectrochemical immunosensing of carcinoembryonic antigen
Abstract
Tungsten disulfide (WS2) nanosheets were obtained by exfoliating WS2 bulk crystals in N-methylpyrrolidone by ultrasonication. Gold nanoparticles (GNPs) were synthesized by in-situ ultrasonication of sodium citrate and HAuCl4 while fabricating the WS2 nanosheets. In this way, the GNPs were self-assembled on WS2 nanosheets to form a GNPs/WS2 nanocomposite through interaction between sulfur and gold atoms. The photoelectrochemical response of WS2 nanosheets is significantly enhanced after integration of the GNPs. The GNPs/WS2 nanocomposite was coated onto a glassy carbon electrode (GCE) to construct a sensing interface which then was modified with an antibody against the carcinoembryonic antigen (CEA) to obtain a photoelectrochemical immunosensor for CEA. Under optimized conditions, the decline in relative photocurrent is linearly related to the logarithm of the CEA concentration in the range from 0.001 to 40 ng mL−1. The detection limit is 0.5 pg mL−1 (at S/N = 3). The assay is sensitive, selective, stable and reproducible. It was applied to the determination of CEA in clinical serum samples.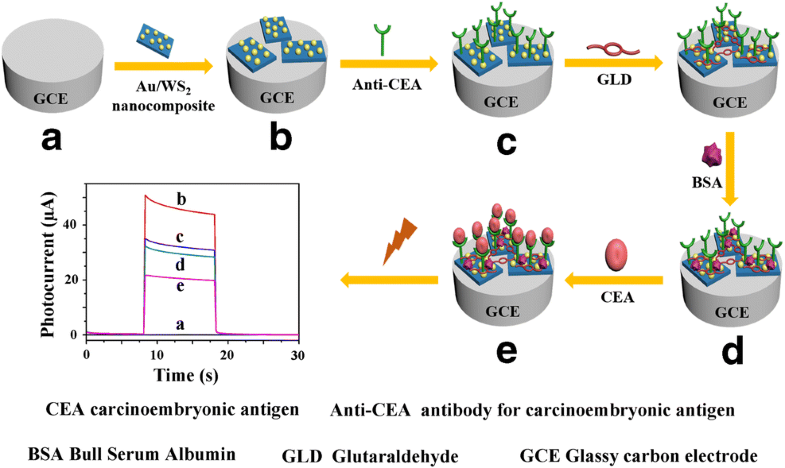 Keywords
Photoelectrochemistry 
Immunosensor 
CEA 
Transition metal dichalcogenides 
Nanosheets 
Gold nanoparticles 
Notes
Acknowledgements
The authors gratefully acknowledge the financial supports from The National Natural Science Foundation of China (No. 21874157, 21675175, 21445003 and 21275166), Major Projects of Technical Innovation of Hubei Province (No. 2017ACA172) and The Natural Science Foundation of Hubei Province (No. 2018CFB617 and 2015CFA092).
Compliance with ethical standards
The author(s) declare that they have no competing interests.
Copyright information
© Springer-Verlag GmbH Austria, part of Springer Nature 2018