Magnetic boronate modified molecularly imprinted polymers on magnetite microspheres modified with porous TiO2 (Fe3O4@pTiO2@MIP) with enhanced adsorption capacity for glycoproteins and with wide operational pH range
Abstract
Boronate-affinity based molecularly imprinted polymers (MIPs) are beset by the unsatisfied adsorption capacity and narrow working pH ranges. A magnetic molecularly imprinted polymer containing phenylboronic acid groups was placed on the surface of Fe3O4 (magnetite) microspheres coated with porous TiO2 (Fe3O4@pTiO2@MIP). In contrast to its silica analog (Fe3O4@SiO2@MIP), the flowerlike Fe3O4@pTiO2 offers more binding sites for templates. Thus, the adsorption capacity of the Fe3O4@pTiO2@MIP is strongly enhanced. The strong electron-withdrawing effects of Ti(IV) enable the boronic acid of the MIP to have better affinity for glycoproteins at a wide pH range from 6.0 to 9.0. Consequently, the Fe3O4@pTiO2@MIP exhibits higher adsorption for glycoproteins than Fe3O4@SiO2@MIP in both basic and acidic medium. The Fe3O4@pTiO2@MIPs were eluted with 5% acetic acid aqueous solution containing 30% acetonitrile, and the eluate was analyzed by MALDI-TOF MS. The method was applied to the selective extraction and quantitation of horseradish peroxidase (HRP) in spiked fetal bovine serum (FBS). The linear range is 0.40–10 μg·mL−1 with the limit of detection of 0.31 μg·mL−1. In our perception, this work has a wide scope in that is paves the way to a more widespread application of boronate affinity based MIPs for analysis of glycoproteins and related glyco compounds even at moderately acidic pH values.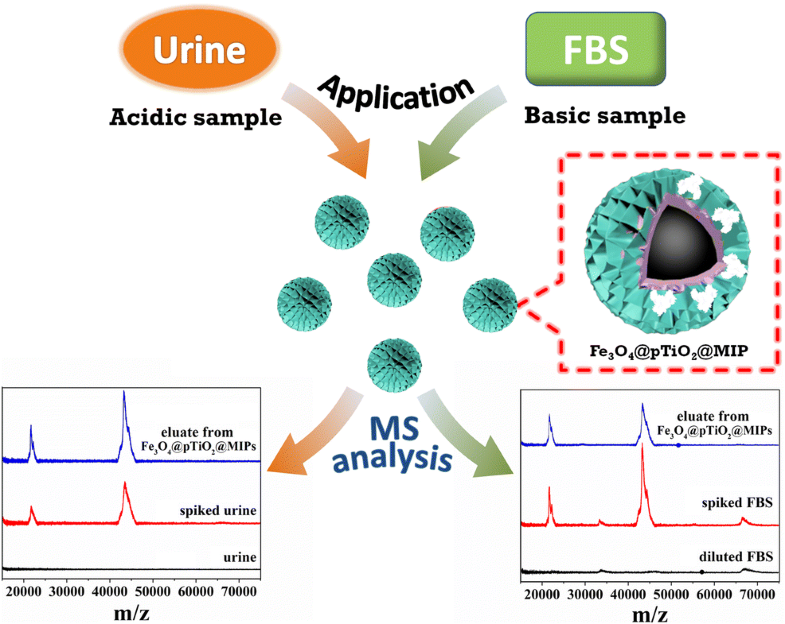 Keywords
Magnetic separation 
Boronate-affinity 
Moderate acidic conditions 
Horseradish peroxidase 
MALDI-TOF MS 
Notes
Acknowledgements
This work was supported by the National Natural Science Foundation of China (No. 21575150 and 21775153) and the Scholar Program of West Light Project, Chinese Academy of Sciences.
Compliance with ethical standards
The author(s) declare that they have no competing interests.
Copyright information
© Springer-Verlag GmbH Austria, part of Springer Nature 2018