An enzymatic ratiometric fluorescence assay for 6-mercaptopurine by using MoS2 quantum dots
Abstract
A ratiometric fluorescence method is described for the determination of the anticancer drug 6-mercaptopurine (6-MP). The method is based on the use of fluorescent MoS2 quantum dots (MQDs) and of the enzyme horseradish peroxidase (HRP). In the absence of 6-MP, HRP catalyzes the oxidation of o-phenylenediamine (OPD) by H2O2 to form 2,3-diaminophenazine (DAP). This leads to quenching of the violet fluorescence of MQDs (measured at excitation/emission wavelengths of 360/415 nm), while the strong yellow fluorescence of DAP (peaking at 560 nm) becomes increasingly strong. In the presence of 6-MP, however, it will be preferentially oxidized by the HRP/H2O2 system to form a disulfide dimer. Hence, less H2O2 is available for the oxidation of OPD and less DAP will be formed. This results in the recovery of the violet fluorescence and a decrease of the yellow fluorescence. The ratio of the two signals can be used to quantify either H2O2 or 6-MP. Linear responses are observed for H2O2 in 0.5–140 μM concentration range, and for 6-MP in the 0.5–70 μM concentration range, with detection limits of 0.1 μM and 0.29 μM, respectively. The method was applied to the determination of 6-MP in spiked human urine and gave satisfactory results.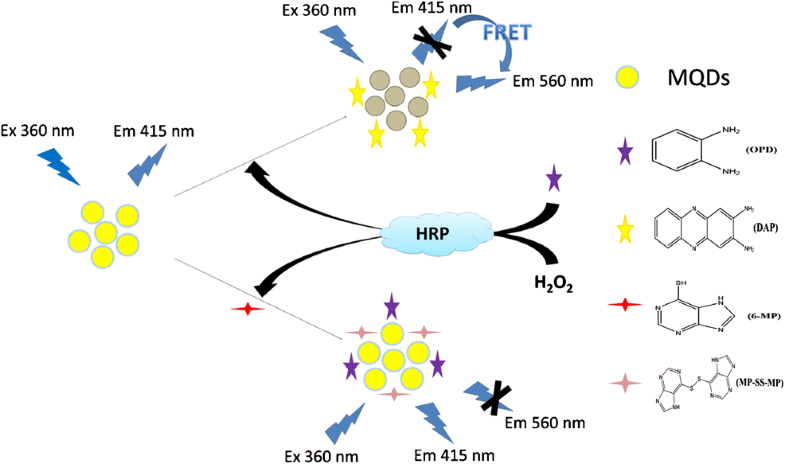 Keywords
Hydrogen peroxide 
Fluorometry 
Ortho-phenylenediamine 
H2O2 
Ratiometric fluorescence 
Horseradish peroxidase 
2,3-diaminophenazine 
Fluorescence resonance energy transfer 
Notes
Acknowledgments
This work was supported by the National Natural Science Foundation of China (No. 21775052 and No. 21575048), the Science and Technology Development project of Jilin province, China (No. 20180414013GH).
Compliance with ethical standards
The author(s) declare that they have no competing interests.
Copyright information
© Springer-Verlag GmbH Austria, part of Springer Nature 2018