Colorimetric determination of dopamine by exploiting the enhanced oxidase mimicking activity of hierarchical NiCo2S4-rGO composites
Abstract
A composite consisting of NiCo2S4 and reduced graphene oxide (rGO) was prepared via a hydrothermal process. Compared to individual NiCo2S4 nanomaterials or reduced graphene oxide, the composite exhibits enhanced oxidase-like activity. It is found that dopamine (DA) inhibits the ability of NiCo2S4-rGO to oxidize the substrate 3,3′,5′,5′-tetramethylbenzidine (TMB) to form blue colored ox-TMB. Based on these findings, a colorimetric method for determination of DA was worked out. The absorption, best measured at 652 nm, increases linearly in the 0.5–100 μM DA concentration range, and the limit of detection is 0.42 μM. This method was successfully applied to the detection of DA in spiked human serum samples.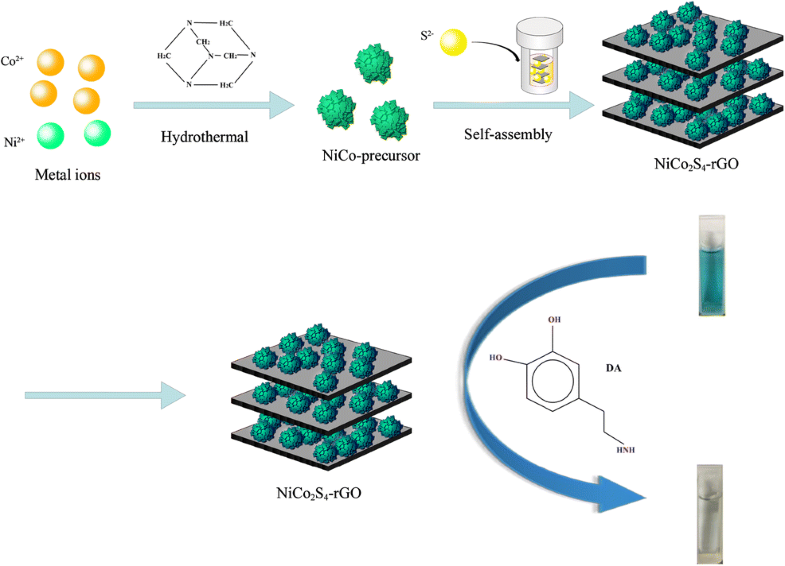 Keywords
Hybrid nanostructure 
Oxidase mimetic 
Synergistic effect 
Colorimetric assay 
Human serum sample 
Notes
Acknowledgments
This work was supported by a grant from the National Natural Science Foundation of China (21305097) and the 2016 undergraduate innovation training program of Sichuan Agricultural University (04054674).
Compliance with ethical standards
The author(s) declare that they have no competing interests.
Copyright information
© Springer-Verlag GmbH Austria, part of Springer Nature 2018