Ultrasensitive determination of thrombin by using an electrode modified with WSe2 and gold nanoparticles, aptamer-thrombin-aptamer sandwiching, redox cycling, and signal enhancement by alkaline phosphatase
Abstract
A sensitive aptamer/protein binding-triggered sandwich assay for thrombin is described. It is based on electrochemical-chemical-chemical redox cycling using a glassy carbon electrode (GCE) that was modified with WSe2 and gold nanoparticles (AuNPs). The AuNPs are linked to thrombin aptamer 1 via Au-S bonds. Thrombin is first captured by aptamer 1 and then sandwiched through the simultaneous interaction with AuNPs modified with thrombin-specific aptamer 2 and signalling probe. Subsequently, the DNA-linked AuNP hybrids result in the capture of streptavidin-conjugated alkaline phosphatase onto the modified GCE through the specific affinity reaction for further signal enhancement. As a result, a linear range of 0–1 ng mL−1 and a detection limit as low as 190 fg mL−1 are accomplished. The specificity for thrombin is excellent. Conceivably, this strategy can be easily expanded to other proteins by using the appropriate aptamer.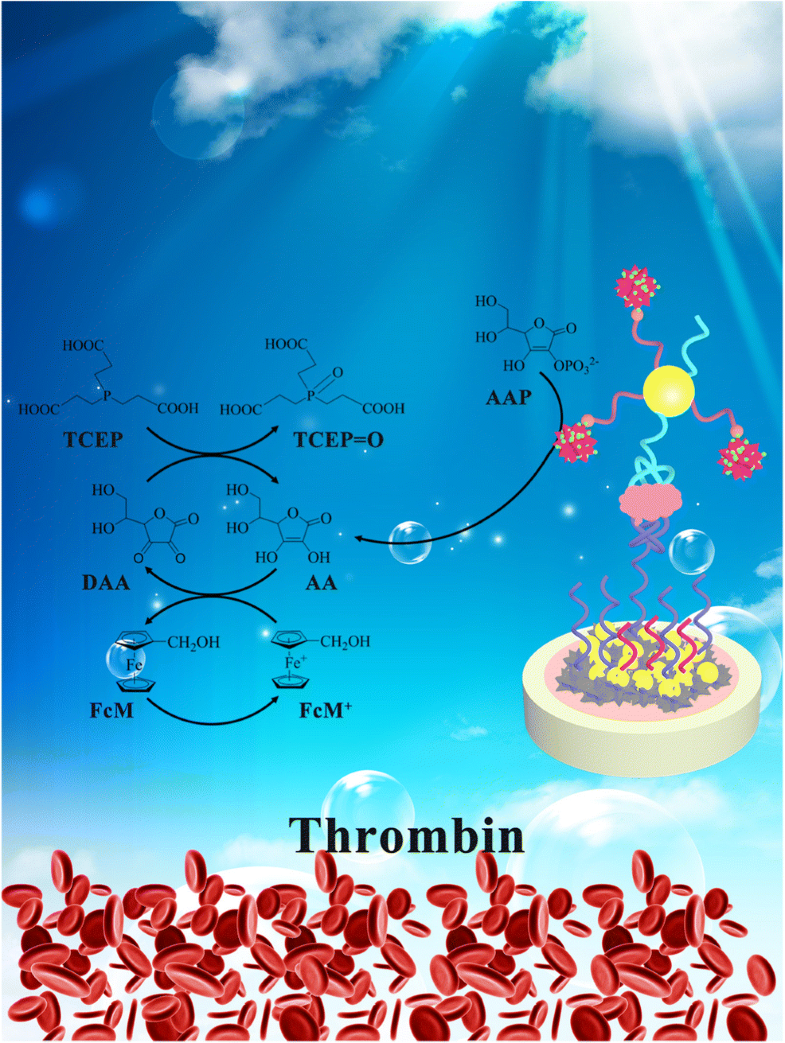 Keywords
Tungsten diselenide nanosheets 
Electrochemical biosensor 
Sandwiched structure 
Protein 
Signal enhancement 
Notes
Acknowledgments
This work was supported by the National Natural Science Foundation of China (21475115), Henan Provincial Science and technology innovation team (C20150026), Nanhu Scholars Program of XYNU and Henan Science and Technology Cooperation Project (172106000064).
Compliance with ethical standards
The author(s) declare that they have no competing interests.
Copyright information
© Springer-Verlag GmbH Austria, part of Springer Nature 2018