A fluorometric aptasensor for patulin based on the use of magnetized graphene oxide and DNase I-assisted target recycling amplification
Abstract
A fluorometric patulin (PAT) assay is presented that is based on the use of magnetic reduced graphene oxide (rGO) and DNase I. The fluorescence of the PAT aptamer labelled with 6-carboxyfluorescein (FAM) is quenched by magnetized reduced graphene oxide (rGO-Fe3O4) due to fluorescence resonance energy transfer (FRET). However, in the presence of PAT, the labelled aptamer is stripped off from rGO-Fe3O4. The rGO-Fe3O4 is then magnetically separated so that the fluorescence of free labelled PAT aptamer is restored. DNase I cannot hydrolyze the aptamer on rGO-Fe3O4, but it can cleave the free aptamer-PAT complex. This will release FAM and PAT which can undergo a number of additional cycles to trigger the cleavage of abundant aptamer. Recycling of DNase I-assisted target therefore leads to a strong amplification of fluorescence and consequently to an assay with low limit of detection. The detection limit for PAT is as low as 0.28 μg L−1 which is about 13 times lower than that without using DNase I. The method offers a new approach towards rapid, sensitive and selective detection based on an aptamer. Conceivably, it has a wide scope in that it may be applied to numerous other analytes if appropriate aptamers are available.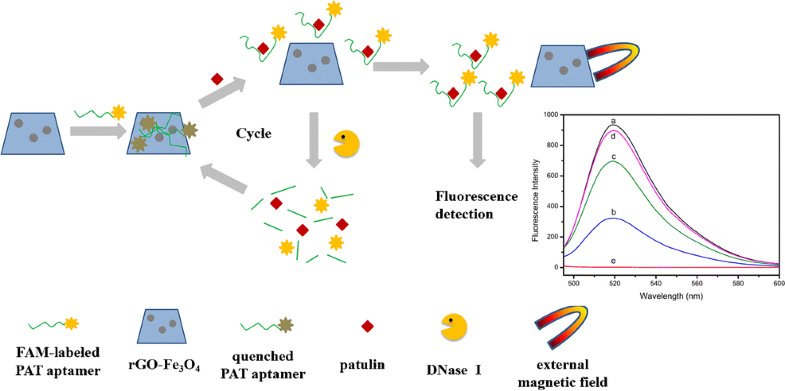 Keywords
Magnetized reduced graphene oxide 
Patulin 
Aptamer 
Recycling amplification 
DNase I 
Fluorescence 
Notes
Acknowledgements
The authors are grateful for the financial support provided by Fundamental Research Funds for the Central Universities (Project NO.XDJK2017B042 and SWU117005).
Compliance with ethical standards
The authors declare that they have no competing interests.
Copyright information
© Springer-Verlag GmbH Austria, part of Springer Nature 2018