A test strip for ochratoxin A based on the use of aptamer-modified fluorescence upconversion nanoparticles
Abstract
An aptamer-based test strip is described for visual and instrumental determination of the mycotoxin ochratoxin A (OTA). It is based on the use of NaYF4:Yb,Er upconversion nanoparticles (UCNPs) as a label for the aptamer and on the competition between OTA and its complementary sequence for an OTA-specific aptamer. To improve the analytical performance, the optical properties of the UCNPs, the fluidity of the UCNP-aptamer conjugate, and the migration rate on the nitrocellulose membranes were investigated. Under the optimal experimental conditions and by using a 980-nm laser, the relative fluorescence intensity (test line value/control line value) is proportional to the logarithm of the OTA concentration over a range from 5 to 100 ng·mL−1 (R2 = 0.9955). The limit of the detection is 1.86 ng·mL−1. This aptamer based flow assay can be performed within 15 min and has no serious cross-sensitivity to potentially interfering species. It was successfully applied to the determination of OTA in spiked wheat and beer samples.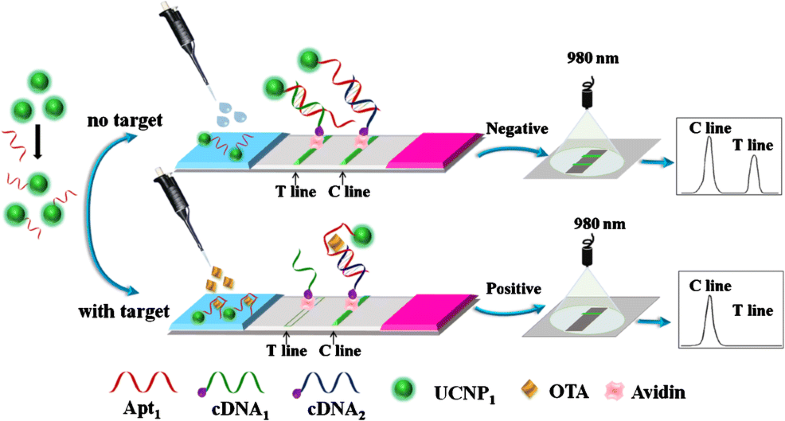 Keywords
Mycotoxin 
Rapid detection 
Upconversion nanoparticles 
Wheat, beer 
Notes
Acknowledgements
This work was partially supported by Key Research and Development Program of Jiangsu Province BE2016306, National Natural Science Fund of China (NSFC 31772086), Project funded by China Postdoctoral Science Foundation (2016 T90430), Project funded by Jiangsu Province Postdoctoral Science Foundation (1601087B, 1701097B), Young Elite Scientists Sponsorship Program by CAST (2017QNRC001) and Fundamental Research Funds for the Central Universities (JUSRP21826).
Compliance with ethical standards
The author(s) declare that they have no competing interests.
Copyright information
© Springer-Verlag GmbH Austria, part of Springer Nature 2018