A glassy carbon electrode modified with nitrogen-doped reduced graphene oxide and melamine for ultra-sensitive voltammetric determination of bisphenol A
Abstract
A composite was prepared at room temperature from nitrogen-doped reduced graphene oxide (N-rGO) and melamine via π-interaction. An ultra-sensitive electrochemical sensor for the determination of trace levels of bisphenol A (BPA) was obtained by coating a glassy carbon electrode (GCE) with the composite. The structure and morphology of composite were characterized by FTIR, Raman, XRD, XPS, SEM and TEM. Because of the synergetic effects of N-rGO and melamine, the modified GCE displays considerably enhanced sensitivity to BPA. The voltammetric response, typically measured at a peak of 0.48 V (vs. SCE) is linear in the 0.05 to 20 μM BPA concentration range, and the detection limit is 0.8 nM (at S/N = 3). The sensor is reproducible, stable and selective. It was applied to analyze baby bottles, drinking cups, mineral water bottles and shopping receipts that were spiked with BPA, and the recoveries reached 99.1–101.4%.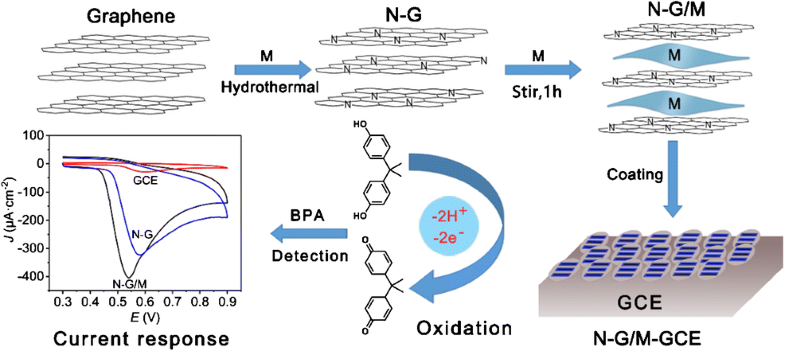 Keywords
Carbon-based nanomaterials 
π-Interaction 
Supramolecular system 
Sensor 
Voltammetry 
Differential pulse voltammetry 
Real sample analysis 
Endocrine disruptor 
Trace BPA 
Electrochemical detection 
Notes
Acknowledgments
The authors are grateful to the financial support of the National Nature Science Foundation of China (Nos. 51572036, 51472035), the Science and Technology Department of Jiangsu Province (BY2015027-18, BY2016029-12), Changzhou key laboratory of graphene-based materials for environment & safety (CE20160001-2, CM20153006) and the PAPD of Jiangsu Higher Education Institution.
Compliance with ethical standards
The author(s) declare that they have no competing interests.
Copyright information
© Springer-Verlag GmbH Austria, part of Springer Nature 2018