A catalytic cleavage strategy for fluorometric determination of Hg(II) based on the use of a Mg(II)-dependent split DNAzyme and hairpins conjugated to gold nanoparticles
Abstract
A catalytic cleavage strategy was developed for the fluorometric determination of Hg(II). The method is based on the use of a Mg(II)-dependent split DNAzyme. Fluorophore labeled hairpins were conjugated to gold nanoparticles (AuNPs) upon which fluorescence is quenched. Thymine-Hg(II)-thymine (T-Hg(II)-T) interaction causes the two DNA sequences to form an entire enzyme-strand DNA (E-DNA). The E-DNA bind to the hairpins on the AuNPs to form a Mg(II)-dependent DNAzyme structure. The circular cleavage of hairpins results in a signal amplification and in the recovery of fluorescence. The assay has a limit of detection (LOD) as low as 80 pM of Hg(II). This LOD is comparable to those obtained with other amplification strategies. The method was successfully applied to the determination of Hg(II) in Chinese herbs (Atractylodes macrocephala Koidz).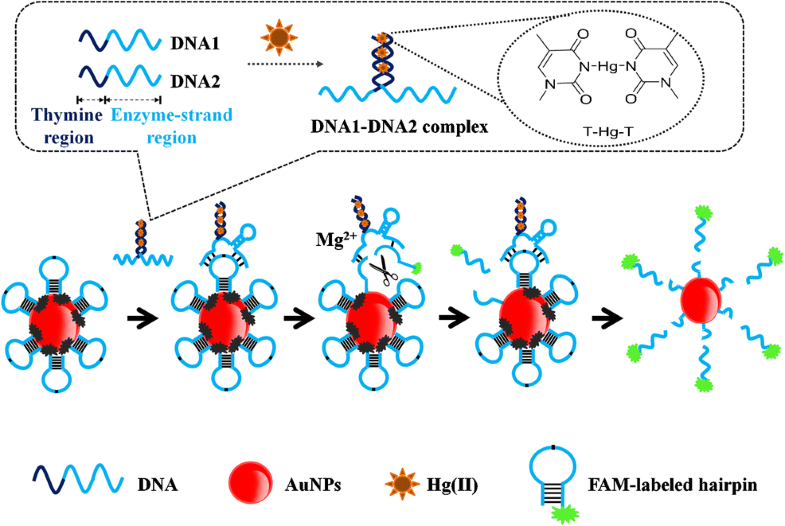 Keywords
AuNPs 
Split DNAzyme 
Amplification 
Enzyme-free detection 
T-Hg(II)-T 
Notes
Acknowledgements
This work is sponsored by Chongqing Key Laboratory of Catalysis and New Environmental Materials (Grant No. KFJJ2017033), Open Research Fund (CQCM-2016-05), the Opening Project of Zhejiang Provincial Top Key Discipline of Pharmaceutical Sciences (Grant No.201712), the Science and Technology Research Program of Chongqing Municipal Education Commission (Grant No. KJ1706156), the Project of Wenzhou Science &Technology Bureau (W20170006), the Open Project of State Key Laboratory Cultivation Base for Nonmetal Composites and Functional Materials (Grant No. 17kffk06), the Startup Foundation of Chongqing Technology and Business University (Grant No.1756001), National Natural Science Foundation of China (Grant No. 21601164; 31300819).
Compliance with ethical standards
The author(s) declare that they have no competing interests.
Copyright information
© Springer-Verlag GmbH Austria, part of Springer Nature 2018