Colorimetric determination of sialic acid based on boronic acid-mediated aggregation of gold nanoparticles
Abstract
The authors describe a rapid, sensitive and selective colorimetric assay for sialic acid (SA) based on the use of gold nanoparticles (AuNPs) modified with 3-aminophenylboronic acid (3-APBA) which acts as the recognition probe for SA. 3-APBA contains amino groups and boronic acid groups through which it can assemble on citrate stabilized AuNPs. It reacts with the cis-diol groups of SA by reversible formation of a cyclic boronate ester in slightly acidic buffer. Detection involves the sequential addition of AuNPs, phosphate buffer, 3-APBA and SA in a tube, vortex mixing, acquisition of photographic images or absorption spectra, and calculation of the result. The method is simple, rapid, and does not require cumbersome steps such as the preparation of stable boronic acid functionalized AuNPs as used in colorimetric sensing of saccharides. Under the optimum conditions, the ratio of absorbances at 700 and 520 nm increases linearly in the 0.15–1.00 mM SA concentrations range, and the detection limit is 60 µM. This is comparable to the detection limit obtained in other colorimetric assays reported. Acceptable intra- and inter-day precisions of three SA concentrations (0.50, 1.00 and 2.00 mM) ranged from 1.9−4.2% and 4.2−6.4%, respectively. The efficacy of the method was demonstrated by analyzing simulated human saliva which gave recoveries ranging from 98.7−106.0%.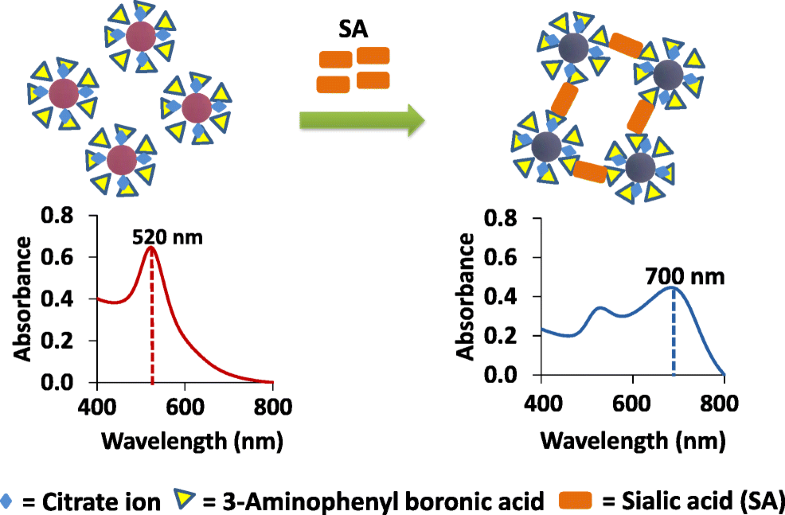 Keywords
Gold nanoparticles 
3-Aminophenyl boronic acid 
Sialic acid 
Colorimetry 
Aggregation 
Simulated human saliva 
Notes
Acknowledgements
This research work was funded and supported by the Graduate studies grant under the International Student Scholarship, Faculty of Science, Prince of Songkla University. The Department of Chemistry and the Center of Excellence for Innovation in Chemistry (PERCH-CIC), Office of the Higher Education Commission, Ministry of Education (OHEC), Prince of Songkla University are highly appreciated. Jayeoye Titilope J would like to acknowledge and appreciate the support of the Federal University Ndufu Alike Ikwo, Abakaliki, Ebonyi state, Nigeria, for the approval of study leave to study in Thailand.
Compliance with ethical standards
The author(s) declare that they have no competing interest.
Copyright information
© Springer-Verlag GmbH Austria, part of Springer Nature 2018