An organic electrochemical transistor for determination of microRNA21 using gold nanoparticles and a capture DNA probe
Abstract
A method is described for the determination of microRNA. It is based on the use of organic electrochemical transistors (OECTs) fabricated on a flexible poly(ethylene terephthalate) substrate. A gold electrode was modified with gold nanoparticles to immobilize the capture DNA probe and then served as the gate of the device. The detection of microRNA21 was realized by monitoring the change of the drain-source current after hybridization of capture DNA with microRNA21. Under optimal conditions, this biosensor exhibits good sensitivity and specificity. It works in the 5 pM to 20 nM microRNA concentration range and has a 2 pM detection limit.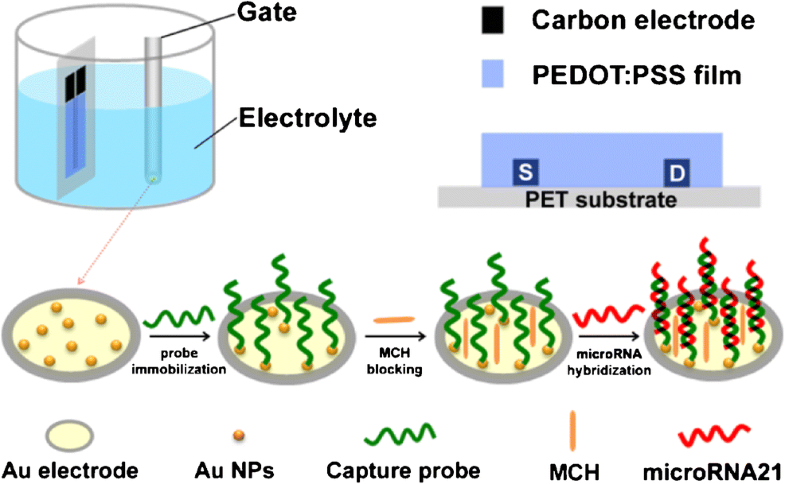 Keywords
Organic bioelectronics 
Screen-printing 
Flexible device 
Nanomaterial surface modification 
Self-assembling 
Electrochemical biosensor 
HeLa cells 
Notes
Acknowledgments
This work was supported by the National Natural Science Foundation of China under grants (21275050 and 21145001), the Hunan Provincial Natural Science Foundation of China (13JJ1016), the Scientific Research Fund of Hunan Provincial Education Department (13A053), the Construct Program of the Key Discipline in Hunan Province, and Foundation of the Science & Technology Department of Hunan Province (2016SK2020).
Compliance with ethical standards
The author(s) declare that they have no competing interests.
Copyright information
© Springer-Verlag GmbH Austria, part of Springer Nature 2018