Abstract
Purpose
Pancreatic ductal adenocarcinoma (PDAC) is the most common type of pancreatic cancer. It is an aggressive malignancy associated with poor prognosis because of recurrence, metastasis, and treatment resistance. Aberrant glycosylation of cancer cells triggers their migration and invasion and is considered one of the most important prognostic cancer biomarkers. The current study aimed to identify glycan alterations and their relationship with the malignant potential of PDAC.
Methods
Using a lectin microarray, we evaluated glycan expression in 62 PDAC samples. Expression of fucosyltransferase 8 (FUT8), the only enzyme catalyzing core fucosylation, was investigated by immunohistochemistry. The role of FUT8 in PDAC invasion and metastasis was confirmed using an in vitro assay and a xenograft peritoneal metastasis mouse model.
Results
The microarray data demonstrated that core fucose-binding lectins were significantly higher in carcinoma than in normal pancreatic duct tissues. Similarly, FUT8 protein expression was significantly higher in carcinoma than in normal pancreatic duct tissues. High FUT8 protein expression was significantly associated with lymph-node metastases and relapse-free survival. FUT8 knockdown significantly reduced the invasion in PDAC cell lines and impaired peritoneal metastasis in the xenograft model.
Conclusions
The findings of this study provide evidence that FUT8 plays a pivotal role in PDAC invasion and metastasis and might be a therapeutic target for this disease.
This is a preview of subscription content, log in to check access.
Access options
Buy single article
Instant unlimited access to the full article PDF.
US$ 39.95
Price includes VAT for USA
Subscribe to journal
Immediate online access to all issues from 2019. Subscription will auto renew annually.
US$ 99
This is the net price. Taxes to be calculated in checkout.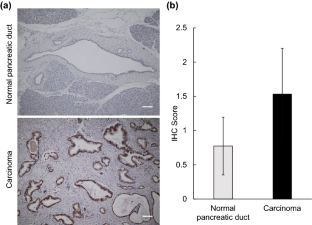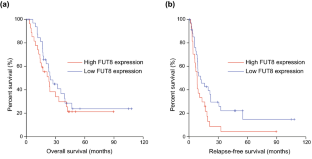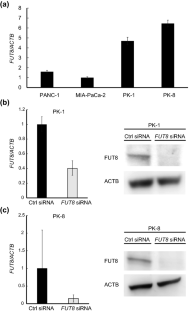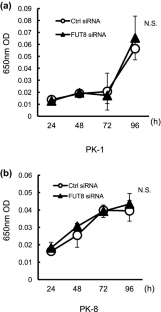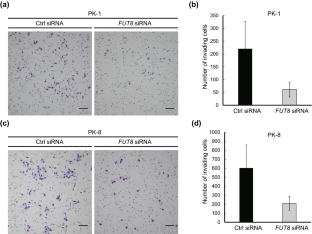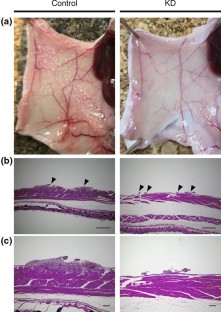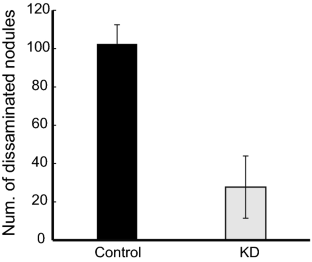 References
1.

Uesaka K, Boku N, Fukutomi A, Okamura Y, Konishi M, Matsumoto I, et al. Adjuvant chemotherapy of S-1 versus gemcitabine for resected pancreatic cancer: a phase 3, open-label, randomised, non-inferiority trial (JASPAC 01). Lancet. 2016;388:248–57.

2.

Zhang L, Luo S, Zhang B. The use of lectin microarray for assessing glycosylation of therapeutic proteins. MAbs. 2016;8:524–35.

3.

Nakajima K, Inomata M, Iha H, Hiratsuka T, Etoh T, Shiraishi N, et al. Establishment of new predictive markers for distant recurrence of colorectal cancer using lectin microarray analysis. Cancer Med. 2015;4:293–302.

4.

Futsukaichi T, Etoh T, Nakajima K, Daa T, Shiroshita H, Shiraishi N, et al. Decreased expression of Bauhinia purpurea lectin is a predictor of gastric cancer recurrence. Surg Today. 2015;45:1299–306.

5.

Watanabe K, Ohta M, Yada K, Komori Y, Iwashita Y, Kashima K, et al. Fucosylation is associated with the malignant transformation of intraductal papillary mucinous neoplasms: a lectin microarray-based study. Surg Today. 2016;46:1217–23.

6.

Matsumura K, Higashida K, Ishida H, Hata Y, Yamamoto K, Shigeta M, et al. Carbohydrate binding specificity of a fucose-specific lectin from Aspergillus oryzae: a novel probe for core fucose. J Biol Chem. 2007;282:15700–8.

7.

Christiansen MN, Chik J, Lee L, Anugraham M, Abrahams JL, Packer NH. Cell surface protein glycosylation in cancer. Proteomics. 2014;14:525–46.

8.

Pinho SS, Reis CA. Glycosylation in cancer: mechanisms and clinical implications. Nat Rev Cancer. 2015;15:540–55.

9.

Ho WL, Hsu WM, Huang MC, Kadomatsu K, Nakagawara A. Protein glycosylation in cancers and its potential therapeutic applications in neuroblastoma. J Hematol Oncol. 2016;9:100.

10.

Munkley J. The glycosylation landscape of pancreatic cancer. Oncol Lett. 2019;17:2569–75.

11.

Shibata K, Iwaki K, Kai S, Ohta M, Kitano S. Increased levels of both carbohydrate antigen 19–9 and duke pancreatic monoclonal antigen type 2 reflect postoperative prognosis in patients with pancreatic carcinoma. Pancreas. 2009;38:619–24.

12.

Miyoshi E, Moriwaki K, Terao N, Tan CC, Terao M, Nakagawa T, et al. Fucosylation is a promising target for cancer diagnosis and therapy. Biomolecules. 2012;2:34–45.

13.

Wang X, Chen J, Li QK, Peskoe SB, Zhang B, Choi C, et al. Overexpression of alpha (1,6) fucosyltransferase associated with aggressive prostate cancer. Glycobiology. 2014;24:935–44.

14.

Chen CY, Jan YH, Juan YH, Yang CJ, Huang MS, Yu CJ, et al. Fucosyltransferase 8 as a functional regulator of nonsmall cell lung cancer. Proc Natl Acad Sci USA. 2013;110:630–5.

15.

Ichimanda M, Hijiya N, Tsukamoto Y, Uchida T, Nakada C, Akagi T, et al. Downregulation of dual-specificity phosphatase 4 enhances cell proliferation and invasiveness in colorectal carcinomas. Cancer Sci. 2018;109:250–8.

16.

Tu CF, Wu MY, Lin YC, Kannagi R, Yang RB. FUT8 promotes breast cancer cell invasiveness by remodeling TGF-beta receptor core fucosylation. Breast Cancer Res. 2017;19:111.

17.

Glavey SV, Huynh D, Reagan MR, Manier S, Moschetta M, Kawano Y, et al. The cancer glycome: carbohydrates as mediators of metastasis. Blood Rev. 2015;29:269–79.

18.

Rodrigues JG, Balmana M, Macedo JA, Pocas J, Fernandes A, de-Freitas-Junior JCM, et al. Glycosylation in cancer: selected roles in tumour progression, immune modulation and metastasis. Cell Immunol. 2018;333:46–57.

19.

Oliveira-Ferrer L, Legler K, Milde-Langosch K. Role of protein glycosylation in cancer metastasis. Semin Cancer Biol. 2017;44:141–52.

20.

Silsirivanit A. Glycosylation markers in cancer. Adv Clin Chem. 2019;89:189–21313.

21.

Kim YS, Son OL, Lee JY, Kim SH, Oh S, Lee YS, et al. Lectin precipitation using phytohemagglutinin-L(4) coupled to avidin-agarose for serological biomarker discovery in colorectal cancer. Proteomics. 2008;8:3229–355.

22.

Calderon AD, Liu Y, Li X, Wang X, Chen X, Li L, et al. Substrate specificity of FUT8 and chemoenzymatic synthesis of core-fucosylated asymmetric N-glycans. Org Biomol Chem. 2016;14:4027–31.

23.

Takahashi M, Kuroki Y, Ohtsubo K, Taniguchi N. Core fucose and bisecting GlcNAc, the direct modifiers of the N-glycan core: their functions and target proteins. Carbohydr Res. 2009;344:1387–90.

24.

Uozumi N, Yanagidani S, Miyoshi E, Ihara Y, Sakuma T, Gao CX, et al. Purification and cDNA cloning of porcine brain GDP-L-Fuc:N-acetyl-beta-d-glucosaminide alpha1–%3e6fucosyltransferase. J Biol Chem. 1996;271:27810–7.

25.

Mas E, Pasqualini E, Caillol N, El Battari A, Crotte C, Lombardo D, et al. Fucosyltransferase activities in human pancreatic tissue: comparative study between cancer tissues and established tumoral cell lines. Glycobiology. 1998;8:605–13.

26.

de Vries T, Knegtel RM, Holmes EH, Macher BA. Fucosyltransferases: structure/function studies. Glycobiology. 2001;11:119r–r12828.

27.

Osumi D, Takahashi M, Miyoshi E, Yokoe S, Lee SH, Noda K, et al. Core fucosylation of E-cadherin enhances cell-cell adhesion in human colon carcinoma WiDr cells. Cancer Sci. 2009;100:888–95.

28.

Yue L, Han C, Li Z, Li X, Liu D, Liu S, et al. Fucosyltransferase 8 expression in breast cancer patients: a high throughput tissue microarray analysis. Histol Histopathol. 2016;31:547–55.

29.

Sato Y, Nakata K, Kato Y, Shima M, Ishii N, Koji T, et al. Early recognition of hepatocellular carcinoma based on altered profiles of alpha-fetoprotein. N Engl J Med. 1993;328:1802–6.

30.

Agrawal P, Fontanals-Cirera B, Sokolova E, Jacob S, Vaiana CA, Argibay D, et al. A systems biology approach identifies FUT8 as a driver of melanoma metastasis. Cancer Cell. 2017;31(804–19):e7.

31.

Ito Y, Miyauchi A, Yoshida H, Uruno T, Nakano K, Takamura Y, et al. Expression of alpha1,6-fucosyltransferase (FUT8) in papillary carcinoma of the thyroid: its linkage to biological aggressiveness and anaplastic transformation. Cancer Lett. 2003;200:167–72.

32.

Cheng L, Gao S, Song X, Dong W, Zhou H, Zhao L, et al. Comprehensive N-glycan profiles of hepatocellular carcinoma reveal association of fucosylation with tumor progression and regulation of FUT8 by microRNAs. Oncotarget. 2016;7:61199–21414.

33.

Whittle MC, Hingorani SR. Disconnect between EMT and metastasis in pancreas cancer. Oncotarget. 2015;6:30445–6.

34.

Ben Q, An W, Fei J, Xu M, Li G, Li Z, et al. Downregulation of L1CAM inhibits proliferation, invasion and arrests cell cycle progression in pancreatic cancer cells in vitro. Exp Ther Med. 2014;7:785–90.
Acknowledgements
We thank Yuiko Aso, Mayumi Wada, and Kazuyuki Miura for their technical assistance with the experiments.
Funding
This work was supported by JSPS KAKENHI (Grant Number: JP17K10705).
Ethics declarations
Conflict of interest
The author(s) declare that they have conflicts of interest.
Additional information
Publisher's Note
Springer Nature remains neutral with regard to jurisdictional claims in published maps and institutional affiliations.
About this article
Cite this article
Tada, K., Ohta, M., Hidano, S. et al. Fucosyltransferase 8 plays a crucial role in the invasion and metastasis of pancreatic ductal adenocarcinoma. Surg Today (2020). https://doi.org/10.1007/s00595-019-01953-z
Received:

Accepted:

Published:
Keywords
Pancreatic ductal adenocarcinoma

Fucosylation

Lectin microarray

FUT8

Metastasis