Abstract
Purpose
Surgical site infection (SSI) continues to be one of the most common post-operative complications in most spine surgeries. Patients with tuberculosis (TB) of spine are more at risk of developing this complication due to a number of reasons. This adds to significant morbidity and economic burden on patients adversely affecting the mental status and quality of life of patients. The aim of this study was to investigate the role of local streptomycin in preventing SSI in patients undergoing surgical management of spinal TB.
Methods
In total, 56 patients who underwent surgical management for radiologically proven TB spine divided into two groups were included in the study. Group A included 30 patients with no local streptomycin administered intraoperatively, while group B included 26 patients operated in the later part of study with the use of local streptomycin intraoperatively. The two groups were compared and the outcome criteria analysed were SSI rate, length of hospital stay, duration of post-operative antibiotics and need for debridement.
Results
Length of hospital stay (group A: 18.4 ± 6.9 days; group B: 9.7 ± 3.9 days) and duration of post-operative antibiotics (group A: 8.1 ± 1.6 days; group B: 6.2 ± 2.1 days) were significantly higher in group A when compared with group B. SSI rate (group A: 13.34%; group B: 3.84%) and need for debridement (group A: 10%; group B: 3.84%) were higher in group A, but the difference was not statistically significant.
Conclusion
Intraoperative administration of local streptomycin significantly reduces the length of hospital stay and duration of antibiotic administration in post-operative period in patients undergoing surgery for TB spine.
This is a preview of subscription content, log in to check access.
Access options
Buy single article
Instant unlimited access to the full article PDF.
US$ 39.95
Price includes VAT for USA
Subscribe to journal
Immediate online access to all issues from 2019. Subscription will auto renew annually.
US$ 99
This is the net price. Taxes to be calculated in checkout.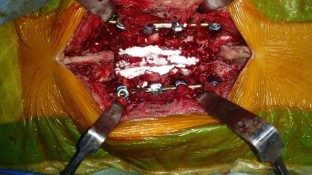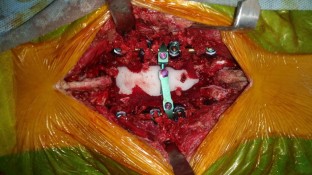 References
1.

Turnbull F (1953) Postoperative inflammatory disease of lumbar discs. J Neurosurg 10:469–473. https://doi.org/10.3171/jns.1953.10.5.0469

2.

Mangram AJ, Horan TC, Pearson ML, Silver LC, Jarvis WR (1999) Guideline for prevention of surgical site infection. Infect Control Hosp Epidemiol 204:247–280

3.

Alam MS, Phan K, Karim R et al (2015) Surgery for spinal tuberculosis: a multi-center experience of 582 cases. J Spine Surg 1:65–71. https://doi.org/10.3978/j.issn.2414-469X.2015.07.03

4.

Bailey HL, Gabriel M, Hodgson AR, Shin JS (1972) Tuberculosis of the spine in children: operative findings and results in one hundred consecutive patients treated by removal of the lesion and anterior grafting. JBJS 54:1633

5.

Fukuta S, Miyamoto K, Masuda T et al (2003) Two-stage (posterior and anterior) surgical treatment using posterior spinal instrumentation for pyogenic and tuberculotic spondylitis. Spine 28:E302. https://doi.org/10.1097/01.BRS.0000083318.40123.5E

6.

Jin D, Qu D, Chen J, Zhang H (2004) One-stage anterior interbody autografting and instrumentation in primary surgical management of thoracolumbar spinal tuberculosis. Eur Spine J 13:114–121. https://doi.org/10.1007/s00586-003-0661-5

7.

Ma YZ, Cui X, Li HW et al (2012) Outcomes of anterior and posterior instrumentation under different surgical procedures for treating thoracic and lumbar spinal tuberculosis in adults. Int Orthop 36:299–305. https://doi.org/10.1007/s00264-011-1390-8

8.

Lee JS, Moon KP, Kim SJ, Suh KT (2007) Posterior lumbar interbody fusion and posterior instrumentation in the surgical management of lumbar tuberculous spondylitis. J Bone Joint Surg Br 89(2):210–214. https://doi.org/10.1302/0301-620X.89B2.17849

9.

Tuli SM (1975) Results of treatment of spinal tuberculosis by "middle-path" regime. J Bone Joint Surg Br 57:13–23

10.

Lemans JVC, Wijdicks SPJ, Boot W et al (2018) Intrawound treatment for prevention of surgical site infections in instrumented spinal surgery: a systematic comparative effectiveness review and meta-analysis. Glob Spine J. https://doi.org/10.1177/2192568218786252

11.

Heller A, McIff TE, Lai S-M, Burton DC (2015) Intrawound vancomycin powder decreases staphylococcal surgical site infections following posterior instrumented spinal arthrodesis. J Spinal Disord Tech 28:E584–E589. https://doi.org/10.1097/BSD.0000000000000045

12.

Kim HS, Lee SG, Kim WK et al (2013) Prophylactic intrawound application of vancomycin powder in instrumented spinal fusion surgery. Korean J Spine 10:121–125. https://doi.org/10.14245/kjs.2013.10.3.121

13.

Tubaki VR, Rajasekaran S, Shetty AP (2013) Effects of using intravenous antibiotic only versus local intrawound vancomycin antibiotic powder application in addition to intravenous antibiotics on postoperative infection in spine surgery in 907 patients. Spine 38:2149–2155. https://doi.org/10.1097/BRS.0000000000000015

14.

Bogen E (1948) Streptomycin treatment for tuberculosis. J Natl Med Assoc 40:32

15.

Rajasekaran S, Khandelwal G (2013) Drug therapy in spinal tuberculosis. Eur Spine J 22:587–593. https://doi.org/10.1007/s00586-012-2337-5

16.

Dhall A, Gupta SB, Kumar N, Narang P, Panicker H, Puri SK (2001) Percutaneous drainage of tuberculous abcesses. Indian J Radiol Imaging 11:13–16

17.

Ahern RT (1950) Tuberculous sinuses treated with streptomycin locally. Lancet 255:443–446. https://doi.org/10.1016/S0140-6736(50)90364-3

18.

Bosworth DM, Wright HA (1952) Streptomycin in bone and joint tuberculosis. J Bone Joint Surg Am 34-A:255–266

19.

Mukopadhaya B, Mishra NK (1957) Treatment of tuberculous sinuses and abscesses of osteoarticular origin. J Bone Joint Surg Br 39-B:326–333
Ethics declarations
Conflict of interest
On behalf of all authors, the corresponding author states that there is no conflict of interest.
Additional information
Publisher's Note
Springer Nature remains neutral with regard to jurisdictional claims in published maps and institutional affiliations.
About this article
Cite this article
Ahuja, K., Yadav, G., Sudhakar, P.V. et al. Role of local streptomycin in prevention of surgical site infection in TB spine. Eur J Orthop Surg Traumatol (2020) doi:10.1007/s00590-019-02617-x
Received:

Accepted:

Published:
Keywords
Intrawound antibiotics

Streptomycin

Tuberculosis spine