Abstract
Purpose
The aim of this study is to describe outcomes of incidental chondral tumours in the shoulder referred to our Bone Tumour Unit (BTU).
Methods
Our hospital radiology database was searched using the filtered terms "enchondroma", "low-grade chondral tumour", "chondrosarcoma" with "humerus", "arm", "shoulder", "scapula" and "clavicle". Case note review of results assessed primary reasons for referral, radiological diagnosis, recommended management with subsequent reviews and outcomes, either in clinic or surveillance scan reports.
Results
Ninety-nine patients had full case note review, mean age 54.5 years (range 18–84 years). Mean follow-up was 41.7 months (range 1–265 months). Over 50% of patients were referred for shoulder pain. Three patients had high-grade chondrosarcoma. Forty-three patients had interval scans, none showing any changes. Thirty-five patients had surgery for their lesions with one recurrence. Forty-four patients had alternative diagnoses made on clinical and radiological examination. At most recent follow-up, 70% of these patients were asymptomatic after physiotherapy/surgical attention to their alternative diagnoses.
Conclusions
Chondral lesions in the shoulder have low risk of malignant transformation and are rarely responsible for shoulder symptoms. We recommend patients be referred to a dedicated BTU for surveillance if there are any concerning features, but to proceed with management for any alternative diagnosis.
This is a preview of subscription content, log in to check access.
Access options
Buy single article
Instant unlimited access to the full article PDF.
US$ 39.95
Price includes VAT for USA
Subscribe to journal
Immediate online access to all issues from 2019. Subscription will auto renew annually.
US$ 99
This is the net price. Taxes to be calculated in checkout.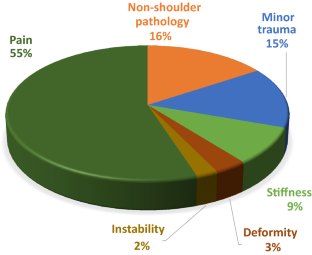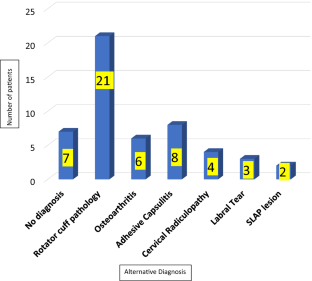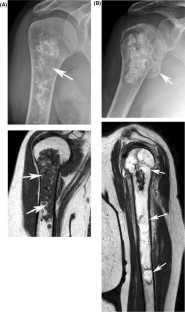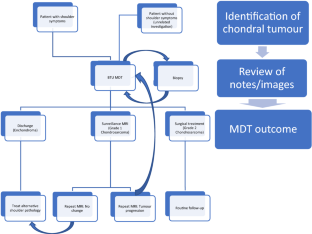 References
1.

Kulkarni R, Gibson J, Brownson P et al (2015) Subacromial shoulder pain BESS/BOA patient care pathways. Shoulder Elbow 0(0):1–9

2.

Deckers C, Schreuder BHW, Hannink G et al (2016) Radiologic follow-up of untreated enchondroma and atypical cartilaginous tumours in long bones. J Surg Oncol 114:987–991

3.

Mavrogenis A, Angelini A, Vottis C et al (2015) State-of-the-art approach for bone sarcomas. Eur J Orthop Surg Traumatol 25(1):5–15

4.

Francis M, Dennis N, Charman J et al (2013) Bone and soft tissue sarcomas. Changes to pathology codes in the 4th edition of the world health organisation classification of bone and soft tissue sarcomas. National Cancer Intelligence Network

5.

Meftah M, Schult P, Henshaw RM (2013) Long-term results of intralesional curettage and cryosurgery for treatment of low-grade chondrosarcoma. J Bone J Surg Am 95:1358–1364

6.

Altay M, Bayrakci K, Yildiz Y et al (2007) Secondary chondrosarcoma in cartilage bone tumours: report of 32 patients. J Orthop Sci 12:415–423

7.

Barlow IW, Newman RJ (1994) Primary bone tumours of the shoulder: an audit of the leeds regional bone tumour registry. J R College Surg Edinb 39(1):51–54

8.

Hong ED, Carrino JA, Weber KL et al (2011) Prevalence of shoulder enchondromas on routine MR imaging. Clin Imaging 35(5):378–384

9.

Bauer HC, Brosjo O, Kreicbergs A et al (1995) Low risk of recurrence of enchondroma and low-grade chondrosarcoma in extremities. 80 patients followed for 2–25 years. Acta Orthop Scand 66(3):283–288

10.

Andreou D, Gilg MM, Gosheger G et al (2016) Metastatic potential of grade 1 chondrosarcoma of bone: results of a multi-institutional study. Ann Surg Oncol 23:120–125

11.

Douis H, Singh L, Saifuddin A (2014) MRI differentiation of low-grade from high-grade appendicular chondrosarcoma. Eur Radiol 24(1):232–240

12.

Berber O, Datta G, Sabharwal S et al (2012) The safety of direct primary exclusion of low-grade chondral lesions based on radiological diagnosis alone. Acta Orthop Belg 78(2):254–262

13.

Geirnaerdt MJ, Hermans J, Bloem JL et al (1997) Usefulness of radiography in differentiating enchondroma from central grade 1 chondrosarcoma. AJR Am J Roentgenol 169:1097–1104

14.

Errani C, Tsukamoto S, Ciani G et al (2017) Risk factors for local recurrence from atypical cartilaginous tumour and enchondroma of the long bones. Eur J Orthop Surg Traumatol 27(6):805–811

15.

Rosenberg AE (2013) WHO classification of soft tissue and bone, fourth edition: summary and commentary. Curr Opin Oncol 25(5):571–573

16.

Rajeh M, Diaz J, Facca S et al (2017) Treatment of hand enchondroma with injectable calcium phosphate cement: a series of eight cases. Eur J Orthop Surg Traumatol 27(2):251–254

17.

Mermerkaya MU, Bekmez S, Karaasian F et al (2014) Intralesional curettage and cementation for low-grade chondrosarcoma of long bones: retrospective study and literature review. World J Surg Oncol 12:336

18.

Campanacci DA, Scoccianti G, Franchi A et al (2013) Surgical treatment of central grade 1 chondrosarcoma of the appendicular skeleton. J Orthop Traumatol 14(2):101–107

19.

Levy JC, Temple HT, Mollabashy A et al (2005) The causes of pain in benign solitary enchondromas of the proximal humerus. Clin Orthop Relat Res 431:181–186

20.

Wilson RJ, Zumsteg JW, Hartley KA et al (2015) Overutilization and cost of advanced imaging for long-bone cartilaginous lesions. Ann Surg Oncol 22(11):3466–3473
Ethics declarations
Conflict of interest
The authors declare there are no conflicts of interest.
Additional information
Publisher's Note
Springer Nature remains neutral with regard to jurisdictional claims in published maps and institutional affiliations.
About this article
Cite this article
Jassim, S.S., Hilton, T., Saifuddin, A. et al. The incidence and outcome of chondral tumours as incidental findings on investigation of shoulder pathology. Eur J Orthop Surg Traumatol 30, 97–102 (2020) doi:10.1007/s00590-019-02532-1
Received:

Accepted:

Published:

Issue Date:
Keywords
Shoulder

Oncology

Chondrosarcoma