Abstract
Purpose
This retrospective study aimed to compare the clinical and radiological outcomes of patients who underwent biplane chevron medial malleolar osteotomy (MMO) for osteochondral lesions of the talus (OLT), fixed with either magnesium (Mg) or titanium (Ti) screws.
Methods
A total of 22 patients (12 male and 10 female) with a mean age of 40.6 ± 12.5 years (range 18–56 years) who underwent MMO for OLT treatment were included in this retrospective study. Of the 22 patients, MMO was fixed with bioabsorbable Mg screws (Alloy: MgYREZr) in 11 patients, and in the remaining 11 patients (one bilateral) MMO was fixed with Ti screws. All patients were followed up for at least 1 year with a mean of 20.7 ± 8.9 months (range 12–49 months). The American Orthopedic Foot and Ankle Society (AOFAS) scale and the visual analog scale (VAS) were used to evaluate the clinical results. Union of the osteotomy, postoperative displacement and all other complications were followed and analyzed.
Results
An improvement in the AOFAS scale and VAS points were recorded in both groups with no statistically significant difference between the groups (p 0.079 and 0.107, respectively). Complete union of the osteotomy was obtained in all patients. One patient in the Ti group required implant removal due to pain and irritation. There were no other significant complications in either group.
Conclusions
The results of this study showed that bioabsorbable Mg compression screws have similar therapeutic efficacy to Ti screws in respect of functional and radiological outcomes in MMO fixation. Bioabsorbable Mg screw is an alternative fixation material which can be safely used for MMO in ankle surgery.
Level of evidence
Level IV, retrospective case series.
This is a preview of subscription content, log in to check access.
Access options
Buy single article
Instant unlimited access to the full article PDF.
US$ 39.95
Price includes VAT for USA
Subscribe to journal
Immediate online access to all issues from 2019. Subscription will auto renew annually.
US$ 99
This is the net price. Taxes to be calculated in checkout.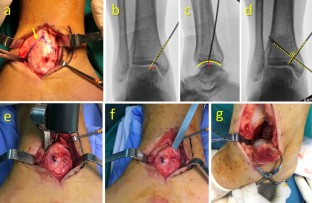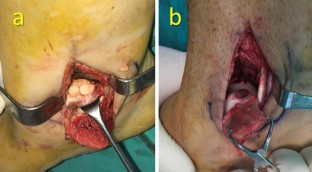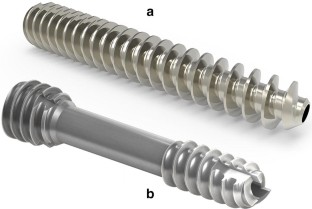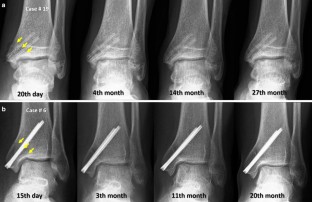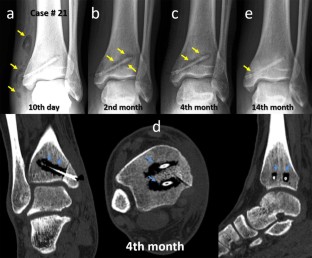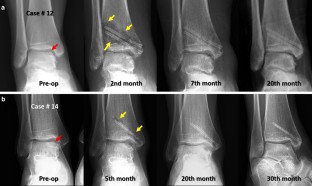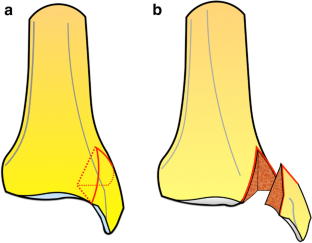 References
1.

van Bergen CJ, Kox LS, Maas M, Sierevelt IN, Kerkhoffs GM, van Dijk CN (2013) Arthroscopic treatment of osteochondral defects of the talus: outcomes at eight to twenty years of follow-up. J Bone Jt Surg Am 95(6):519–525

2.

Choi WJ, Park KK, Kim BS, Lee JW (2009) Osteochondral lesion of the talus: is there a critical defect size for poor outcome? Am J Sports Med 37(10):1974–1980

3.

Navid DO, Myerson MS (2002) Approach alternatives for treatment of osteochondral lesions of the talus. Foot Ankle Clin 7(3):635–649

4.

Young KW, Deland JT, Lee KT, Lee YK (2010) Medial approaches to osteochondral lesion of the talus without medial malleolar osteotomy. Knee Surg Sports Traumatol Arthrosc 18(5):634–637

5.

Elias I, Zoga AC, Morrison WB, Besser MP, Schweitzer ME, Raikin SM (2007) Osteochondral lesions of the talus: localization and morphologic data from 424 patients using a novel anatomical grid scheme. Foot Ankle Int 28(2):154–161

6.

Ray RB, Coughlin EJ Jr (1947) Osteochondritis dissecans of the talus. J Bone Jt Surg Am 29(3):697–706

7.

Spatt JF, Frank NG, Fox IM (1986) Transchondral fractures of the dome of the talus. J Foot Surg 25(1):68–72

8.

Mendicino RW, Lee MS, Grossman JP, Shromoff PJ (1998) Oblique medial malleolar osteotomy for the management of talar dome lesions. J Foot Ankle Surg 37(6):516–523

9.

Alexander IJ, Watson JT (1991) Step-cut osteotomy of the medial malleolus for exposure of the medial ankle joint space. Foot Ankle Int 11:242–243

10.

Lee KB, Yang HK, Moon ES, Song EK (2008) Modified step-cut medial malleolar osteotomy for osteochondral grafting of the talus. Foot Ankle Int 29(11):1107–1110

11.

Wallen EA, Fallat LM (1989) Crescentic transmalleolar osteotomy for optimal exposure of the medial talar dome. J Foot Surg 28(5):389–394

12.

Oznur A (2001) Medial malleolar window approach for osteochondral lesions of the talus. Foot Ankle Int 22:841–842

13.

O'Farrell TA, Costello BG (1982) Osteochondritis dissecans of the talus. The late results of surgical treatment. J Bone Jt Surg Br 64:494–497

14.

Cohen B, Anderson R (2002) Chevron-type transmalleolar osteotomy: an approach to medial talar dome lesions. Tech Foot Ankle Surg 1:158–162

15.

Bull PE, Berlet GC, Canini C, Hyer CF (2016) Rate of malunion following bi-plane Chevron medial malleolar osteotomy. Foot Ankle Int 37(6):620–626

16.

Gul M, Yavuz U, Cetinkaya E, Aykut US, Ozkul B, Kabukcuoglu YS (2015) Chevron osteotomy in patients with scheduled osteotomy of the medial malleolus. Acta Orthop Traumatol Turc 49(4):399–404

17.

Leumann A, Horisberger M, Buettner O, Mueller-Gerbl M, Valderrabano V (2016) Medial malleolar osteotomy for the treatment of talar osteochondral lesions: anatomical and morbidity considerations. Knee Surg Sports Traumatol Arthrosc 24(7):2133–2139

18.

Raikin SM, Ching AC (2005) Bioabsorbable fixation in foot and ankle. Foot Ankle Clin 10(4):667–684

19.

Seitz JM, Lucas A, Kirschner M (2016) Magnesium-based compression screws: a novelty in the clinical use of implants. JOM 68:1177–1182

20.

Plaass C, von Falck C, Ettinger S, Sonnow L, Calderone F, Weizbauer A, Reifenrath J, Claassen L, Waizy H, Daniilidis K, Stukenborg-Colsman C, Windhagen H (2017) Bioabsorbable magnesium versus standard titanium compression screws for fixation of distal metatarsal osteotomies—3 year results of a randomized clinical trial. J Orthop Sci 2658(17):30300–30307

21.

Plaass C, Ettinger S, Sonnow L, Koenneker S, Noll Y, Weizbauer A, Reifenrath J, Claassen L, Daniilidis K, Stukenborg-Colsman C, Windhagen H (2016) Early results using biodegradable magnesium screw for modified chevron osteotomies. J Orthop Res 34(12):2207–2214. https://doi.org/10.1002/jor.23241

22.

Windhagen H, Radtke K, Weizbauer A, Diekmann J, Noll Y, Kreimeyer U, Schavan R, Stukenborg-Colsman C, Waizy H (2013) Biodegradable magnesium-based screw clinically equivalent to titanium screw in hallux valgus surgery: short term results of the first prospective, randomized, controlled clinical pilot study. Biomed Eng 12:62. https://doi.org/10.1186/1475-925X-12-62

23.

Biber R, Pauser J, Brem M, Bail HJ (2017) Bioabsorbable metal screws in traumatology: a promising innovation. Trauma Case Reports 8:11–15

24.

Kose O, Turan A, Unal M, Acar B, Guler F (2018) Fixation of medial malleolar fractures with magnesium bioabsorbable headless compression screws: short-term clinical and radiological outcomes in eleven patients. Arch Orthop Trauma Surg 138(8):1069–1075

25.

Acar B, Unal M, Turan A, Kose O (2018) Isolated lateral malleolar fracture treated with a bioabsorbable magnesium compression screw. Cureus 10(4):e2539

26.

Klauser H (2018) Internal fixation of three-dimensional distal metatarsal I osteotomies in the treatment of hallux valgus deformities using biodegradable magnesium screws in comparison to titanium screws. Foot Ankle Surg. https://doi.org/10.1016/j.fas.2018.02.005

27.

Hepple S, Winson IG, Glew D (1999) Osteochondral lesions of the talus: a revised classification. Foot Ankle Int 20(12):789–793

28.

Gaulrapp H, Hagena FW, Wasmer G (1996) Postoperative evaluation of osteochondrosis dissecans of the talus with special reference to medial malleolar osteotomy. Z Orthop Ihre Grenzgeb 134(4):346–353

29.

Lareau CR, Bariteau JT, Paller DJ, Koruprolu SC, DiGiovanni CW (2015) Contribution of the medial malleolus to tibiotalar joint contact characteristics. Foot Ankle Spec 8:23–28

30.

van Bergen CJ, Tuijthof GJ, Sierevelt IN, van Dijk CN (2011) Direction of the oblique medial malleolar osteotomy for exposure of the talus. Arch Orthop Trauma Surg 131(7):893–901

31.

Lamb J, Murawski CD, Deyer TW, Kennedy JG (2013) Chevron-type medial malleolar osteotomy: a functional, radiographic and quantitative T2-mapping MRI analysis. Knee Surg Sports Traumatol Arthrosc 21(6):1283–1288

32.

Granata JD, DeCarbo WT, Hyer CF, Granata AM, Berlet GC (2013) Exposure of the medial talar dome: bi-plane chevron medial malleolus osteotomy. Foot Ankle Spec 6(1):12–14

33.

Petersen W, Taheri P, Schliemann B, Achtnich A, Winter C, Forkel P (2014) Osteochondral transplantation for the treatment of osteochondral defects at the talus with the Diamond twin system (®) and graft harvesting from the posterior femoral condyles. Arch Orthop Trauma Surg 134(6):843–852

34.

Busam ML, Esther RJ, Obremskey WT (2006) Hardware removal: indications and expectations. J Am Acad Orthop Surg 14(2):113–120

35.

Krettek C, Müller C, Meller R, Jagodzinski M, Hildebrand F, Gaulke R (2012) Is routine implant removal after trauma surgery sensible? Unfallchirurg 115(4):315–322. https://doi.org/10.1007/s00113-012-2159-2

36.

Waizy H, Seitz JM, Reifenrath Weizbauer A, Bach FW, Meyer-Lindenberg A, Denkena B, Windhagen H (2013) Biodegradable magnesium implants for orthopedic applications. J Mater Sci 48:39–5020

37.

Waizy H, Diekmann J, Weizbauer A, Reifenrath J, Bartsch I, Neubert V, Schavan R, Windhagen H (2014) In vivo study of a biodegradable orthopedic screw (MgYREZr-alloy) in a rabbit model for up to 12 months. J Biomater Appl 28:667–675

38.

Witte F, Ulrich H, Rudert M, Willbold E (2007) Biodegradable magnesium scaffolds: part 1: appropriate inflammatory response. J Biomed Mater Res A. 81(3):748–756
Ethics declarations
Conflict of interest
All authors declare that they have no conflict of interest.
Ethical approval
All procedures performed in studies involving human participants were in accordance with the ethical standards of the institutional and national research committee and with the 1964 Helsinki declaration and its later amendments or comparable ethical standards. IRB approved the study protocol.
Informed consent
Informed consent was obtained from all individual participants included in the study.
Additional information
Publisher's Note
Springer Nature remains neutral with regard to jurisdictional claims in published maps and institutional affiliations.
About this article
Cite this article
Acar, B., Kose, O., Unal, M. et al. Comparison of magnesium versus titanium screw fixation for biplane chevron medial malleolar osteotomy in the treatment of osteochondral lesions of the talus. Eur J Orthop Surg Traumatol 30, 163–173 (2020). https://doi.org/10.1007/s00590-019-02524-1
Received:

Accepted:

Published:

Issue Date:
Keywords
Osteochondral lesions of the talus

Magnesium screw

Bioabsorbable

Medial malleolar osteotomy