Abstract
Bone graft harvest from the distal radius, immediately proximal to the Lister's tubercle, is a common technique in upper limb surgery. Here, we present a minimally invasive technique to harvest bone graft using a replaceable, well vascularized access trapdoor. The hinged trapdoor technique allows a small incision over Lister's tubercle and does not violate the fibro-osseous tunnel of the third compartment. Nearby structures like the superficial radial nerve, extensor carpi radialis brevis and extensor pollicis longus are safely protected throughout. Closure of the trapdoor creates a smooth surface and therefore little or no surrounding trauma.
This is a preview of subscription content, log in to check access.
Access options
Buy single article
Instant unlimited access to the full article PDF.
US$ 39.95
Price includes VAT for USA
Subscribe to journal
Immediate online access to all issues from 2019. Subscription will auto renew annually.
US$ 99
This is the net price. Taxes to be calculated in checkout.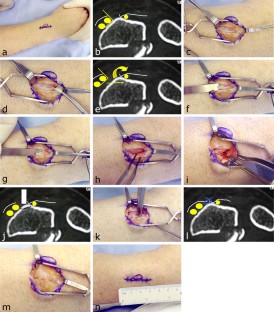 References
1.

de Boer HH (1988) The history of bone grafts. Clin Orthop Relat Res 226:292–298

2.

Myeroff C, Archdeacon M (2011) Autogenous bone graft: donor sites and techniques. J Bone Joint Surg Am 93(23):2227–2236. https://doi.org/10.2106/JBJS.J.015133

3.

Kitzinger HB, Karle B, Prommersberger KJ, van Schoonhoven J, Frey M (2012) Four-corner arthrodesis-does the source of graft affect bony union rate? Iliac crest versus distal radius bone graft. J Plast Reconstr Aesthet Surg 65(3):379–383. https://doi.org/10.1016/j.bjps.2011.09.043

4.

Jarrett P, Kinzel V, Stoffel K (2007) A biomechanical comparison of scaphoid fixation with bone grafting using iliac bone or distal radius bone. J Hand Surg Am 32(9):1367–1373. https://doi.org/10.1016/j.jhsa.2007.06.009

5.

Patel JC, Watson K, Joseph E, Garcia J, Wollstein R (2003) Long-term complications of distal radius bone grafts. J Hand Surg Am 28(5):784–7887

6.

Arrington ED, Smith WJ, Chambers HG, Bucknell AL, Davino NA (1996) Complications of iliac crest bone graft harvesting. Clin Orthop Relat Res 329:300–309

7.

Mirly HL, Manske PR, Szerzinski JM (1995) Distal anterior radius bone graft in surgery of the hand and wrist. J Hand Surg Am 20(4):623–627. https://doi.org/10.1016/S0363-5023(05)80279-5

8.

McGrath MH, Watson HK (1981) Late results with local bone graft donor sites in hand surgery. J Hand Surg Am 6(3):234–237
Ethics declarations
Conflict of interest
The Brisbane Hand and Upper Limb Research Institute receives funding from Integra Health Sciences, Zimmer Biomet, Newclip Technics, LMT Surgical, DePuy Synthes.
Additional information
Publisher's Note
Springer Nature remains neutral with regard to jurisdictional claims in published maps and institutional affiliations.
About this article
Cite this article
Ross, M., McKenzie, J. & Couzens, G. The Lister's tubercle trapdoor: a minimally invasive technique for harvesting cancellous bone from the distal radius. Eur J Orthop Surg Traumatol 30, 179–182 (2020) doi:10.1007/s00590-019-02523-2
Received:

Accepted:

Published:

Issue Date:
Keywords
Autograft

Trapdoor

Lister's tubercle

Radius

Bone harvest