Abstract
The aim of this study was to describe the mortality risk after calcaneal fractures which required internal fixation and evaluate predictors of survival. During the observed 11-year period (1995–2006), 178 consecutive patients underwent operative fixation for displaced intra-articular calcaneal fractures. Patient demographics, mechanism of injury, and social deprivation (Carstairs index) were recorded. Mortality was obtained from patient notes. Causes of mortality were obtained from the national database. Standardised mortality ratios (SMRs) were calculated. Ten patients were lost to follow-up. Of the remaining 168 patients, the mean age was 41 (range 14–77) years. Females [n = 33, 46.3 standard deviation (SD) 17.1 years] were significantly (difference 6.5 years, 95% CI 1.1–11.9, p = 0.02) older than male patients (n = 135, 39.8 SD 13.4 years). During the study period, 28 patients died. The overall unadjusted survival rate was 92.8% (95% CI 87.0–98.7) at 10 years and 81.9% (95% CI 76.2–87.6) at 15 years. The SMR at 10 years was 5.2 (95% CI 2.8–13.3) for males and 1.4 (95% CI − 4.9 to 7.8) for females. Cox regression analysis demonstrated male gender to be a significant predictor of mortality (hazard ratio 2.77, 95% 3.83–9.65, p = 0.01) adjusted for age and social deprivation. Male patients requiring internal fixation of intra-articular calcaneal fractures have a significantly increased mortality risk compared to an age- and gender-matched population. Further study is warranted to fully identify the reasons behind this, which may enable their survival to be improved.
Level of evidence Retrospective Cohort study, Level 4.
This is a preview of subscription content, log in to check access.
Access options
Buy single article
Instant unlimited access to the full article PDF.
US$ 39.95
Price includes VAT for USA
Subscribe to journal
Immediate online access to all issues from 2019. Subscription will auto renew annually.
US$ 99
This is the net price. Taxes to be calculated in checkout.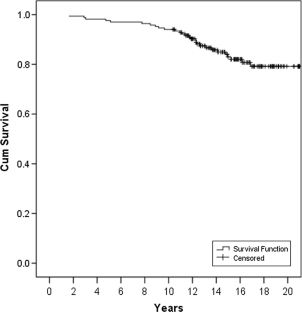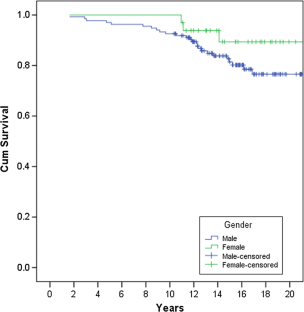 References
1.

Bajammal S, Tornetta PI, Sanders D, Bhandari M (2005) Displaced intra-articular calcaneal fractures. J Orthop Trauma 19:360. https://doi.org/10.1097/01.bot.0000163437.48285.80

2.

Epstein N, Chandran S, Chou L (2012) Current concepts review: intra-articular fractures of the calcaneus. Foot Ankle Int 33:79–86. https://doi.org/10.3113/FAI.2012.0079

3.

Brauer CA, Manns BJ, Ko M et al (2005) An economic evaluation of operative compared with nonoperative management of displaced intra-articular calcaneal fractures. J Bone Jt Surg 87:2741–2749. https://doi.org/10.2106/JBJS.E.00166

4.

Mitchell MJ, McKinley JC, Robinson CM (2009) The epidemiology of calcaneal fractures. Foot 19:197–200. https://doi.org/10.1016/j.foot.2009.05.001

5.

Shortt NL, Robinson CM (2005) Mortality after low-energy fractures in patients aged at least 45 years old. J Orthop Trauma 19:396–400

6.

Clement ND, Aitken S, Duckworth AD et al (2012) Multiple fractures in the elderly. J Bone Jt Surg Br 94-B:231–236. https://doi.org/10.1302/0301-620x.94b2.27381

7.

Court-Brown CM, Schmidt M, Schutte BG (2009) Factors affecting infection after calcaneal fracture fixation. Injury 40:1313–1315. https://doi.org/10.1016/j.injury.2009.03.044

8.

Richardson EA (2009) Carstairs deprivation scores by CATT2, 1981, 1991, 2001. UKBORDERS: Consistent Areas Through Time for Scotland (1981–2001). https://doi.org/10.7488/ds/155

9.

Clement ND, Duckworth AD, McQueen MM, Court-Brown CM (2014) The outcome of proximal humeral fractures in the elderly: predictors of mortality and function. Bone Jt J 96-B:970–977. https://doi.org/10.1302/0301-620x.96b7.32894

10.

Wilson LA, Gooding BW, Manning PA et al (2014) Risk factors and predictors of mortality for proximal humeral fractures. Shoulder Elbow 6:95–99. https://doi.org/10.1177/1758573214525761

11.

Frisoli A, Chaves PH, Ingham SJM, Fried LP (2011) Severe osteopenia and osteoporosis, sarcopenia, and frailty status in community-dwelling older women: Results from the Women's Health and Aging Study (WHAS) II. Bone 48:952–957. https://doi.org/10.1016/j.bone.2010.12.025

12.

Abrahamsen B, van Staa T, Ariely R et al (2009) Excess mortality following hip fracture: a systematic epidemiological review. Osteoporos Int 20:1633–1650. https://doi.org/10.1007/s00198-009-0920-3
Ethics declarations
Conflict of interest
The authors declare that they have no competing interests.
Additional information
Publisher's Note
Springer Nature remains neutral with regard to jurisdictional claims in published maps and institutional affiliations.
About this article
Cite this article
Brewster, O., Clement, N.D., Duckworth, A.D. et al. Long-term mortality after internal fixation of calcaneal fractures: a retrospective study. Eur J Orthop Surg Traumatol 30, 157–162 (2020) doi:10.1007/s00590-019-02522-3
Received:

Accepted:

Published:

Issue Date:
Keywords
Calcaneus

Fracture

Gender

Prognosis

Death

Survival