Abstract
Background
Insertional Achilles tendinopathy is a degenerative disease associated with disabling posterior heel pain, gait dysfunction and significant morbidity. The aim of this prospective study was to evaluate the outcomes of complete excision of the pathological tendo-achilles segment in elderly patients with extensive involvement, and reconstructing the defect using a modified technique which was proposed to allow early weight-bearing and rehabilitation.
Patients and methods
Thirteen patients (mean age 58.2 years) with extensive insertional Achilles tendinopathy (seven with spontaneous rupture and six without rupture) were operated between January 2008 and July 2012. The average tendon gap after debridement was 6.8 cm. All patients were reconstructed with flexor hallucis longus tendon transfer augmented with a modified turn-down flap. Patient's satisfaction was evaluated using the American orthopedic foot and ankle society (AOFAS)-ankle-hindfoot scale.
Results
The mean follow-up period was 24.5 months. The AOFAS scores improved from 57.5 ± 8.44 preoperatively to 98.3 ± 1.01 at final follow-up (p < 0.001). Complete pain relieve was achieved in ten patients, while the other three had mild occasional pain. Eleven patients had excellent results, and two had good results. There was no single case of re-rupture, and two patients acquired superficial wound infection which was resolved conservatively.
Conclusions
The modified technique provides a transfer with sufficient length and strength that can restore large tendo-achilles defects in elderly, and is stable enough to allow early protected weight-bearing and rehabilitation with favorable clinical result and minimal morbidity. Resection of all degenerated tendon tissue alleviates pain and improves function.
This is a preview of subscription content, log in to check access.
Access options
Buy single article
Instant unlimited access to the full article PDF.
US$ 39.95
Price includes VAT for USA
Subscribe to journal
Immediate online access to all issues from 2019. Subscription will auto renew annually.
US$ 99
This is the net price. Taxes to be calculated in checkout.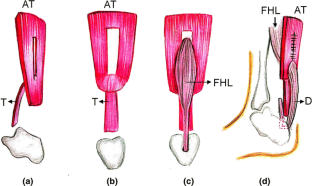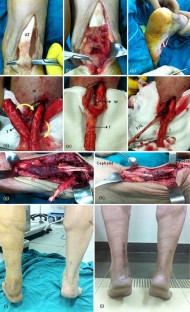 References
1.

Kader D, Saxena A, Movin T, Maffulli N (2002) Achilles tendinopathy: some aspects of basic science and clinical management. Br J Sports Med 36:239–249

2.

DeOrio MJ, Easley ME (2008) Surgical strategies: insertional Achilles tendinopathy. Foot Ankle Int 29:542–550

3.

Krahe MA, Berlet GC (2009) Achilles tendon ruptures, re rupture with revision surgery, tendinosis, and insertional disease. Foot Ankle Clin 14:247–275

4.

Paavola M, Kannus P, Paakkala T, Pasanen M, Jarvinen M (2000) Long-term prognosis of patients with Achilles tendinopathy. Am J Sports Med 28:634–642

5.

Nicholson CW, Berlet GC, Lee TH (2007) Prediction of the success of nonoperative treatment of insertional Achilles tendinosis based on MRI. Foot Ankle Int 28(4):472–477

6.

Yodlowski ML, Sheller AD Jr, Minos L (2002) Surgical treatment of Achilles tendonitis by decompression of the retrocalcaneal bursa and the superior calcaneal tuberosity. Am J Sport Med 30:318–321

7.

Wapner KL, Pavlock GS, Hecht PJ, Naselli F, Walther R (1993) Repair of chronic Achilles tendon rupture with flexor hallucis longus tendon transfer. Foot Ankle 14:443–449

8.

Den Hartog BD (2003) Flexor hallucis longus transfer for chronic Achilles tendonosis. Foot Ankle Int 24:233–237

9.

Wong MWN, Ng VWS (2005) Modified flexor hallucis longus transfer for Achilles insertional rupture in elderly patients. Clin Orthop Relat Res 431:201–206

10.

Mahajan RH, Dalal RB (2009) Flexor hallucis longus tendon transfer for reconstruction of chronically ruptured Achilles tendons. J Orthop Surg (Hong Kong) 17(2):194–198

11.

Wegrzyn J, Luciani JF, Philippot R, Brunet-Guedj E, Moyen B, Besse JL (2010) Chronic Achilles tendon rupture reconstruction using a modified flexor hallucis longus transfer. Int Orthop 34:1187–1192

12.

Thompson TC, Doherty J (1962) Spontaneous rupture of tendon of Achilles: a new clinical diagnostic test. J Trauma 2:126–129

13.

Maffulli N (1996) Clinical tests in sports medicine: more on Achilles tendon. Br J Sports Med 30:250

14.

Kitaoka HB, Alexander IJ, Adelaar RS, Nunley JA, Myerson MS, Sanders M (1994) Clinical rating systems for the ankle-hindfoot, midfoot, hallux, and lesser toes. Foot Ankle 15:349–353

15.

Wilcox DK, Bohay DR, Anderson JG (2000) Treatment of chronic Achilles tendon disorders with flexor hallucis longus tendon transfer/augmentation. Foot Ankle Int 21:1004–1010

16.

McGarvey WC, Palumbo RC, Baxter DE, Leibman BD (2002) Insertional Achilles tendinosis: surgical treatment through a central tendon splitting approach. Foot Ankle Int 23:19–25

17.

Martin RL, Manning CM, Carcia CR, Conti SF (2005) An outcome study of chronic Achilles tendinosis after excision of the Achilles tendon and flexor hallucis longus tendon transfer. Foot Ankle Int 26:691–697

18.

Suttinark P, Suebpongsiri P (2009) Clinical outcomes of flexor hallucis longus transfer for the treatment of Achilles tendinosis rupture. J Med Assoc Thai 92(6):S226–S231

19.

Philippot R, Wegrzyn J, Grosclaude S, Besse JL (2010) Repair of insertional Achilles tendinosis with a bone-quadriceps tendon graft. Foot Ankle Int 31(9):802–806

20.

Lui P, Zhang P, Chan K, Qin L (2010) Biology and augmentation of tendon-bone insertion repair. J Orthop Surg Res 21–5:59

21.

Coull R, Flavin R, Stephens MM (2003) Flexor hallucis longus tendon transfer: evaluation of postoperative morbidity. Foot Ankle Int 24:931–934

22.

Lindholm A (1959) A new method of operation in subcutaneous rupture of the Achilles tendon. Acta Chir Scand 117:261–270

23.

Tay D, Lin HA, Tan BSA, Chong KW, Rikhraj IS (2010) Chronic Achilles tendon rupture treated with two turndown flap and flexor hallucis longus augmentation two-year clinical outcome. Ann Acad Med Singap 39:58–60

24.

Arastu MH, Partridge R, Crocombe A, Solan M (2011) Determination of optimal screw positioning in flexor hallucis longus tendon transfer for chronic tendoachilles rupture. Foot Ankle Surg 17:74–78

25.

Kangas J, Pajala A, Ohtonen P, Leppilahti J (2007) Achilles tendon elongation after rupture repair: a randomized comparison of 2 postoperative regimens. Am J Sports Med 35:59–64

26.

Kangas J, Pajala A, Siira P, Hδmδlδinen M, Leppilahti J (2003) Early functional treatment versus early immobilization in tension of the musculotendinous unit after Achilles rupture repair: a prospective, randomized, clinical study. J Trauma 54:1171–1180
Electronic supplementary material
Below is the link to the electronic supplementary material.
A short-cut intra-operative video adopted (with patient's permission) after finishing our augmented procedure. The patient was under spinal anesthesia with recovery of motor function and preservation of sensory block. The patient was instructed to do active ankle planter-flexion to show the integration of gastroc-soleus complex with FHL in planter-flexion, and to confirm the immediate stability of our construct (WMV 3724 kb)
About this article
Cite this article
El-Tantawy, A., Azzam, W. Flexor hallucis longus tendon transfer in the reconstruction of extensive insertional Achilles tendinopathy in elderly: an improved technique. Eur J Orthop Surg Traumatol 25, 583–590 (2015) doi:10.1007/s00590-014-1569-y
Received:

Accepted:

Published:

Issue Date:
Keywords
Insertional tendinopathy

Achilles tendon defects

FHL transfer

Turn-down flap