Abstract
Purpose
To evaluate the accessibility of the preganglionic epidural space in patients with lumbosacral radiculopathy treated with epidural steroid injection (ESI) through trans-lateral recess (TLR) approach.
Methods
From September 2016 to December 2016, we enrolled 50 consecutive preganglionic ESI through TLR approach for 38 patients with lumbosacral radiculopathy at or below L4 territory. Fifteen of patients were diagnosed with lumbar disc herniation and 23 with lumbar spinal stenosis. TLR epidural injection was performed with 20-G Tuohy needles. To achieve proper final needle placement (i.e., in the axillary portion between the exiting and transversing nerve roots), the needle direction was set laterally from the center of the infra-adjacent spinous process to the medial wall of the corresponding pedicle and superiorly from the distal tip of infra-adjacent spinous process to the corresponding vertebral foramen. Finally, 1 mL of contrast was injected to assess the epidurographic pattern.
Results
All patients achieved filling of the dorsal and ventral epidural space. Rostral spreading along the exiting nerve root to the foramen of target segment was present in 48/50 (96%) patients and caudal spreading along the transversing nerve root to the foramen of lower segment in 45/50 (90%) patients. No intravascular injection or dural puncture-related neural complications were observed.
Conclusions
When delivered using the TLR approach, epidural injections result in excellent drug spread within the preganglionic area (i.e., ventral epidural contrast filling and periradicular infiltration of exiting and transversing nerve roots). As noted previously that higher rates of pre-ganglionic epidural infiltration might be led to improvements in clinical pain and disability, epidural injections delivered using the TLR approach are expected to complement existing epidural modalities.
Graphical abstract
These slides can be retrieved under Electronic Supplementary Material.

This is a preview of subscription content, log in to check access.
Access options
Buy single article
Instant unlimited access to the full article PDF.
US$ 39.95
Price includes VAT for USA
Subscribe to journal
Immediate online access to all issues from 2019. Subscription will auto renew annually.
US$ 199
This is the net price. Taxes to be calculated in checkout.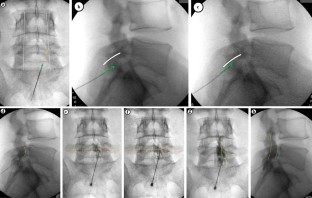 References
1.

Staal JB, de Bie RA, de Vet HC, Hildebrandt J, Nelemans P (2009) Injection therapy for subacute and chronic low back pain: an updated Cochrane review. Spine 34(1):49–59. https://doi.org/10.1097/BRS.0b013e3181909558

2.

Hashemi M, Mofrad MK, Mohajerani SA, Kazemi SM, Radpey B, Zali A (2015) Anatomical flow pattern of contrast in lumbar epidural space: a human study with a midline vs. parasagittal interlaminar approach under fluoroscopy. Pain Phys 18(4):317–324

3.

Choi YK, Barbella JD (2009) Evaluation of epidurographic contrast patterns with fluoroscopic-guided lumbar interlaminar ventral epidural injection. Pain Pract 9(4):275–281. https://doi.org/10.1111/j.1533-2500.2009.00283.x

4.

Kabatas S, Cansever T, Yilmaz C, Kocyigit OI, Coskun E, Demircay E, Akar A, Caner H (2010) Transforaminal epidural steroid injection via a preganglionic approach for lumbar spinal stenosis and lumbar discogenic pain with radiculopathy. Neurol India 58(2):248–252. https://doi.org/10.4103/0028-3886.63807

5.

Pairuchvej S, Arirachakaran A, Keorochana G, Wattanapaiboon K, Atiprayoon S, Phatthanathitikarn P, Kongtharvonskul J (2017) The short and midterm outcomes of lumbar transforaminal epidural injection with preganglionic and postganglionic approach in lumbosacral radiculopathy: a systematic review and meta-analysis. Neurosurg Rev. https://doi.org/10.1007/s10143-017-0826-z

6.

Jeong HS, Lee JW, Kim SH, Myung JS, Kim JH, Kang HS (2007) Effectiveness of transforaminal epidural steroid injection by using a preganglionic approach: a prospective randomized controlled study. Radiology 245(2):584–590. https://doi.org/10.1148/radiol.2452062007

7.

Kortelainen P, Puranen J, Koivisto E, Lahde S (1985) Symptoms and signs of sciatica and their relation to the localization of the lumbar disc herniation. Spine 10(1):88–92

8.

Hilton JD, Eddy R, Connell D (2012) The "safe" triangle, contrast material, and particulate steroids in lumbar transforaminal injections: what are the right things to do? Clin Radiol 67(7):619–622. https://doi.org/10.1016/j.crad.2012.02.001

9.

Kirkaldy-Willis WH, Wedge JH, Yong-Hing K, Reilly J (1978) Pathology and pathogenesis of lumbar spondylosis and stenosis. Spine 3(4):319–328

10.

Garcia-Cosamalon J, del Valle ME, Calavia MG, Garcia-Suarez O, Lopez-Muniz A, Otero J, Vega JA (2010) Intervertebral disc, sensory nerves and neurotrophins: who is who in discogenic pain? J Anat 217(1):1–15. https://doi.org/10.1111/j.1469-7580.2010.01227.x

11.

Bucknill AT, Coward K, Plumpton C, Tate S, Bountra C, Birch R, Sandison A, Hughes SP, Anand P (2002) Nerve fibers in lumbar spine structures and injured spinal roots express the sensory neuron-specific sodium channels SNS/PN3 and NaN/SNS2. Spine 27(2):135–140

12.

Botwin KP, Natalicchio J, Hanna A (2004) Fluoroscopic guided lumbar interlaminar epidural injections: a prospective evaluation of epidurography contrast patterns and anatomical review of the epidural space. Pain Phys 7(1):77–80

13.

Manchikanti L, Cash KA, Pampati V, Damron KS, McManus CD (2004) Evaluation of lumbar transforaminal epidural injections with needle placement and contrast flow patterns: a prospective, descriptive report. Pain Phys 7(2):217–223

14.

Ghai B, Vadaje KS, Wig J, Dhillon MS (2013) Lateral parasagittal versus midline interlaminar lumbar epidural steroid injection for management of low back pain with lumbosacral radicular pain: a double-blind, randomized study. Anesth Analg 117(1):219–227. https://doi.org/10.1213/ANE.0b013e3182910a15

15.

Desai MJ, Shah B, Sayal PK (2011) Epidural contrast flow patterns of transforaminal epidural steroid injections stratified by commonly used final needle-tip position. Pain Med 12(6):864–870. https://doi.org/10.1111/j.1526-4637.2011.01119.x

16.

Murthy NS, Maus TP, Behrns CL (2010) Intraforaminal location of the great anterior radiculomedullary artery (artery of Adamkiewicz): a retrospective review. Pain Med 11(12):1756–1764. https://doi.org/10.1111/j.1526-4637.2010.00948.x

17.

Alleyne CH Jr, Cawley CM, Shengelaia GG, Barrow DL (1998) Microsurgical anatomy of the artery of Adamkiewicz and its segmental artery. J Neurosurg 89(5):791–795. https://doi.org/10.3171/jns.1998.89.5.0791

18.

Kroszczynski AC, Kohan K, Kurowski M, Olson TR, Downie SA (2013) Intraforaminal location of thoracolumbar anterior medullary arteries. Pain Med 14(6):808–812. https://doi.org/10.1111/pme.12056

19.

Crock HV (1981) Normal and pathological anatomy of the lumbar spinal nerve root canals. J Bone Joint Surg Br Vol 63(4):487–490

20.

Glaser SE, Shah RV (2010) Root cause analysis of paraplegia following transforaminal epidural steroid injections: the 'unsafe' triangle. Pain Phys 13(3):237–244

21.

Jasper JF (2007) Lumbar retrodiscal transforaminal injection. Pain Phys 10(3):501–510

22.

Kim ED, Roh MS, Park JJ, Jo D (2016) Comparison of the ventral epidural spreading in modified interlaminar approach and transforaminal approach: a randomized, double-blind study. Pain Med 17(9):1620–1627. https://doi.org/10.1093/pm/pnv094

23.

Levi D, Horn S, Corcoran S (2016) The incidence of intradiscal, intrathecal, and intravascular flow during the performance of retrodiscal (infraneural) approach for lumbar transforaminal epidural steroid injections. Pain Med 17(8):1416–1422. https://doi.org/10.1093/pm/pnv067

24.

Candido KD, Raghavendra MS, Chinthagada M, Badiee S, Trepashko DW (2008) A prospective evaluation of iodinated contrast flow patterns with fluoroscopically guided lumbar epidural steroid injections: the lateral parasagittal interlaminar epidural approach versus the transforaminal epidural approach. Anesth Analg 106(2):638–644. https://doi.org/10.1213/ane.0b013e3181605e9b (table of contents)

25.

Ghai B, Bansal D, Kay JP, Vadaje KS, Wig J (2014) Transforaminal versus parasagittal interlaminar epidural steroid injection in low back pain with radicular pain: a randomized, double-blind, active-control trial. Pain Phys 17(4):277–290

26.

Hong JH, Park EK, Park KB, Park JH, Jung SW (2017) Comparison of clinical efficacy in epidural steroid injections through transforaminal or parasagittal approaches. Korean J Pain 30(3):220–228. https://doi.org/10.3344/kjp.2017.30.3.220

27.

Xu R, Burgar A, Ebraheim NA, Yeasting RA (1999) The quantitative anatomy of the laminas of the spine. Spine 24(2):107–113

28.

Wu YS, Lin Y, Zhang XL, Tian NF, Sun LJ, Xu HZ, Chi YL, Pan ZJ (2012) The projection of nerve roots on the posterior aspect of spine from T11 to L5: a cadaver and radiological study. Spine 37(20):E1232–E1237. https://doi.org/10.1097/BRS.0b013e318265dd5d

29.

Ebraheim NA, Miller RM, Xu R, Yeasting RA (1997) The location of the intervertebral lumbar disc on the posterior aspect of the spine. Surg Neurol 48(3):232–236

30.

Kim C, Choi HE, Kang S (2012) Contrast spreading patterns in retrodiscal transforaminal epidural steroid injection. Ann Rehabil Med 36(4):474–479. https://doi.org/10.5535/arm.2012.36.4.474
Ethics declarations
Conflict of interest
The authors declare that they have no conflict of interest.
Additional information
Publisher's Note
Springer Nature remains neutral with regard to jurisdictional claims in published maps and institutional affiliations.
Electronic supplementary material
Below is the link to the electronic supplementary material.
About this article
Cite this article
Kang, M.S., Hwang, J.H. & Ahn, J.S. An evaluation of contrast dispersal pattern on preganglionic epidural injection through trans-lateral recess approach in patients with lumbosacral radiculopathy. Eur Spine J 28, 2535–2542 (2019). https://doi.org/10.1007/s00586-019-05947-w
Received:

Revised:

Accepted:

Published:

Issue Date:
Keywords
Epidural injection

Preganglionic

Trans-lateral recess

Contrast media

Degenerative lumbar disc disease