Abstract
Background
We describe a case of severe and progressive lumbar hyperlordosis (160°) in a 28-year-old female university student with cerebral palsy. Her main complaints were abdominal wall pain and increasing inability to sit in her custom wheelchair.
Method
When deciding on our opinion about the most promising treatment strategy, we contemplated slow continued correction by means of percutaneously expandable magnetic rods (MAGEC) after the index surgery as a key component of a satisfactory correction in this severe and rigid curve. After an initial radical release and partial correction, a release and correction procedure was required for the bilateral hip flexion contracture. A final in situ posterior fusion was performed as a second spinal procedure, once the desired final correction at 66° of lumbar lordosis was achieved.
Result
Three years after the completion of surgery, the patient has a stable clinical and radiological result as well as a solid posterior fusion on CT.
Conclusion
This is the first case published in which percutaneous magnetic distraction was successfully used in an adult patient.
This is a preview of subscription content, log in to check access.
Access options
Buy single article
Instant unlimited access to the full article PDF.
US$ 39.95
Price includes VAT for USA
Subscribe to journal
Immediate online access to all issues from 2019. Subscription will auto renew annually.
US$ 199
This is the net price. Taxes to be calculated in checkout.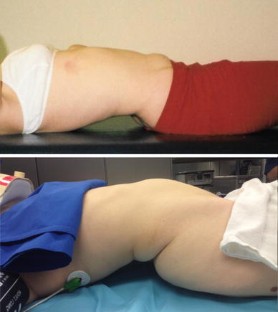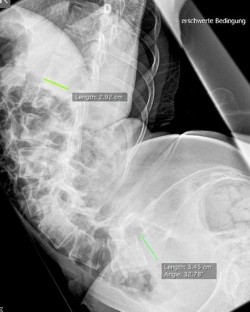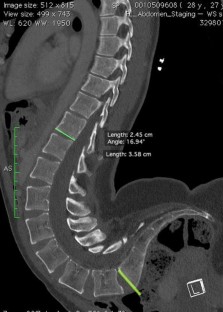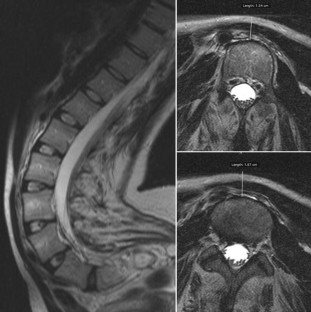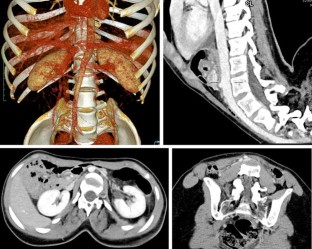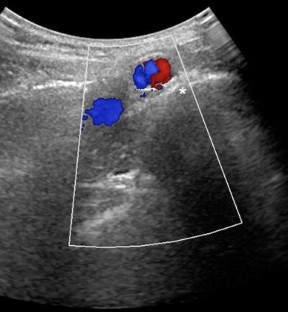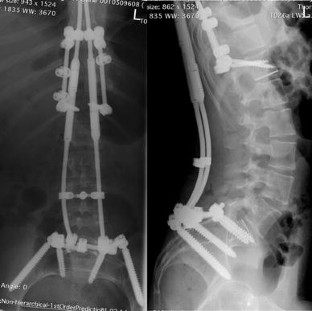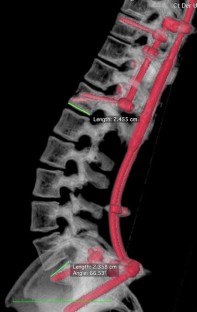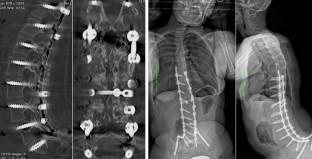 References
1.

Song EW, Lenke LG, Schoenecker PL (2000) Isolated thoracolumbar and lumbar hyperlordosis in a patient with cerebral palsy. J Spinal Disord 13:455–460

2.

Vialle R, Khouri N, Guillaumat M (2006) Lumbar hyperlordosis in cerebral palsy: anatomic analysis and surgical strategy for correction. Childs Nerv Syst 22:704–709. https://doi.org/10.1007/s00381-005-0011-5

3.

Cheung JP, Cahill P, Yaszay B, Akbarnia BA, Cheung KM (2015) Special article: update on the magnetically controlled growing rod: tips and pitfalls. J Orthop Surg (Hong Kong) 23:383–390. https://doi.org/10.1177/230949901502300327

4.

Crawford K, Karol LA, Herring JA (1996) Severe lumbar lordosis after dorsal rhizotomy. J Pediatr Orthop 16:336–339

5.

Steinbok P, Hicdonmez T, Sawatzky B, Beauchamp R, Wickenheiser D (2005) Spinal deformities after selective dorsal rhizotomy for spastic cerebral palsy. J Neurosurg 102:363–373. https://doi.org/10.3171/ped.2005.102.4.0363

6.

Johnson MB, Goldstein L, Thomas SS, Piatt J, Aiona M, Sussman M (2004) Spinal deformity after selective dorsal rhizotomy in ambulatory patients with cerebral palsy. J Pediatr Orthop 24:529–536

7.

Golan JD, Hall JA, O'Gorman G, Poulin C, Benaroch TE, Cantin MA, Farmer JP (2007) Spinal deformities following selective dorsal rhizotomy. J Neurosurg 106:441–449. https://doi.org/10.3171/ped.2007.106.6.441

8.

Peter JC, Hoffman EB, Arens LJ (1993) Spondylolysis and spondylolisthesis after five-level lumbosacral laminectomy for selective posterior rhizotomy in cerebral palsy. Childs Nerv Syst 9:285–287 (discussion 287–288)

9.

Lipton GE, Letonoff EJ, Dabney KW, Miller F, McCarthy HC (2003) Correction of sagittal plane spinal deformities with unit rod instrumentation in children with cerebral palsy. J Bone Jt Surg Am 85-A:2349–2357

10.

Karampalis C, Tsirikos AI (2014) The surgical treatment of lordoscoliosis and hyperlordosis in patients with quadriplegic cerebral palsy. Bone Joint J 96-B:800–806. https://doi.org/10.1302/0301-620x.96b6.33020
Ethics declarations
Conflict of interest
No author has a conflict of interest in relation to this work.
Funding
No funding, financial or other material support has been received by any authors in relation to this work.
Informed consent
The patient concerned has given her full and informed consent to this publication.
Electronic supplementary material
Below is the link to the electronic supplementary material.
Video showing the pulsation of the anterior abdominal wall (MP4 3228 kb)
About this article
Cite this article
Birkenmaier, C., D'Anastasi, M., Wegener, B. et al. Slow correction of severe spastic hyperlordosis in an adult by means of magnetically expandable rods. Eur Spine J 27, 1671–1678 (2018). https://doi.org/10.1007/s00586-017-5366-2
Received:

Revised:

Accepted:

Published:

Issue Date:
Keywords
Cerebral palsy

Hyperlordosis

Spasticity

Magnetically controlled growing rods

Slow deformity correction

Viscoelastic