Abstract
Purpose
The generation and tissue origination of disc-associated axial pain is still under exploration. This study was performed to evaluate disc-associated axial pain and to explore whether it originates in the disc or its surrounding components.
Methods
A 6-year series of 88 single-level Smith–Robinson disc and posterior longitudinal ligament (PLL) resections performed to treat single-level cervical spondylotic myelopathy was retrospectively examined. All single-level anterior disc decompressions were performed under local infiltration anesthesia; the PLL was not anesthetized to avoid cervical cord block. The patients were grouped by disc level. The centered foci of the pain localization were subjectively recorded before, during, and after the operation. Radiological examinations (plain X-ray, computed tomography, and magnetic resonance imaging) were performed before and after the operation to diagnose the compression and evaluate the decompression.
Results
All 88 patients who underwent single-level PLL resection had no intraoperative pain responses except during resection of the PLL. Their provoked pain responses were similar to their familiar pain responses. The axial pain disappeared postoperatively. Complications developed in six patients (6.8 %). All patients recovered well, and the absence of the axial pain was maintained at the 12-month follow-up.
Conclusions
Preoperative axial pain due to single-level disc protrusion was triggered and aggravated only during PLL resection and disappeared postoperatively. This implies that the intervertebral PLL could be the site of origination of axial pain. Axial pain from the PLL at different disc levels had different distributions.
This is a preview of subscription content, log in to check access.
Access options
Buy single article
Instant unlimited access to the full article PDF.
US$ 39.95
Price includes VAT for USA
Subscribe to journal
Immediate online access to all issues from 2019. Subscription will auto renew annually.
US$ 199
This is the net price. Taxes to be calculated in checkout.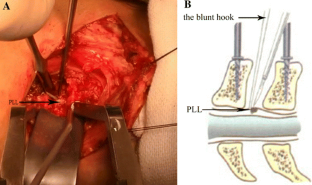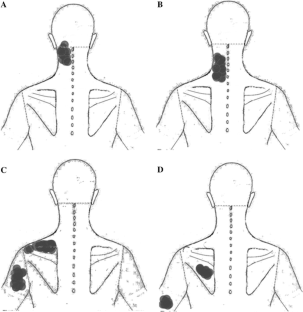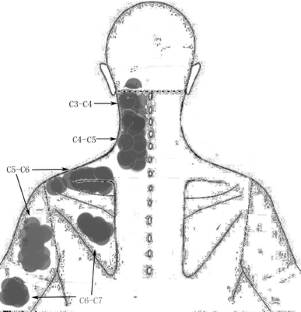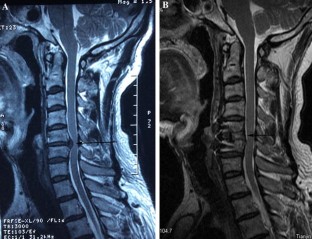 References
1.

Toledano M, Bartleson JD (2013) Cervical spondylotic myelopathy. Neurol Clin 31:287–305. doi:10.1016/j.ncl.2012.09.003

2.

Hughes JT, Brownell B (1965) Necropsy observations on the spinal cord in cervical spondylosis. Riv Patol Nerv Ment 86:196–204

3.

Hosono N, Yonenobu K, Ono K (1996) Neck and shoulder pain after laminoplasty. A noticeable complication. Spine 21:1969–1973

4.

Kawaguchi Y, Matsui H, Ishihara H, Gejo R, Yoshino O (1999) Axial symptoms after en bloc cervical laminoplasty. J Spinal Disord 12:392–395

5.

Edwards CC 2nd, Heller JG, Murakami H (2002) Corpectomy versus laminoplasty for multilevel cervical myelopathy: an independent matched-cohort analysis. Spine 27:1168–1175

6.

Edwards CC 2nd, Heller JG, Silcox DH 3rd (2000) T-Saw laminoplasty for the management of cervical spondylotic myelopathy: clinical and radiographic outcome. Spine 25:1788–1794

7.

Kato M, Nakamura H, Konishi S, Dohzono S, Toyoda H, Fukushima W, Kondo K, Matsuda H (2008) Effect of preserving paraspinal muscles on postoperative axial pain in the selective cervical laminoplasty. Spine 33:E455–E459. doi:10.1097/BRS.0b013e318178e607

8.

Ohnari H, Sasai K, Akagi S, Iida H, Takanori S, Kato I (2006) Investigation of axial symptoms after cervical laminoplasty, using questionnaire survey. Spine J 6:221–227. doi:10.1016/j.spine.2005.10.014

9.

Shiraishi T (2002) Skip laminectomy—a new treatment for cervical spondylotic myelopathy, preserving bilateral muscular attachments to the spinous processes: a preliminary report. Spine J 2:108–115

10.

Dwyer A, Aprill C, Bogduk N (1990) Cervical zygapophyseal joint pain patterns. I: a study in normal volunteers. Spine 15:453–457

11.

Bogduk N, Marsland A (1988) The cervical zygapophysial joints as a source of neck pain. Spine 13:610–617

12.

Dory MA (1983) Arthrography of the cervical facet joints. Radiology 148:379–382. doi:10.1148/radiology.148.2.6867328

13.

Dussault RG, Nicolet VM (1985) Cervical facet joint arthrography. J Can Assoc Radiol 36:79–80

14.

Yoshida M, Tamaki T, Kawakami M, Nakatani N, Ando M, Yamada H, Hayashi N (2002) Does reconstruction of posterior ligamentous complex with extensor musculature decrease axial symptoms after cervical laminoplasty? Spine 27:1414–1418

15.

Bogduk N, Windsor M, Inglis A (1988) The innervation of the cervical intervertebral discs. Spine 13:2–8

16.

Ferlic DC (1963) The nerve supply of the cervical intervertebral disc in man. Bull Johns Hopkins Hospital 113:347–351

17.

Grubb SA, Kelly CK (2000) Cervical discography: clinical implications from 12 years of experience. Spine 25:1382–1389

18.

Miao J, Yu F, Shen Y, He N, Kuang Y, Wang X, Chen D (2014) Clinical and radiographic outcomes of cervical disc replacement with a new prosthesis. Spine J 14:878–883. doi:10.1016/j.spinee.2013.07.439

19.

Shou F, Li Z, Wang H, Yan C, Liu Q, Xiao C (2015) Prevalence of C5 nerve root palsy after cervical decompressive surgery: a meta-analysis. Eur Spine J 24:2724–2734. doi:10.1007/s00586-015-4186-5

20.

Yang H, Lu X, Wang X, Chen D, Yuan W, Yang L, Liu Y (2015) A new method to determine whether ossified posterior longitudinal ligament can be resected completely and safely: spinal canal "Rule of Nine" on axial computed tomography. Eur Spine J 24:1673–1680. doi:10.1007/s00586-014-3539-9

21.

Yang H, Yang L, Chen D, Wang X, Lu X, Yuan W (2015) Implications of different patterns of "double-layer sign" in cervical ossification of the posterior longitudinal ligament. Eur Spine J 24:1631–1639. doi:10.1007/s00586-015-3914-1

22.

Suseki K, Takahashi Y, Takahashi K, Chiba T, Yamagata M, Moriya H (1998) Sensory nerve fibres from lumbar intervertebral discs pass through rami communicantes. A possible pathway for discogenic low back pain. J Bone Joint Surg Br 80:737–742

23.

Cody JP, Kang DG, Tracey RW, Wagner SC, Rosner MK, Lehman RA Jr (2014) Outcomes following cervical disc arthroplasty: a retrospective review. J Clin Neurosci 21:1901–1904. doi:10.1016/j.jocn.2014.05.008

24.

Aprill C, Dwyer A, Bogduk N (1990) Cervical zygapophyseal joint pain patterns. II: a clinical evaluation. Spine 15:458–461

25.

Feng FB, Sun CG, Chen ZQ (2015) Progress on clinical characteristics and identification of location of thoracic ossification of the ligamentum flavum. Orthop Surg 7(2):87–96. doi:10.1111/os.12165

26.

Zhang JD, Xia Q (2015) Role of intraoperative disc contrast injection in determining the segment responsible for cervical spinal cord injury without radiographic abnormalities. Orthop Surg 7(3):239–243. doi:10.1111/os.12197

27.

Cai HX, Fan SW, Zhang JF, Ma JJ (2015) Posterior lumbar interbody fusion for grade II spondylolisthesis. Orthop Surg 7(1):81–82. doi:10.1111/os.12155
Acknowledgments
The National Science Foundation of China (81471403 and 30973024) funds were received in support of this work.
Ethics declarations
In this research, Ethical approval was obtained from the Tianjin Medical University General Hospital Research Ethics Committee. And all patients in this research had signed informed consents. No relevant financial activities outside the submitted work.
Conflict of interest
None of the authors has any potential conflict of interest.
Electronic supplementary material
Below is the link to the electronic supplementary material.
Supplementary material 1 (MP4 116,175 kb)
About this article
Cite this article
Lin, W., Xue, Y., Zhao, Y. et al. Disc associating axial pain were indicated by PLL resection in ACDF surgery. Eur Spine J 26, 1211–1216 (2017). https://doi.org/10.1007/s00586-016-4795-7
Received:

Revised:

Accepted:

Published:

Issue Date:
Keywords
Cervical spondylotic axial pain

Cervical intervertebral disc protrusion

Anterior cervical disc fusion

Posterior longitudinal ligament