Abstract
Background
Most cervical fusion cages imperfectly mimic the anatomy of the intervertebral disc space. The production of individualized cages might be the next step to further improve spinal implants due to their enhanced load-bearing surface.
Objective
To evaluate the planning, manufacturing, and implantation of an individualized cervical cage in co-operation with EIT and 3D Systems.
Methods
A digital 3D model of the patient's cervical spine was rendered from the patients CT data. It was then possible to correct degenerative deformities by digitally repositioning the vertebrae and virtually resecting the osteophytes. The implantation of the cage can be simulated to check the accuracy of the fit. The cage is made of trabecular titanium and manufactured by Direct Metal Printing.
Results
The pilot project for the implantation of the first individualized cervical cage ever, resulted in a highly accurate fit. During surgery, the cage self-located into the correct position after suspending distraction due to the implants unique end plate design. Furthermore, it was impossible to move the cage in any direction with the inserting instrument after suspending distraction for the same reason. Thus, it can be assumed that an individualized cervical implant provides excellent primary stability.
Conclusion
Preconditions for the manufacturing of individualized cervical fusion cages using specific patient data are given. The implantation is uncomplicated. The improved load-bearing surface will lower the rate of implant dislocation and subsidence. The production of individualized cages at a reasonable price has to be evaluated by spine surgeons and the industry.
This is a preview of subscription content, log in to check access.
Access options
Buy single article
Instant unlimited access to the full article PDF.
US$ 39.95
Price includes VAT for USA
Subscribe to journal
Immediate online access to all issues from 2019. Subscription will auto renew annually.
US$ 199
This is the net price. Taxes to be calculated in checkout.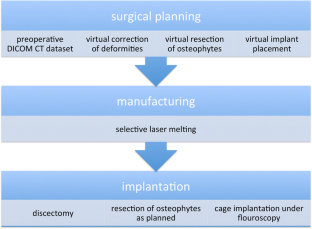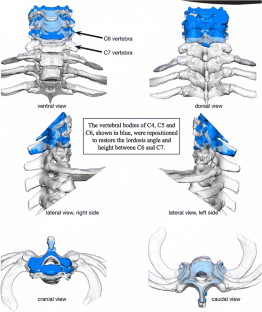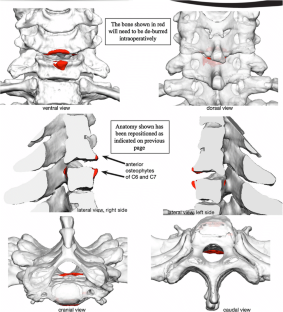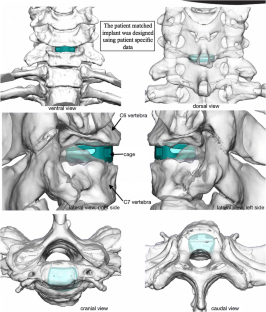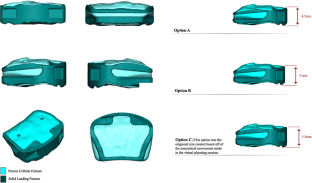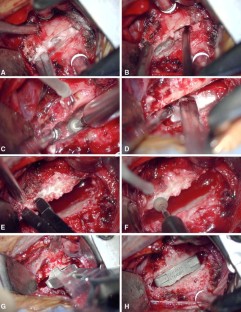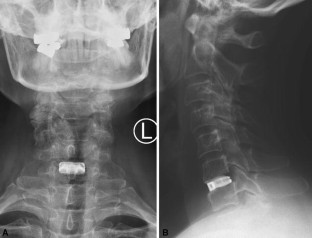 References
1.

Yamagata T, Takami T, Uda T, Ikeda H, Nagata T, Sakamoto S, Tsuyuguchi N, Ohata K (2012) Outcomes of contemporary use of rectangular titanium stand-alone cages in anterior cervical discectomy and fusion: cage subsidence and cervical alignment. J Clin Neurosci 19(12):1673–1678

2.

Cabraja M, Oezdemir S, Koeppen D, Kroppenstedt S (2012) Anterior cervical discectomy and fusion: comparison of titanium and polyetheretherketone cages. BMC Musculoskelet Disord 13:172

3.

Wu WJ, Jiang LS, Liang Y, Dai LY (2012) Cage subsidence does not, but cervical lordosis improvement does affect the long-term results of anterior cervical fusion with stand-alone cage for degenerative cervical disc disease: a retrospective study. Eur Spine J 21(7):1374–1382

4.

Kolstad F, Nygaard ØP, Andresen H, Leivseth G (2010) Anterior cervical arthrodesis using a "stand alone" cylindric titanium cage: prospective analysis of radiographic parameters. Spine (Phila Pa 1976) 35(16):1545–1550

5.

Aitasalo KM, Piitulainen JM, Rekola J, Vallittu PK (2014) Craniofacial bone reconstruction with bioactive fiber-reinforced composite implant. Head Neck 36(5):722–728

6.

Rotaru H, Stan H, Florian IS, Schumacher R, Park YT, Kim SG, Chezan H, Balc N, Baciut M (2012) Cranioplasty with custom-made implants: analyzing the cases of 10 patients. J Oral Maxillofac Surg 70(2):e169–e176

7.

Cabraja M, Klein M, Lehmann TN (2009) Long-term results following titanium cranioplasty of large skull defects. Neurosurg Focus 26(6):E10

8.

Origitano TC, Izquierdo R, Scannicchio LB (1995) Reconstructing complex cranial defects with a preformed cranial prosthesis. Skull Base Surg 5(2):109–116

9.

Skeppholm M, Svedmark P, Noz ME, Maguire GQ Jr, Olivecrona H, Olerud C (2015) Evaluation of mobility and stability in the Discover artificial disc: an in vivo motion study using high-accuracy 3D CT data. J Neurosurg Spine 23(3):383–389

10.

Lee CH, Kim KJ, Hyun SJ, Yeom JS, Jahng TA, Kim HJ (2015) Subsidence as of 12 months after single-level anterior cervical inter-body fusion. Is it related to clinical outcomes? Acta Neurochir (Wien) 157(6):1063–1068

11.

Brenke C, Dostal M, Scharf J, Weiß C, Schmieder K, Barth M (2014) Influence of cervical bone mineral density on cage subsidence in patients following stand-alone anterior cervical discectomy and fusion. Eur Spine J. doi:10.1007/s00586-014-3725-9
Ethics declarations
Conflict of interest
The authors have no personal financial or institutional interest in any of the materials, or devices described in this article.
Electronic supplementary material
Below is the link to the electronic supplementary material.
Supplementary material 1 (MP4 342865 kb)
About this article
Cite this article
Spetzger, U., Frasca, M. & König, S.A. Surgical planning, manufacturing and implantation of an individualized cervical fusion titanium cage using patient-specific data. Eur Spine J 25, 2239–2246 (2016). https://doi.org/10.1007/s00586-016-4473-9
Received:

Revised:

Accepted:

Published:

Issue Date:
Keywords
Titanium cage

Cervical spine

Fusion

Patient data

Computer-aided design

3D modeling

Manufacturing