Abstract
Rabies is caused by a single-stranded virus with ribonucleic acid belonging to the genus Lyssavirus in the Rhabdoviridae family. This disease causes 100% fatality of exposed non-vaccinated humans and animals. Many aspects of rabies still ambiguous; therefore, the hemato-biochemical effects of Lyssavirus infection and the potential diagnostic markers of cerebrospinal fluid (CSF) in rabid calves were investigated. Six female Frisian cross-bred calves (6–7 months of age) were accidentally exposed to bites from stray dogs. Twenty days later, the calves showed anorexia, severe ptyalism, erected ears, fatigue, cough, and neurological signs including continuous mooing for the majority of the day and sometimes rubbing their heads against hard objects. The rabid calves died within 4–6 days after the appearance of these aforementioned signs. The cerebellum showed lymphocytic leptomeningitis with or without hemorrhage, along with characteristic Negri bodies; in the respiratory system, pronounced suppurative bronchopneumonia occurred. There were mild vicissitudes in the erythrogram without significant vicissitudes in the blood indices. The leucogram showed significant leucopenia, lymphopenia, and monocytopenia with marked granulocytosis. Blood gas analysis publicized mixed respiratory and metabolic acidosis. Laboratory findings of cerebrospinal fluid (CSF) revealed pleocytosis, lymphocytosis, and significant increases in glucose, cholesterol, S–100B, total proteins, globulins, IgA, haptoglobin, TNF-α, and IL-1 levels. We concluded that presence of lymphocytic pleocytosis along with the elevation of glucose, cholesterol, S–100B, and pro-inflammatory cytokines could be used as a potential markers for rabies in bovines. Also, presence of pneumonia with mixed respiratory and metabolic acidosis in raid claves could be complications for Lyssavirus infection.
This is a preview of subscription content, log in to check access.
Access options
Buy single article
Instant access to the full article PDF.
US$ 39.95
Price includes VAT for USA
Subscribe to journal
Immediate online access to all issues from 2019. Subscription will auto renew annually.
US$ 99
This is the net price. Taxes to be calculated in checkout.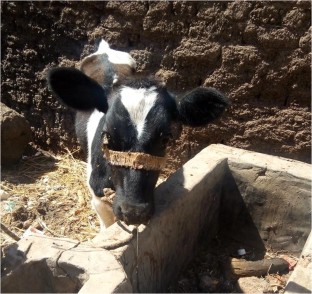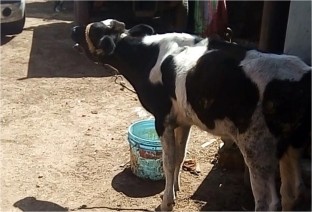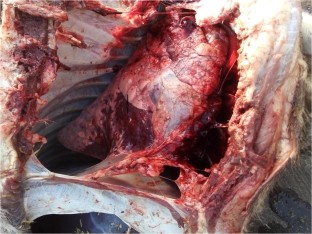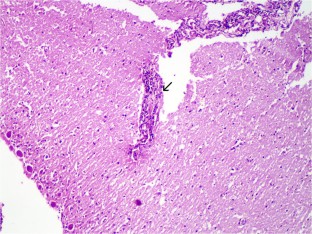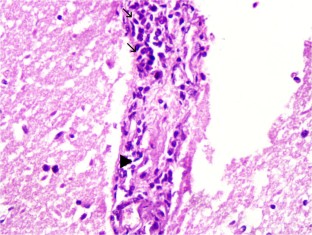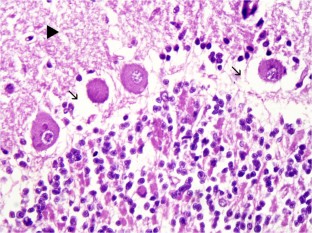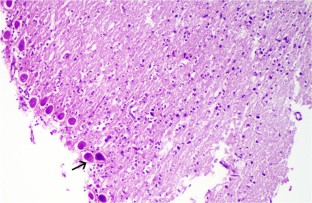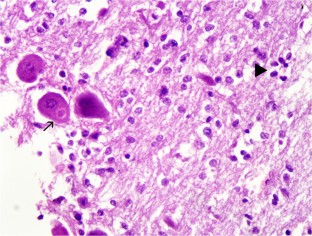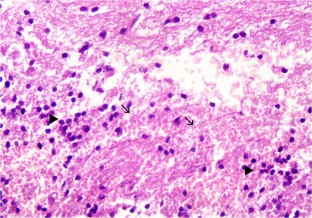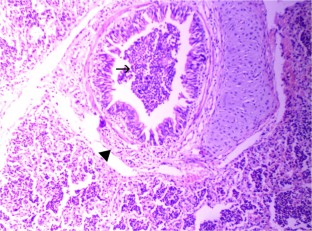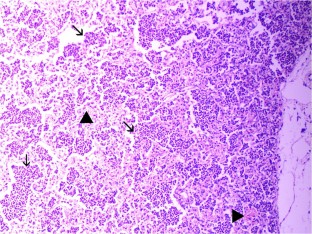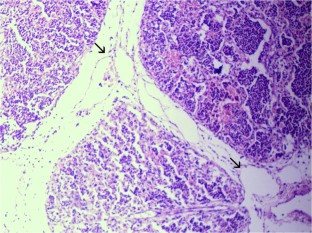 References
Abdallah AAM, Nasr El-Deen NAM, Neamat-Allah ANF, Abd El-Aziz HI (2019) Evaluation of the hematoprotective and hepato-renal protective effects of Thymus vulgaris aqueous extract on thermally oxidized oil-induced hematotoxicity and hepato-renal toxicity. Comp Clin Pathol. https://doi.org/10.1007/s00580-019-03078-8

Abela-Ridder B (2015) Rabies: 100 percent fatal, 100 percent preventable. Vet Rec 177:148–149. https://doi.org/10.1136/vr.h4196

Badr MO, Edrees NM, Abdallah AA, El-Deen NA, Neamat-Allah AN, Ismail HT (2011) Anti-tumour effects of Egyptian propolis on Ehrlich ascites carcinoma. Vet Ital 47:341–350

Braun U, Schwarzwald C, Ohlerth S, Frei S, Hilbe M (2014) Abnormal regurgitation in three cows caused by intrathoracic perioesophageal lesions. Acta Vet Scand 56:14–14. https://doi.org/10.1186/1751-0147-56-14

Carlson GP, Bruss M (2008) Chapter 17 - Fluid, Electrolyte, and Acid-Base Balance. In: Clinical Biochemistry of Domestic Animals, Sixth edn. Academic Press, San Diego, pp 529–559. https://doi.org/10.1016/B978-0-12-370491-7.00017-9

Chrisman CL (1992) Cerebrospinal fluid analysis. Vet Clin North Am Small Anim Pract 22:781–810

Chung CY, Seo H, Sonntag KC, Brooks A, Lin L, Isacson O (2005) Cell type-specific gene expression of midbrain dopaminergic neurons reveals molecules involved in their vulnerability and protection. Hum Mol Genet 14:1709–1725. https://doi.org/10.1093/hmg/ddi178

Cordatos K (2002) Theory and Practice of Histological Techniques: Fifth edn. Pathology 34:384. https://doi.org/10.1016/S0031-3025(16)34462-2

Deisenhammer F, Bartos A, Egg R, Gilhus NE, Giovannoni G, Rauer S, Sellebjerg F (2006) Guidelines on routine cerebrospinal fluid analysis. Report from an EFNS task force. Eur J Neurol 13:913–922. https://doi.org/10.1111/j.1468-1331.2006.01493.x

El-Murr AI, Abd El Hakim Y, Neamat-Allah ANF, Baeshen M, Ali HA (2019) Immune-protective, antioxidant and relative genes expression impacts of β-glucan against fipronil toxicity in Nile tilapia, Oreochromis niloticus. Fish Shellfish Immunol 94:427–433. https://doi.org/10.1016/j.fsi.2019.09.033

Filippo PAD, Lannes ST, Meireles MAD, Nogueira AFS, Ribeiro LMF, Graça FAS, Glória LS (2018) Acute phase proteins in serum and cerebrospinal fluid in healthy cattle: possible use for assessment of neurological diseases. Pesqui Vet Bras 38:779–784

Green SL, Smith LL, Vernau W, Beacock SM (1992) Rabies in horses: 21 cases (1970-1990). J Am Vet Med Assoc 200:1133–1137

Hampson K, Coudeville L, Lembo T, Sambo M, Kieffer A, Attlan M, Barrat J, Blanton JD, Briggs DJ, Cleaveland S, Costa P, Freuling CM, Hiby E, Knopf L, Leanes F, Meslin FX, Metlin A, Miranda ME, Müller T, Nel LH, Recuenco S, Rupprecht CE, Schumacher C, Taylor L, Vigilato MA, Zinsstag J, Dushoff J, Global Alliance for Rabies Control Partners for Rabies Prevention (2015) Estimating the global burden of endemic canine rabies. PLoS Negl Trop Dis 9:e0003709. https://doi.org/10.1371/journal.pntd.0003709

Hashem M, Neamat-Allah AN, Gheith M (2018a) A study on bovine babesiosis and treatment with reference to hematobiochemical and molecular diagnosis. Slov Vet Res 55:165–173. https://doi.org/10.26873/SVR-643-2018

Hashem M, Mahmoud EA, Farag MF (2018b) Clinicopathological and immunological effects of using formalized killed vaccine alone or in combination with propolis against pasteurella multocida challenge in rabbits. Slov Vet Res 55:59–71 https://doi.org/10.26873/SVR-631-2018 

Hashem MA, Neamat-Allah ANF, Hammza HEE, Abou-Elnaga HM (2019) Impact of dietary supplementation with Echinacea purpurea on growth performance, immunological, biochemical, and pathological finding in broiler chickens infected by pathogenic E. coli. Trop An Health Prod. https://doi.org/10.1007/s11250-019-02162-z

Hayman DTS, Fooks AR, Marston DA, Garcia-R JC (2016) The global phylogeography of lyssaviruses - challenging the 'out of Africa' hypothesis. PLoS Negl Trop Dis 10:e0005266. https://doi.org/10.1371/journal.pntd.0005266

Hendaus MA, Jomha FA, Alhammadi AH (2015) Virus-induced secondary bacterial infection: a concise review. Ther Clin Risk Manag 11:1265–1271. https://doi.org/10.2147/TCRM.S87789

Hostetter SJ, Andreasen CB (2004) 3 - Evaluation of Erythrocytes A2 - Cowell, Rick L. In: Veterinary Clinical Pathology Secrets. Mosby, Saint Louis, pp 9–11. https://doi.org/10.1016/B978-1-56053-633-8.50005-X

IBM (2019) IBM SPSS Statistics for Windows, version 25th. IBM Corp., Armonk

Jemberu WT, Molla W, Almaw G, Alemu S (2013) Incidence of rabies in humans and domestic animals and people's awareness in North Gondar zone, Ethiopia. PLoS Negl Trop Dis 7:e2216. https://doi.org/10.1371/journal.pntd.0002216

Jimenez I, Spraker T, Anderson J, Bowen R, Gilbert A (2018) Isolation of rabies virus from the salivary glands of wild and domestic carnivores during a skunk rabies epizootic. J Wildl Dis. https://doi.org/10.7589/2018-05-127

Klompas M (2010) Chronic Meningitis. In: Mushlin SB, Greene HL (eds) Decision Making in Medicine, Third edn. Mosby, Philadelphia, pp 304–307. https://doi.org/10.1016/B978-0-323-04107-2.50111-3

Kulkarni M, Samant S, Yadav G, Khanvilkar A, Khasnis M (2009) Diagnostic importance of cerebrospinal fluid in pathognomonic condition. Vet World 2:441–443

Lahaye X, Vidy A, Pomier C, Obiang L, Harper F, Gaudin Y, Blondel D (2009) Functional characterization of Negri bodies (NBs) in rabies virus-infected cells: Evidence that NBs are sites of viral transcription and replication. J Virol 83:7948–7958. https://doi.org/10.1128/jvi.00554-09

Lee SM, Kim CW, Kim JK, Shin HJ, Baik JH (2008) GCG-rich tea catechins are effective in lowering cholesterol and triglyceride concentrations in hyperlipidemic rats. Lipids 43:419–429. https://doi.org/10.1007/s11745-008-3167-4

Mayhew IG (1989) Large animal neurology: a handbook for veterinary clinicians. Lea & Febiger, Philadelphia, pp 19106–14198

Meinkoth JH, Cowell RL (2004) 24 - Introduction to Acid Base Abnormalities. In: Veterinary Clinical Pathology Secrets. Mosby, Saint Louis, pp 125–130. https://doi.org/10.1016/B978-1-56053-633-8.50026-7

Murata H, Shimada N, Yoshioka M (2004) Current research on acute phase proteins in veterinary diagnosis: an overview. Vet J 168:28–40. https://doi.org/10.1016/s1090-0233(03)00119-9

Neamat-Allah AN (2015) Immunological, hematological, biochemical, and histopathological studies on cows naturally infected with lumpy skin disease. Vet World 8:1131–1136. https://doi.org/10.14202/vetworld.2015.1131-1136

Neamat-Allah AN, Damaty HM (2016) Strangles in Arabian horses in Egypt: clinical, epidemiological, hematological, and biochemical aspects. Vet World 9:820–826. https://doi.org/10.14202/vetworld.2016.820-826

Neamat-Allah ANF, Mahmoud EA (2019) Assessing the possible causes of hemolytic anemia associated with lumpy skin disease naturally infected buffaloes. Comp Clin Pathol 28:747–753. https://doi.org/10.1007/s00580-019-02952-9

Neamat-Allah ANF, El-Murr AI, Abd El-Hakim Y (2019a) Dietary supplementation with low molecular weight sodium alginate improves growth, haematology, immune reactions and resistance against Aeromonas hydrophila in Clarias gariepinus. Aquac Res 50:1547–1556. https://doi.org/10.1111/are.14031

Neamat-Allah ANF, Mahmoud EA, Abd El Hakim Y (2019b) Efficacy of dietary nano-selenium on growth, immune response, antioxidant, transcriptomic profile and resistance of Nile tilapia, Oreochromis niloticus against Streptococcus iniae infection. Fish Shellfish Immunol 94:280–287. https://doi.org/10.1016/j.fsi.2019.09.019

Neamat-Allah ANF, Mahmoud EA, Abd El Hakim Y (2020) Alleviating effects of β-glucan in Oreochromis niloticus on growth performance, immune reactions, antioxidant, transcriptomics disorders, and resistance to Aeromonas sobria caused by atrazine. Aquac Res. https://doi.org/10.1111/are.14529

Negri A (1903) Contributo allo studio dell'eziologia della rabbia. Boll Soc Med-Chir Pavia 2:88–115

OIE OIdE (2017) World organisation for animal health - animal disease information summaries, rabies. http://www.oie.int/fileadmin/Home/eng/Animal_Health_in_the_World/docs/pdf/Disease_cards/RABIES_FINAL.pdf. Accessed 29 Jan 2020

Pepin M, Blancou J, Aubert MF (1984) Experimental bovine rabies: susceptibility, symptoms, humoral immunologic reactions, lesions and virus excretion. Ann Rech Vet 15:325–333

Romero JR (2012) 43 – aseptic and viral meningitis. In: Long SS (ed) Principles and practice of pediatric infectious diseases, fourth edn. Content repository only!, London, pp 292–297.e293. https://doi.org/10.1016/B978-1-4377-2702-9.00043-X

Rothwell NJ (1992) 7 – metabolic responses to interleukin-1. In: Rothwell N, Dantzer R (eds) Interleukin–1 in the brain. Pergamon, Amsterdam, pp 115–134. https://doi.org/10.1016/B978-0-08-041996-1.50011-X

Salem FS, Badr MO, Neamat-Allah AN (2011) Biochemical and pathological studies on the effects of levamisole and chlorambucil on Ehrlich ascites carcinoma-bearing mice. Vet Ital 47:89–95

Shimada N, Inoue T, Murata H (2005) Cerebrospinal fluid S-100B concentrations in normal and diseased cattle. J Vet Med Sci 67:621–623

Singh R et al (2017) Rabies - epidemiology, pathogenesis, public health concerns and advances in diagnosis and control: a comprehensive review. Vet Q 37:212–251. https://doi.org/10.1080/01652176.2017.1343516

Szelenyi J (2001) Cytokines and the central nervous system. Brain Res Bull 54:329–338

Tansey MG, Wyss-Coray T (2008) Cytokines in CNS inflammation and disease. In: Lane TE, Carson M, Bergmann C, Wyss-Coray T (eds) Central nervous system diseases and inflammation. Springer, Boston, pp 59–106. https://doi.org/10.1007/978-0-387-73894-9_5

Vernau W, Vernau KA, Sue Bailey C (2008) Chapter 26 – cerebrospinal fluid. In: Kaneko JJ, Harvey JW, Bruss ML (eds) Clinical biochemistry of domestic animals, sixth edn. Academic Press, San Diego, pp 769–819. https://doi.org/10.1016/B978-0-12-370491-7.00026-X

Webb JF, Isaac GH (1952) Method of estimating C.S.F. glucose. Br Med J 2:1044. https://doi.org/10.1136/bmj.2.4792.1044
Acknowledgments
Many thanks are given to team work of Egyptian Knowledge Bank for editing service by cooperation with Springer Nature Author Services for his help editing and grammar correction of this paper. Also we appreciate role of El-Taiseer hospital laboratory team for reading of CSF smear.
Ethics declarations
Conflict of interest
The authors declare that they have no conflict of interests.
Ethical approval
Analysis was managed in accordance with the standards set by Animal Health Research Ethics Training Initiative, Egypt, and experimental protocols were approved by the official animal ethics agency.
Additional information
Publisher's note
Springer Nature remains neutral with regard to jurisdictional claims in published maps and institutional affiliations.
About this article
Cite this article
Neamat-Allah, A.N.F., Ali, A.A. & Mahmoud, E.A. Jeopardy of Lyssavirus infection in relation to hemato-biochemical parameters and diagnostic markers of cerebrospinal fluid in rabid calves. Comp Clin Pathol (2020). https://doi.org/10.1007/s00580-020-03094-z
Received:

Accepted:

Published:
Keywords
Acidosis

Brain

Cytokines

Lyssavirus

Negri bodies

Pneumonia

Lung

S-100B

Haptoglobin

Bovine

Cerebrospinal fluid (CSF)